Unless you've been living under a rock the last several years, you're likely aware of cannabidiol, better known as CBD. People around the country are noting the wide variety of potential benefits provided by CBD. This wave of new information has led to some wondering does CBD help with anxiety… for real. Is cannabidiol more than the latest health fad? Making matters worse, the excess of misleading, and often conflicting, information makes it much tougher to determine what's trustworthy.
So today, we dive into the question, does CBD help with anxiety?
What is CBD for Anxiety?
CBD is one of a wide variety of different cannabinoids. The most common of these organic compounds are CBD and THC, but there are many more. These various cannabinoids interact in different ways with a system of receptors found around the body, aptly called the endocannabinoid system.
These compounds can be responsible for many different effects on the body. For example, while THC produces a psychoactive response, CBD has more generally practical applications. Reports indicate CBD provides a distinct anti-anxiolytic effect in addition to helping reduce inflammation and chronic pain.
Collecting Real Experiences
The last couple of decades of research have resulted in a much stronger understanding of CBD. However, there are still many who are reluctant to support its use. The bottom line is, the more information out there, the harder it becomes to know what you can trust.
This is a widespread concern across the country, but at least one site is trying to make understanding CBD much easier for everyone. DidCBDWork.com is a new site dedicated to helping answer the important questions. They've combined both peer-reviewed studies with user-generated reviews to help people get their footing. You can even be part of this movement by leaving your own report, whether you had a good, bad, or neutral experience with CBD for anxiety.
By collecting as many real user experiences and posting them alongside peer-reviewed research, they're working to build an exciting free resource. All they're looking for from users is a brief overview of their time taking CBD, and a score out of ten for how well it improved common symptoms and complications.
How Well does CBD Help with Anxiety?
While the research regarding CBD is still relatively new, one benefit which already has a large pile of evidence is the anti-anxiety applications of CBD. In fact, researchers even believe that CBD could be the single best plant-based anxiety medication we have at our disposal. A 2013 report out of the University of Melbourne analyzed over 1500 papers before ranking the effectiveness of cannabidiol above the 20 other plant-based treatments identified.
Other researchers have also observed the distinct and powerful anti-anxiolytic effects of CBD in humans. A study published back in 2012 out of the Federal University of Rio de Janeiro concluded introduction of CBD increases levels of several neurotransmitters associated with elevated mood and the ability to effectively regulate emotion. Some of the boosted neurotransmitters included serotonin, dopamine, and norepinephrine.
Clinical trials have produced similar results, even during double-blind and randomized testing. For instance, the researchers behind cannabidiol reduces the anxiety induced by simulated public speaking in treatment-naïve social phobia patients, observed a dramatic improvement in patient's ability to speak in front of a crowd after starting on CBD for anxiety. The treatment appeared to decrease anticipatory speech so much that test subjects even ended up falling firmly in line with the control.
Other researchers have attempted to pinpoint how CBD offers this incredible benefit. While the research is still incoming, findings such as a 2013 report out of the University of Sao Paulo identified some of the critical mechanisms at work. The team noted CBD increased cell proliferation of CB1/2 receptors along with hippocampal cells. They believe this interaction could be a significant part of how CBD provides an anti-anxiety effect.
What You Can Do
Having plenty of accurate information is very important. That said, without the guidance of others who've been in your shoes, too much information can become a shackle. That's what's so great about what DidCBDWork.com is trying to accomplish with their condition pages.
They're offering a central location for not only the peer-reviewed information on how CBD works for a given condition but also what others have experienced using it. The more information we share, the better off we all are. If you have used CBD to treat your anxiety, please consider going and leaving your experiences for the next person to take in and learn from. A few minutes of your time could help change the life of someone who needs it.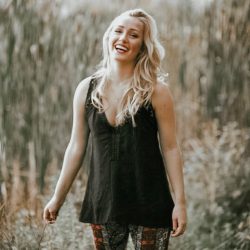 Latest posts by Chantal McCulligh
(see all)