Breathing may seem trivial when it comes to healing, but don't be mistaken. With the right breathing exercises for anxiety relief, you can alleviate symptoms of anxiety when in the midst of an attack, while also adopting a more mindful mindset to help prevent them moving forward. However, with so many anxiety breathing exercises out there, it can be difficult to know which ones that are most effective. All will work wonders, but to save you the hassle and stress of having to research online, we've narrowed in on these 4 effective breathing exercises for anxiety relief, all of which are often recommended by professional therapists.
How Breathing Affects Your Calming Response
Before we get into the powerful breathing exercises for anxiety relief, you may be wondering how breathing helps calm you down. And it's quite simple once you understand how your body responds to excessive anxiety.
When you're feeling anxious or suffering from a panic attack, your breathing pattern and rate changes. Instead of breathing from your diaphragm (lower lungs), you begin to breathe shallowly from your upper lungs (chest). In other words, you no longer are taking soothing deep breaths but rather, are taking fast, shallow breaths that can trigger more anxiety and worsened symptoms. This can even lead to hyperventilation.
buy penegra online royalcitydrugs.com/penegra.html no prescription

Your breath is essentially, the foundation of your mental health. When you breathe slowly and deeply, you're able to trigger your body's natural parasympathetic response which starts to calm down your mind and body, which leads to feelings of calmness.
When the parasympathetic response (to put it simply, your body's natural calming response) is triggered, the following occurs:
Increased sense of easy in the body
Growing sense of calmness in the mind
Breathing rate slows down
Heart rate slows down
Muscle tension decreases
Blood pressure decreases
4 Breathing Exercises for Anxiety
Now let's get into the 4 breathing exercises for anxiety relief that can trigger your body's natural calming response to not only alleviate anxiety symptoms but to decrease their intensity moving forward.
The Calming Breath Exercise
With a name like that, you can't really go wrong with this breathing exercise for anxiety. It's recommended to practice this breathing technique at least 10 times each day for several weeks. By doing so, you'll be training your mind and body to breathe properly which will help you experience a sense of calmness right now and in the future when met with an anxiety trigger.
You can also use this technique anytime you feel an anxiety attack or panic attack coming, which will put help keep the intensity level low, allowing you to panic less.
How to do the calming breath exercise?
Start by taking a long, slow breath in through your nose, filling up your lower lungs (diaphragm) first, and then your upper lungs (chest)
Hold your breath for a count of three – 1 Mississippi, 2 Mississippi, 3 Mississippi
Purse your lips and slowly exhale out of your mouth, relaxing the muscles in your jaw, face, forehead, eyebrows, shoulders and stomach
Repeat 10 times each day
The Natural Breathing Technique for Anxiety
Natural breathing can quickly feel unnatural when anxiety increases. It's the first thing that goes, as you trade in deep, natural breaths for rapid, shallow ones. Fortunately, by practicing this natural breathing technique, you can perfect the process so you can rely on it during anxious moments. It's also an excellent way to breathe all day long, as provides with you the right amount of oxygen intake and the amount of carbon dioxide you exhale, which ultimately, controls your inner calmness, focus, strength and all that good stuff.
How to do the natural breathing technique for anxiety?
Slowly inhale through your nose, focusing on only filling up your lower lungs (diaphragm/stomach area)
Exhale easily
Repeat and continue to practice until this comes to you naturally
The Calming Counts Breathing Exercise for Anxiety
This effective breathing technique for anxiety takes a little longer than the other two, but it works wonders. The good thing is, that by focusing on your breathing for the 90-seconds it takes to complete this breathing technique, you'll be taking the focus away from your anxious thoughts, while also alleviating symptoms. And as you already know, taking the attention away from your anxiety attack or panic attack is key to stopping it in its tracks.
How to do the calming counts exercise?
Find a comfortable place to sit
Take a long, deep breath
Exhale slowly and silently repeat the word "relax" either in your head or out loud
Softly close your eyes
Take ten natural, easy breaths
Begin to exhale, counting down from "ten"
As you're exhaling, focus on alleviating any tension in your forehead, jaw, shoulders and stomach and imagine all stress and tension escaping your mind and body with each exhale
As you reach "one", open your eyes and bring your attention back to your surroundings
The key to using breathing exercises for anxiety relief is to practice them. Despite breathing being one of the most natural things we do, when anxiety approaches, it's often the first thing we forget to do properly. So, practice these breathing exercises daily and you'll be better prepared to handle the next anxiety attack.
For a comprehensive guide to alleviating anxiety, try the Say Goodbye to Panic and Anxiety Attacks program. It's an online eBook course that teaches you breathing techniques for anxiety, meditation, positive thinking, progressive muscle relaxation, yoga and more.
If you're experiencing a crisis and in need of professional help, please reach out to the online counselors at Better Help. They offer affordable counseling for anxiety right through your tech devices.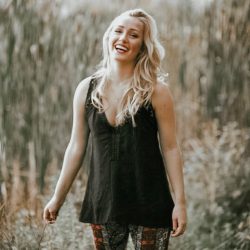 Latest posts by Chantal McCulligh
(see all)