If the captivating glow of Himalayan salt lamps has you intrigued to add a couple to your home, you'll be happy to know that the benefits go far beyond what meets the eye. Nestled within the heart of the majestic Himalayas, this unique type of salt is renowned not only for its distinct pink hue but also for the myriad of potential benefits it offers. From culinary uses to therapeutic applications, Himalayan salt has found its way into homes and wellness practices around the globe. In recent years, the mesmerizing radiance of Himalayan salt lamps has captured the attention of those seeking natural solutions for various aspects of well-being. In this exploration, we delve into the origins of Himalayan salt, the science behind its potential benefits, and the soothing influence of Himalayan salt lamps on one particular aspect of our lives: anxiety relief. Join us as we illuminate the incredible properties of Himalayan salt and how they contribute to a sense of tranquility and calmness.

The Powerful Healing Benefits of Himalayan Salt
Himalayan salt is renowned for its unique composition and potential benefits, ranging from culinary uses to various wellness applications. The use of Himalayan salt dates back centuries when people started to mine salt water and mineral water as a source of natural remedies for a vast array of health concerns.
Over the years, the salt has evolved into soothing himalayan bath products and stunning himalayan salt lamps to provide an abundance of ways to use it to achieve everything from natural anxiety relief and mental wellness to natural healing for physical ailments.
Here are some of the key advantages that Himalayan salt offers:
Rich Mineral Content: Himalayan salt is loaded with essential minerals such as potassium, magnesium, and calcium. These minerals play crucial roles in maintaining proper hydration, electrolyte balance, and overall bodily functions.
Balancing Electrolytes: The mineral content in Himalayan salt can help regulate electrolyte balance, supporting nerve and muscle function, hydration, and pH levels.
Aiding Digestion: Some enthusiasts suggest that consuming Himalayan salt may assist in promoting healthy digestion by stimulating stomach acid production and aiding in nutrient absorption.
Respiratory Health: Inhalation of salt-infused air, often through salt therapy or salt caves, is believed to have potential benefits for respiratory health. The salt's antibacterial properties may help clear mucus and reduce inflammation in the airways.
Detoxification: Himalayan salt's ability to attract and absorb water molecules from the air can extend to absorbing toxins and impurities. This makes it a popular choice for detoxifying salt baths.
Skin Health: Himalayan salt is used in skincare products due to its exfoliating and mineral-rich properties. It can help cleanse the skin and promote a healthy, radiant complexion.
Alkalizing Properties: While research is limited, some proponents suggest that Himalayan salt may have alkalizing effects on the body, potentially helping to counterbalance acidity.
Culinary Delight: Himalayan salt is prized as a gourmet salt, imparting a mild, nuanced flavor to dishes. It can be used in cooking, seasoning, or as a finishing touch to enhance the taste of various cuisines.
Reduced Sodium Intake: While still a form of salt, Himalayan salt crystals are larger than table salt grains. This means that by volume, you may use less salt while still achieving the desired level of flavor, potentially leading to reduced sodium consumption.
Ambient Wellness: Himalayan salt lamps are celebrated for their ability to release negative ions into the air, which some believe can counteract the potentially harmful effects of positive ions emitted by electronic devices and improve overall indoor air quality.
Harnessing the rich mineral profile and unique properties of Himalayan salt offers a holistic approach to enhancing well-being, both internally and in the environment around us.
How do Himalayan Salt Lamps Work?
Himalayan salt lamps, as seemingly simple as they appear, operate through an intriguing interplay of science and nature. Take a moment to think about how you feel when you go outside to get a breath of fresh air; your mind and body feel revitalized. This is a result of the negative ions and clean air. Himalayan salt lamps work to give you the same effects, only inside your home.
These lamps are crafted from genuine Himalayan salt crystals, rich in minerals and trace elements. When the lamp is turned on, the gentle warmth emitted by the bulb causes the salt crystal to warm up. This warmth, in turn, triggers a phenomenon known as hygroscopy – the ability of the salt to attract and absorb water molecules from the surrounding environment. As the water vapor is drawn into the salt crystal, it carries along with it various airborne particles, including dust, allergens, and pollutants. These impurities become trapped within the salt crystal, effectively purifying the air. Additionally, the heated salt crystal emits a soft, warm glow that creates a soothing ambiance, contributing to a serene and calming atmosphere. This harmonious blend of air purification and ambient lighting makes Himalayan salt lamps not only aesthetically pleasing but also functional contributors to a healthier indoor environment.
As for anxiety relief, himalayan salt lamps provide natural anxiety relief and mental wellness by emitting negative ions into your living space to combat the overload of electric smog.

The Best Himalayan Salt For Your Health Goals
Himalayan salt's versatility extends beyond its traditional culinary use, encompassing a wide array of products that can enrich various aspects of daily life. Here's a look at different Himalayan salt products and the best ways to incorporate them into your routine:
Himalayan Salt Lamps
Himalayan salt lamps are popular for their soothing glow and potential air-purifying properties. To use them effectively, place the lamp in a well-frequented area of your home, like the living room or bedroom. Turn on the lamp regularly to create a serene ambiance and enjoy the potential benefits of improved air quality.
Himalayan Salt Cooking Tiles and Blocks
These large salt blocks can be heated or chilled and used as cooking surfaces. Try using them for grilling or chilling foods like sushi. To use, preheat the block gradually to avoid cracking, and cook foods directly on its surface for a unique flavor infusion.
Himalayan Salt Inhalers
Himalayan salt inhalers offer a natural way to support respiratory health. Inhale through the device to potentially help alleviate symptoms of allergies, asthma, or congestion. Follow the manufacturer's instructions for proper usage and maintenance.
Himalayan Salt Bath Soaks
Transform your bath into a spa-like experience by adding Himalayan salt bath soaks. The salts can help relax muscles, exfoliate skin, and promote a sense of calm. Pour a cup of salt into warm bath water and soak for 20-30 minutes.
Himalayan Salt Scrubs
Salt scrubs infused with Himalayan salt can exfoliate and revitalize the skin. Gently massage the scrub onto damp skin in circular motions, then rinse off. Your skin will feel rejuvenated and soft.
Himalayan Salt Foot Detox Pads and Blocks
These blocks are designed to be placed under the feet during relaxation. Some people believe that the feet can absorb minerals from the salt, aiding in detoxification and relaxation.
Himalayan Salt Massage Stones
Heated Himalayan salt stones can provide a soothing massage experience. Warm the stones and use them to massage tense muscles, promoting relaxation and improved circulation.
On the outside,
Himalayan salt lamps
may seem like some gypsy, hippie voodoo natural anxiety relief. However, the benefits of salt lamps for anxiety are supported by science. When incorporating Himalayan salt products into your routine, always follow manufacturer guidelines and recommendations for usage, maintenance, and care. Each product offers a unique experience and potential benefits, contributing to a holistic approach to well-being.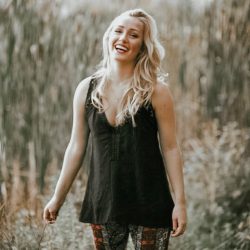 Latest posts by Chantal McCulligh
(see all)