Before you layer on some new cosmetics, check to see if you're wearing makeup that's toxic for your mental health. In the modern days of eco-friendly, health conscious products, we look to many brands to provide a safe haven that leave us free from worry. But did you know that many of your products may be hiding some nasty ingredients that are contributing to your worry warts? Parabens, plastics, phthalates, and pesticides are commonly found in cosmetics and can be worsening your mental health.
Makeup That's Toxic For Your Mental Health
Parabens, plastics, phthalates, and pesticides all have 2 things in common: they're disrupting your endocrine system (also known as hormones!) and they're hiding in your cosmetics and skincare.
How Are Endocrine Disruptors Bad for Your Mental Health?
Endocrine disruptors are typically synthetic compounds that interfere with the normal functions of your hormones and can have some gnarly outcomes. We're talking about breast cancer, A.D.H.D., neural degeneration, and depression & anxiety. We're bombarded by these chemicals daily and the effects can be detrimental.
How Are Parabens Bad for Mental Health?
Parabens are used as a preservative to prevent the growth of mold and bacteria and can be absorbed through the skin. Some of these even mimic hormones like estrogen and can wreak havoc on your endocrine system. One particular study found that 99% of malignant tumors in the breast contained 1-5 different parabens. To avoid these, look for any ingredient on the label that says "paraben" on the end- and don't use it, as it's like makeup that's toxic for your mental health.
How are Plastics Bad for your Mental Health?
We already know that plastics are destroying our oceans and our planet as a whole but now they're even destroying our health? Plastics contain one very dirty ingredient: BPA. As your products sit in their plastic containers, they are absorbing the BPA which then gets slathered all over your skin and absorbed by it too! Our skin is the largest organ of our body and what we put on it matters at leas as much as what we put inside it. The easiest way to avoid BPA? Simply buy your products in glass containers.
How Are Phthalates Bad For Your Mental Health?
Now, phthalates are a little trickier because they are just spelled out on the label like parabens. They can sometimes be identified by a three or four letter acronym on the label with a "P" in it. These can damage the lungs, kidneys, liver, and reproductive organs. The most common phthalate is "fragrance" or "parfum" which could literally be one of 3,000 ingredients that companies aren't required to disclose. Avoid those words as much as possible and avoid PVC plastics as well. If a label has a "3" in the arrows (like the symbol for recycling), it is a PVC and should be avoided.
How Are Pesticides Bad For Your Mental Health?
Pesticides are likely the worst of all when it comes to these hormone monsters because they aren't listed on labels at all. We are completely ignorant as to what plants have been put into our products- and what has been put onto those plants before they made it there. The only possible way to avoid these pesky pesticides is to purchase quality organic products, though you should still check the label for phthalates and parabens.
How to Avoid Makeup that's Toxic for your Mental Health
While the beauty industry is highly unregulated (the European Union bans 1300 ingredients where the U.S. only bans 11) we can arm ourselves against makeup that's toxic for your mental health with knowledge and the power of choice. Avoiding these 4 types of ingredients are a huge stride in protecting our health from body burden and may be saving our minds from anxiety in the process.
To avoid anxious feelings about these ingredients, you can utilize the help of EWG's Skin Deep app and the Think Dirty app. All it takes is the simple scan of a barcode to tell you the safety rating of any product and ease your troubled mind.
You can also find my consciously rooted community for health based education here, where I share my recommendations for toxin free living and cosmetics or follow me on Instagram. We all have skin and we deserve to know exactly what we're putting on it.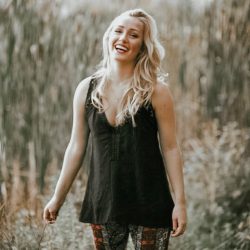 Latest posts by Chantal McCulligh
(see all)