The world is full of wonderful and effective anxiety techniques to help you cope and manage your mental illness but of course, it takes an appointment with a therapist or plenty of time spent researching the internet to find them. So, we reached out to Colleen (NotSoMightyAnxiety on Instagram) to share her personal experience with one of the most popular ones, the DARE anxiety technique.
***

Do you DARE to try this Anxiety Technique?
Hi, my name's Colleen and I've been suffering from anxiety for about three years. For the most part, I've been able to manage my anxiety enough, with the help of medication, to live my life with a sense of normalcy up until three months ago during a time of transition in my life. Anxiety took my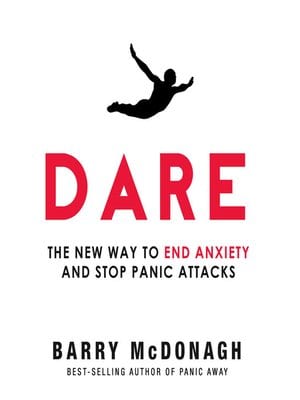 world over by a storm. The panic attacks were so frequent and the feelings were so intense that I didn't know how to control them. Dealing with the severity of my anxiety got the best of me and I was scared anytime I would feel an inkling of anxiousness. I fought the feelings the best I could but it only seemed to make it worse.
I was desperate to feel better and was open to trying anything that would relieve me of this constant fear and torture. Healing crystals, essential oils, therapy, medication, massages, etc. You name it, I was open to it. But no matter what I seemed to do, I still couldn't escape the anxiety. It wasn't until I came across a book that had literally been sitting in a box that had gotten lost in the shuffle of a move, Dare: The New Way to End Anxiety and Panic Attacks by Barry McDonagh.
What is the Dare Technique?
The DARE technique is a cognitive-behavioral strategy that can help individuals manage feelings of anxiety and panic. It was developed by Barry McDonagh, a mental health therapist and author, and is based on the principles of mindfulness, exposure therapy, and cognitive restructuring.
DARE stands for:
Diffuse: Learn to diffuse anxious thoughts and feelings.
Allow: Allow yourself to feel anxious without trying to suppress or avoid the experience.
Run Toward: Embrace the experience of anxiety and run towards it instead of trying to run away from it.
Engage: Engage with the present moment and the reality of the situation, rather than getting caught up in anxious thoughts.
By practicing the DARE technique, individuals can learn to tolerate and accept anxious thoughts and feelings without letting them take control. This can lead to a reduction in symptoms of anxiety and a greater sense of control over one's thoughts and emotions.
I remembered my mom had bought me this book awhile back when I experienced a panic attack for the first time in a long while. Not being much of a reader or even someone who bought into "self-help books," I brushed it aside and never saw it until last month.
Being desperate for anxiety relief, I decided to put my opinions about reading aside and give it a go. Boy, did I find the gateway to some relief I thought that I would NEVER find!
DARE is a pneumonic device created by the Barry McDonagh used to minimize the fear and power that we unknowingly give to anxiety. Breaking each letter of the word DARE into steps on how to get through anxiety.
What Are The DARE Steps for this Anxiety Technique?
Ever wonder what DARE stands for or how to implement into your own healing. Well, look no further!
Step One: Diffuse
The author described this starting point as simply "turning the what-ifs into whatever's." That's what I always struggled with. I was always thinking of the what-ifs. What if I pass out? What if people judge me? Then whatever, if I pass out, I pass out. By thinking this way, it helped me stop the overthinking of my initial feelings when anxiety starts creeping in.
Step Two: Allow
Allow the feelings and sensations of anxiety to just run through you. Don't fight it, the more you fight it the stronger the feelings become. Accept the feelings. Allow the body to accept the anxious feelings from a fast heartbeat to that all familiar dizziness. No more how uncomfortable, the author encourages you to just be.
Step Three: Run towards
Welcome it with open arms and get happy about anxiety. This part was the one I struggled most with because why would I get happy about having anxiety?  Barry McDonagh explained that by welcoming and running towards anxiety you externalize it. You trick your mind into thinking that anxiety is rather a thing or entity and not a part of you.
Bonus part that comes with running towards it, is that if you challenge anxiety such as "bring it on, that's all you got?" it's an automatic kill switch during a panic attack. Your mind physically can't create anxiety on your demand.
Step Four: Engage
Take time to participate within an activity that will COMPLETELY engage your mind. The more engaged your mind is, the less anxiety has the ability to rear its ugly head to strongly.
Simple enough, right? That's what blew my mind. It was SO simple. I started to implement the DARE anxiety technique anytime I started feeling anxious and I immediately noticed how it minimized the strong feelings of no-control anxiety made that I had become so accustomed to.
The DARE anxiety technique book made me realize that I was fearing fear. Fighting against the fear that anxiety created with more fear created more turmoil for me because it was a vicious loop (i.e. my body creating its own fear + my scared reaction to the feeling = MORE FEAR). This book helped me rationalize those feelings and just to accept it because the more I fought it the worse I would ultimately end up feeling.
Although I'll never be rid of my anxiety completely, I found that using the DARE anxiety technique has put me in the driver seat of taking control and making anxiety not so mighty. I recommend that you give this a try to see how it works for you!
There's also a DARE anxiety technique workbook which helps you practice everything you've learned from the book, so you basically become an expert at managing your anxiety. As the old saying goes, 'practice makes perfect'.
DISCLAIMER: Everyone is different and reacts differently to many methods. I just wanted to share this tool that I came across that helped my start my journey to recovery. I'm implementing this method along with medication, exercise, and diet.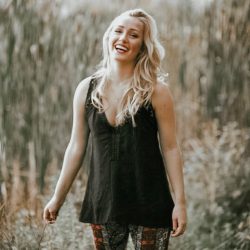 Latest posts by Chantal McCulligh
(see all)