Finding moments of peace and tranquility can be a challenge, especially when you struggle with an anxiety disorder or mental illness. Fortunately, there are all kinds of anxiety relief products and helpful tools that can make that journey a little easier. We have gathered a collection of the best products that can help with anxiety and boost your overall mental health, so you can find your inner calm and tackle anxiety whenever it rears its ugly head. Whether you're seeking natural remedies, soothing tools, or innovative solutions, we've got you covered. Say goodbye to restless nights and racing thoughts. It's time to reclaim your inner peace and take control of your anxiety. Let's explore these incredible anxiety relief products that are ready to empower you on your path to a more relaxed and fulfilling existence.
Top Recommended Products to Help With Anxiety
Find relief from anxiety with our carefully curated selection of products designed to help you reclaim your peace of mind. Explore our comprehensive guide featuring top-rated items that can help with anxiety by effectively combat stress and anxiety. From soothing aromatherapy tools to calming herbal remedies, our collection offers a diverse range of solutions to promote relaxation and enhance your well-being. Say goodbye to anxiety and embark on a journey towards tranquility with these anxiety-reducing products.
A quick look at the best anxiety relief products:
1. Spinning Rings (also known as Anxiety Rings)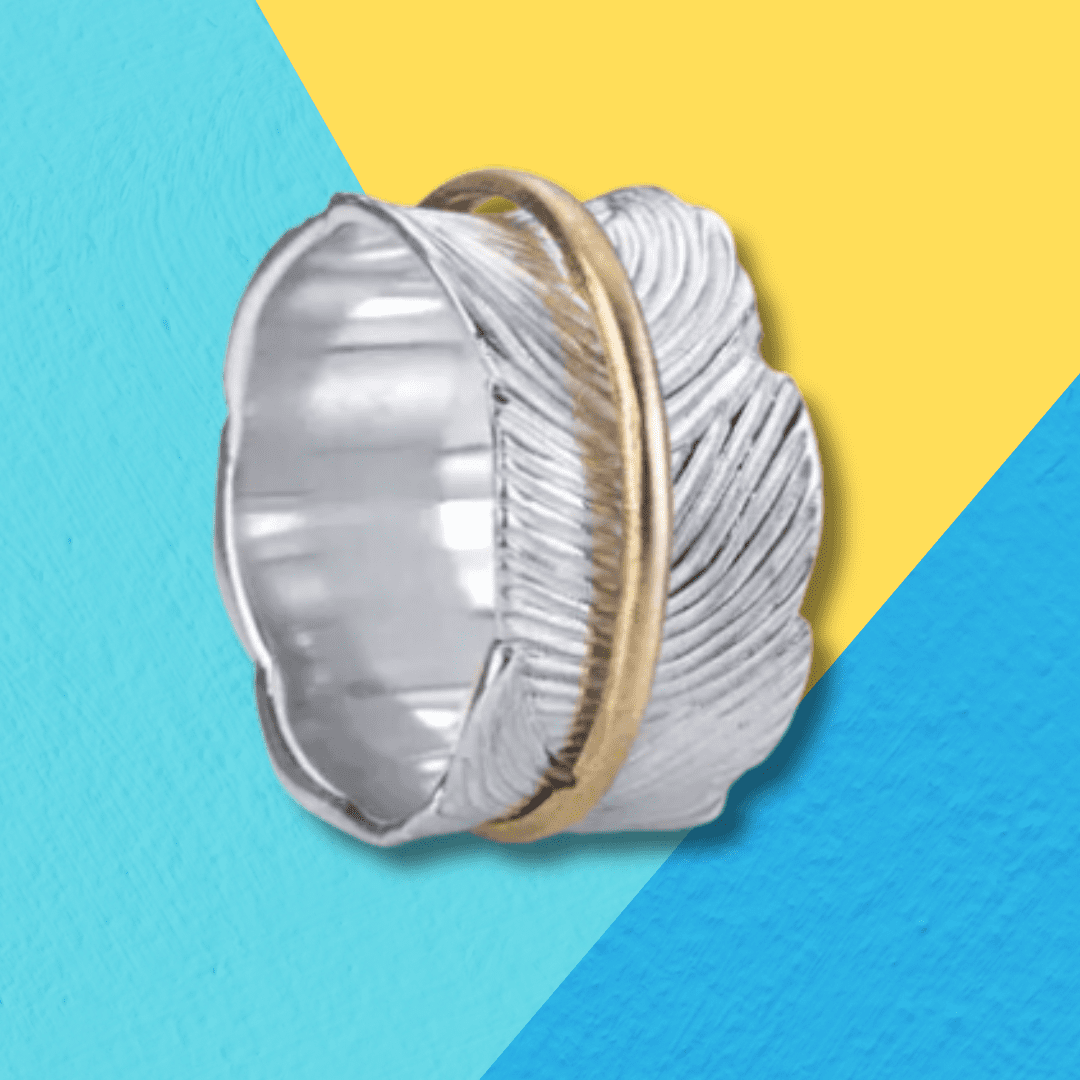 It only makes sense to start this list of soothing products with the most popular anxiety relief product: spinning rings. These beautiful pieces of jewelry are your stylish and calming companion in the face of anxiety. Designed with the perfect balance of fashion and functionality, anxiety rings provide a discreet and satisfying outlet for fidgeting, soothing your restless mind with every spin. As your fingertips gracefully glide across the smooth surface, you'll experience a delightful tactile sensation that diverts your attention from anxious thoughts. The rhythmic motion of the spinning ring acts as a gentle anchor, grounding you in the present moment and alleviating stress.
Here's a quick recap of some of the benefits of anxiety rings:
Stress Reduction: Fidgeting with spinning rings provides a soothing and repetitive motion that can help reduce stress levels, allowing for a greater sense of calm and relaxation.
Anxiety Relief: Fidgeting with spinning rings can serve as a distraction from anxious thoughts and worries, redirecting focus and promoting a sense of control, thereby alleviating anxiety symptoms.
Increased Focus: The act of fidgeting with spinning rings can improve concentration and focus, providing a channel for excess energy and aiding in maintaining attention during tasks or moments of heightened anxiety.
Emotional Regulation: Fidgeting with spinning rings can help regulate emotions by providing a physical outlet for pent-up energy or anxiety, assisting in emotional self-regulation and promoting a more balanced state of mind.
Mindfulness and Grounding: Engaging with spinning rings encourages mindfulness as you become aware of the present moment and the tactile sensations of the ring's motion, fostering a grounding effect that can help anchor you during times of anxiety or stress.
Embrace the benefits of fidgeting as you find solace in this beautiful accessory and empower yourself with a spinning ring and witness the transformative power it holds.
2. Acupressure Foot Reflexology Roller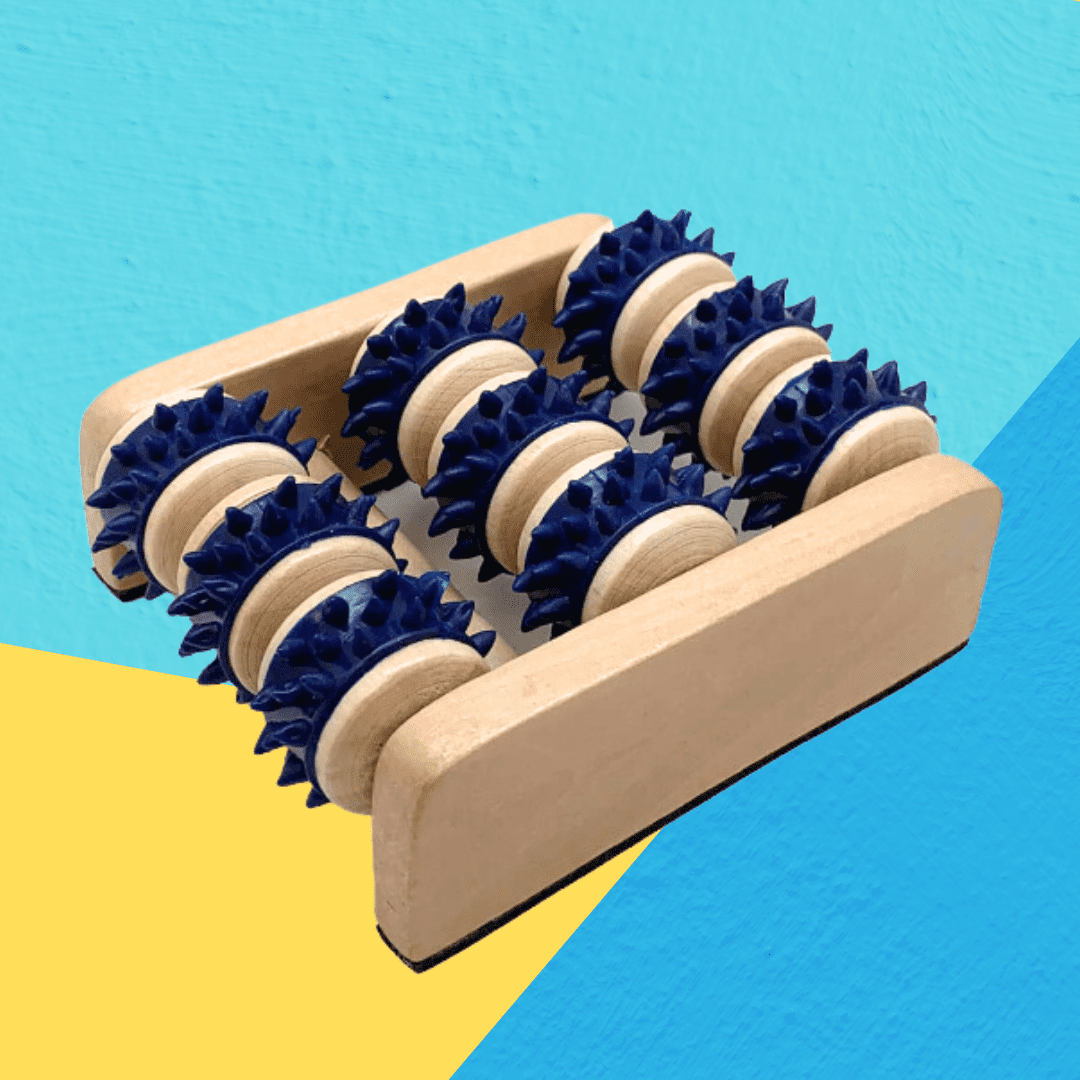 There are so many hidden secrets of relaxation that you can tap into with reflexology foot massage rollers. These simple tools, inspired by ancient healing practices, work their magic by applying gentle pressure to specific points on your feet, corresponding to various organs and systems within your body. As you roll your feet across these meticulously designed surfaces, you can activate relief and relaxation, as well as many additional benefits for anxiety and your overall mental health:
Alleviates Anxiety: Reflexology stimulates specific points on the feet that are connected to the body's relaxation response, promoting a sense of calm and reducing anxiety levels.
Stress Reduction: By targeting stress points on the feet, reflexology helps release tension and promotes relaxation throughout the body, reducing stress levels and promoting mental well-being.
Improved Sleep Quality: Reflexology can help regulate sleep patterns by promoting relaxation, reducing restlessness, and aiding in the release of natural sleep-inducing hormones, leading to improved sleep quality and reduced anxiety-related sleep disturbances.
Emotional Balance: Reflexology supports emotional balance by releasing endorphins and promoting a sense of overall well-being. It can help reduce symptoms of depression, promote positive mood, and enhance emotional resilience.
Enhanced Mental Clarity: By stimulating reflex points on the feet, reflexology helps improve blood circulation and oxygenation to the brain, enhancing mental clarity, focus, and cognitive function, while reducing brain fog and mental fatigue associated with anxiety.
The rhythmic motion and targeted stimulation promote the release of endorphins, the body's natural feel-good hormones, while reducing cortisol levels, the infamous stress hormone. As tension melts away with each stroke, you'll discover a newfound sense of serenity, clarity, and balance. It's recommended to use a reflexology foot massage roller at least once a day for 5 to 10 minutes on each foot.
3. SAD Light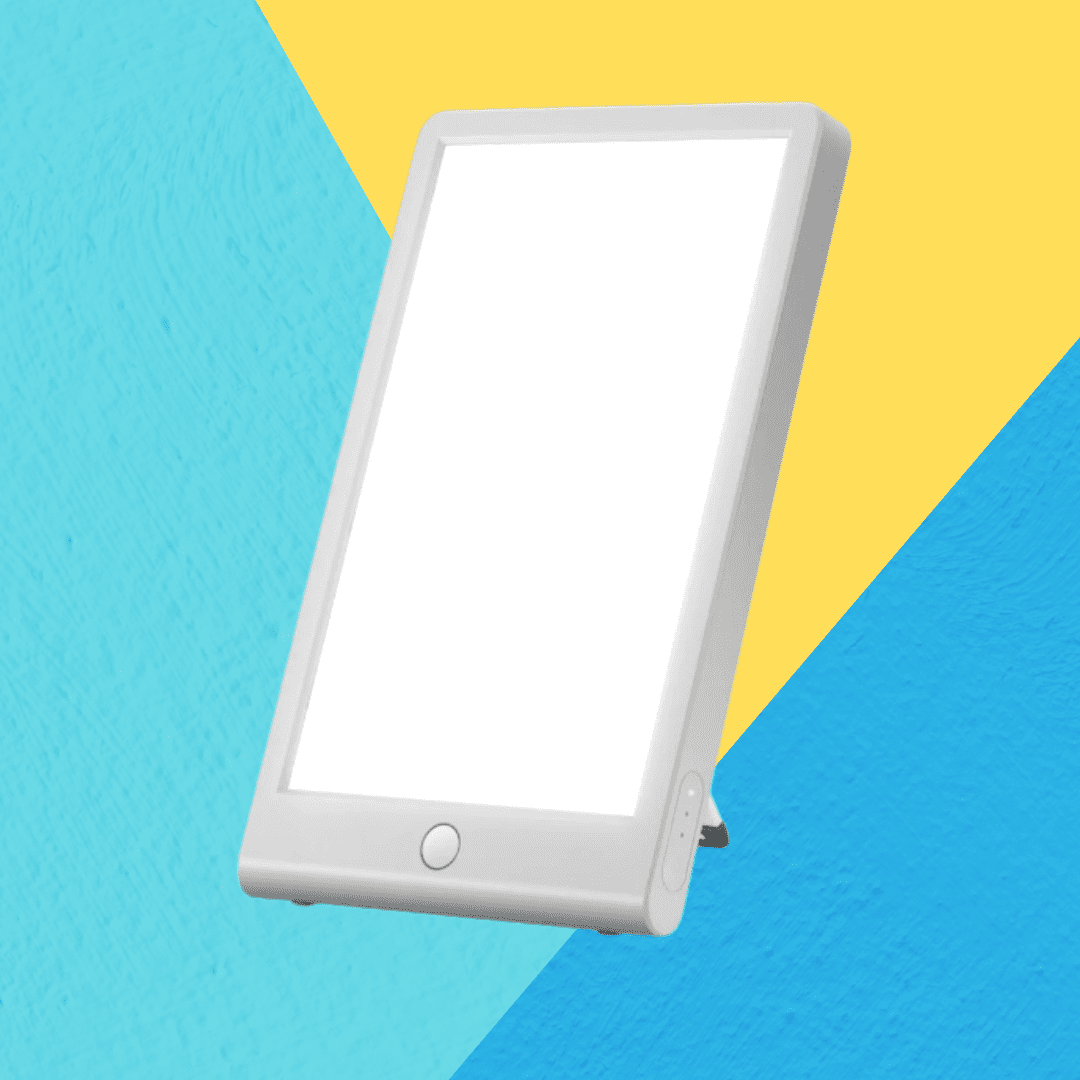 It's not just any old light! SAD (Seasonal Affective Disorder) lights are a therapeutic device designed to mimic natural sunlight to elevate your mood and combat symptoms of anxiety, depression and other mental health concerns. As the gentle glow permeates your space, it stimulates the production of serotonin, the "feel-good" hormone, while reducing the levels of melatonin, the hormone associated with sleep and low mood. By exposing yourself to this light, especially during the darker winter months, you can combat seasonal depression, uplift your spirits, and alleviate anxiety symptoms.
Mood Enhancement: Using a SAD light can improve mood by increasing serotonin production, helping to alleviate symptoms of depression and seasonal affective disorder.
Anxiety Reduction: The bright light emitted by a SAD light can help regulate the body's circadian rhythm, promoting better sleep patterns and reducing anxiety levels.
Increased Energy: Exposure to a SAD light can boost energy levels, combatting feelings of lethargy and fatigue often associated with seasonal changes or mood disorders.
Improved Focus and Concentration: By providing a light source that mimics natural daylight, a SAD light can enhance alertness, focus, and cognitive function, leading to improved productivity and mental clarity.
Non-Invasive Treatment: Using a SAD light is a non-invasive and drug-free approach to mental health support, making it a safe and accessible option for individuals seeking anxiety relief and overall well-being.
Embrace the warmth and radiance of a SAD light, and let its luminous embrace restore balance to your mind and bring rays of joy into your life.
4. Essential Oil Diffuser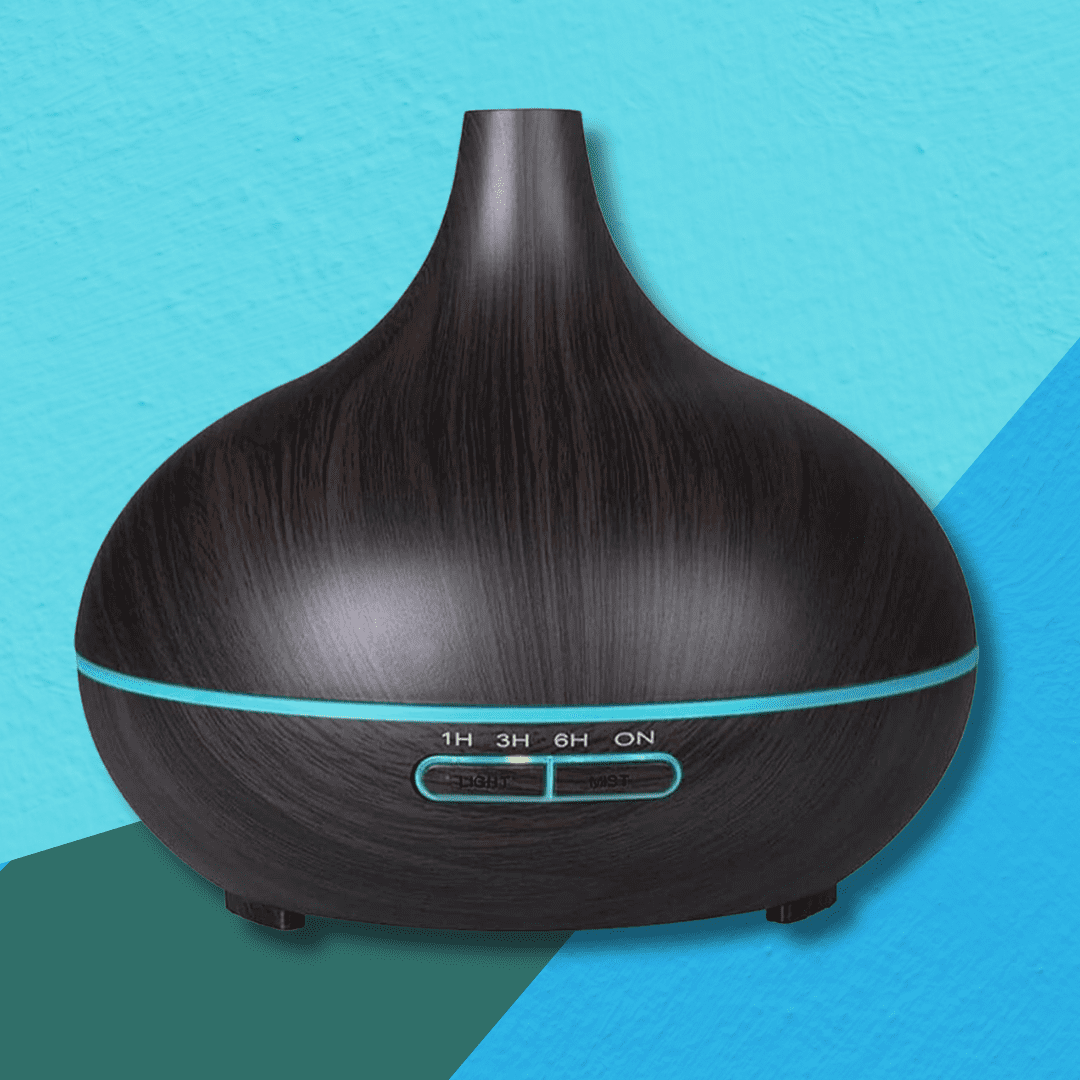 Essential oil diffusers are remarkable devices that effortlessly disperse the healing properties of essential oils into the air, creating a calming and inviting atmosphere. As the soothing scents fill your space, they interact with your senses, triggering a cascade of positive effects on your mind and emotions.
Essential oils like lavender, chamomile, and bergamot have been celebrated for their anxiety-reducing properties, helping to alleviate stress, promote relaxation, and improve sleep quality. Inhaling these aromatic blends can uplift your mood, restore inner balance, and create a sanctuary of tranquility amidst the chaos of daily life.
Stress Relief: Essential oil diffusers promote relaxation and help reduce stress levels, providing a calming effect on the mind and body.
Anxiety Reduction: Certain essential oils, such as lavender and chamomile, have anxiety-reducing properties that can help alleviate symptoms of anxiety and promote a sense of calm.
Improved Sleep Quality: By diffusing essential oils known for their sedative properties, such as lavender and vetiver, essential oil diffusers can enhance sleep quality and reduce insomnia and restlessness.
Mood Enhancement: Aromatherapy with essential oil diffusers can uplift the mood, boost positive emotions, and provide emotional support during times of stress or anxiety.
Mental Clarity and Focus: Some essential oils, like peppermint and rosemary, are known to enhance mental clarity, improve focus, and increase concentration, making them beneficial for productivity and cognitive performance.
Let the gentle mist of an essential oil diffuser envelop you, and embark on a journey of emotional well-being and inner peace.
5. Sleep Spray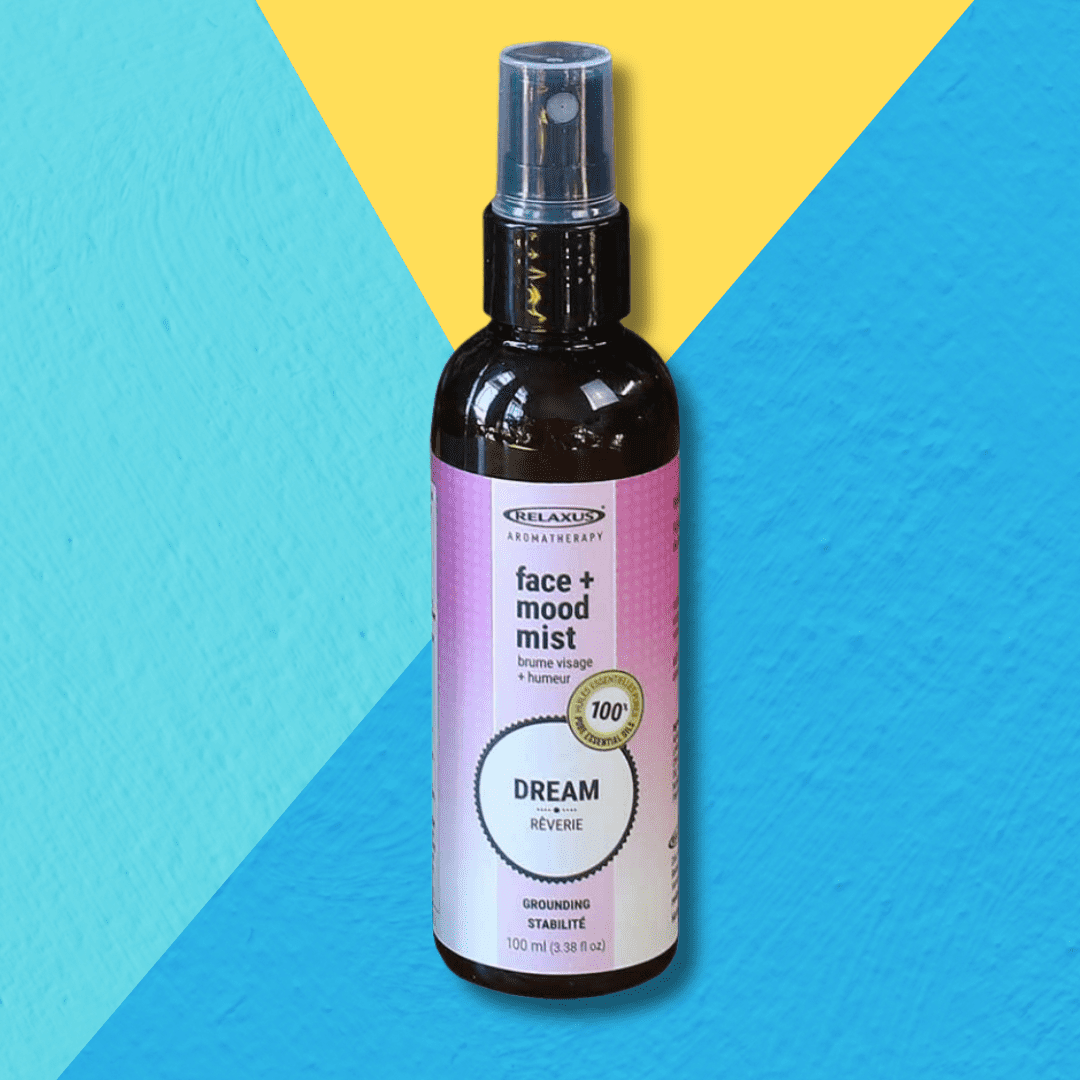 If you struggle with sleep anxiety or sleep disorders like insomnia, welcome to the club. Although sleep may not come easy to you, there are all kinds of things you can do to help the process. Sleep sprays infused with essential oils is a natural remedy designed to ease anxiety, promote relaxation, and lull you into a restful sleep. With a gentle mist that delicately settles upon your pillow or bedding, these sleep sprays create a tranquil ambiance that signals to your mind and body that it's time to unwind. Lavender, chamomile, and ylang-ylang are just a few of the essential oils known for their calming properties.
Anxiety Reduction: Sleep sprays infused with essential oils can help alleviate anxiety symptoms, promoting a sense of calm and relaxation before bedtime.
Relaxation Induction: The soothing aroma of essential oils in sleep sprays can induce a state of relaxation, preparing both the mind and body for a restful sleep.
Improved Sleep Quality: By promoting relaxation and reducing anxiety, sleep sprays with essential oils can enhance the overall quality of sleep, leading to deeper and more rejuvenating rest.
Natural and Non-Habit Forming: Sleep sprays utilizing essential oils offer a natural alternative to sleep aids, as they are non-habit forming and free from potentially harmful chemicals.
Aromatherapeutic Benefits: The inhalation of essential oils through sleep sprays can have aromatherapeutic effects, helping to balance emotions, uplift mood, and create a calming bedtime environment.
These sleep sprays provide a gentle and non-intrusive approach to enhancing your sleep routine, allowing you to awaken feeling refreshed and rejuvenated. Embrace the power of essential oils and let sleep sprays become your secret weapon for anxiety relief and restful nights, helping you create a sanctuary of calm amidst the chaos of the world.
6. Herbal Foot Detox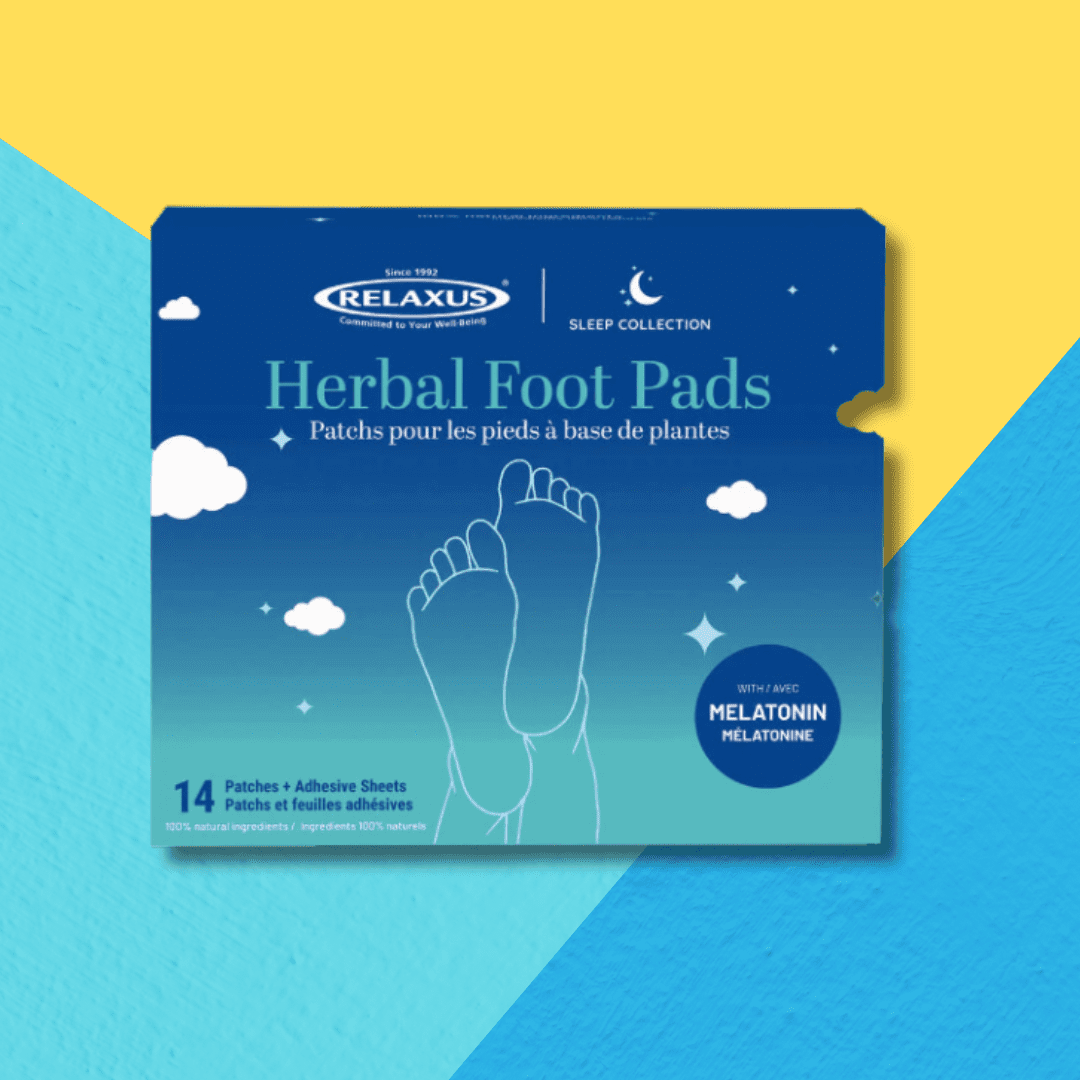 Add the ancient healing art of herbal foot detox patches into your weekly self care regime and unlock their incredible benefits for your physical and mental health. These foot patches harness the power of natural herbs and minerals to cleanse and rejuvenate the body from within, starting with your feet. As you apply these patches before bedtime, they work tirelessly throughout the night, drawing out toxins and impurities from your system. But the benefits extend far beyond mere detoxification. The soothing blend of herbs can have a calming effect on the mind, reducing stress, and promoting a sense of relaxation. By supporting the body's natural detoxification processes, these patches can help restore balance and harmony, allowing for improved mental clarity, increased energy, and an overall sense of well-being.
Detoxification: Herbal foot detox patches aid in the elimination of toxins and impurities from the body, promoting overall detoxification and improved bodily functions.
Stress Reduction: The calming effects of the herbs used in foot detox patches can help reduce stress levels, providing a soothing and relaxing experience that supports mental well-being.
Improved Sleep Quality: Using herbal foot detox patches before bedtime can promote better sleep by helping to relax the body and mind, leading to a more restful and rejuvenating sleep.
Increased Energy: By assisting in detoxification and improving overall bodily functions, foot detox patches can help boost energy levels and combat fatigue, leading to increased vitality and mental alertness.
Enhanced Sense of Well-being: The combination of detoxification, stress reduction, improved sleep, and increased energy can contribute to an overall sense of well-being and improved mental health.
Embrace the therapeutic journey of herbal foot detox patches and experience the transformative power they hold for your mental health.
7. Shower Steamers
Elevate your shower experience with steamers infused with essential oils to start every morning off with a world of benefits for your mental health and overall wellness. As the warm water activates these aromatic gems, a gentle cloud of fragrant steam envelops your senses, creating a serene and rejuvenating environment. The essential oils, carefully chosen for their therapeutic properties, work harmoniously to uplift your mood, reduce stress, and promote relaxation. Breathe in the invigorating scents of eucalyptus, lavender, or citrus, and feel your worries melt away. Shower steamers provide a holistic approach to self-care, as the combination of warm water, aromatherapy, and steam invigorates the senses and promotes a sense of well-being.
Mood Enhancement: Shower steamers infused with essential oils can uplift mood and promote positive emotions, providing a rejuvenating and invigorating start to the day or a soothing wind-down in the evening.
Stress Reduction: The aromatic scents released by shower steamers can help reduce stress levels and provide a calming effect, allowing for relaxation and a break from daily pressures.
Aromatherapy Benefits: Essential oils used in shower steamers have aromatherapeutic properties that can support mental well-being, promoting relaxation, clarity, and emotional balance.
Respiratory Relief: Inhalation of the steam and essential oils from shower steamers can help clear nasal passages, ease congestion, and support respiratory health, contributing to a sense of overall wellness.
Self-Care Ritual: Incorporating shower steamers into your routine creates a mindful self-care ritual, allowing you to carve out a few moments for yourself, fostering a sense of self-nurturing and self-love.
Immerse yourself in this luxurious ritual, and emerge from your shower feeling refreshed, rejuvenated, and ready to face the day with a renewed sense of calm and clarity. Let the power of shower steamers and essential oils help with anxiety by supporting your mental health and nurturing your overall wellness.
8. Hot Cold Massage Balls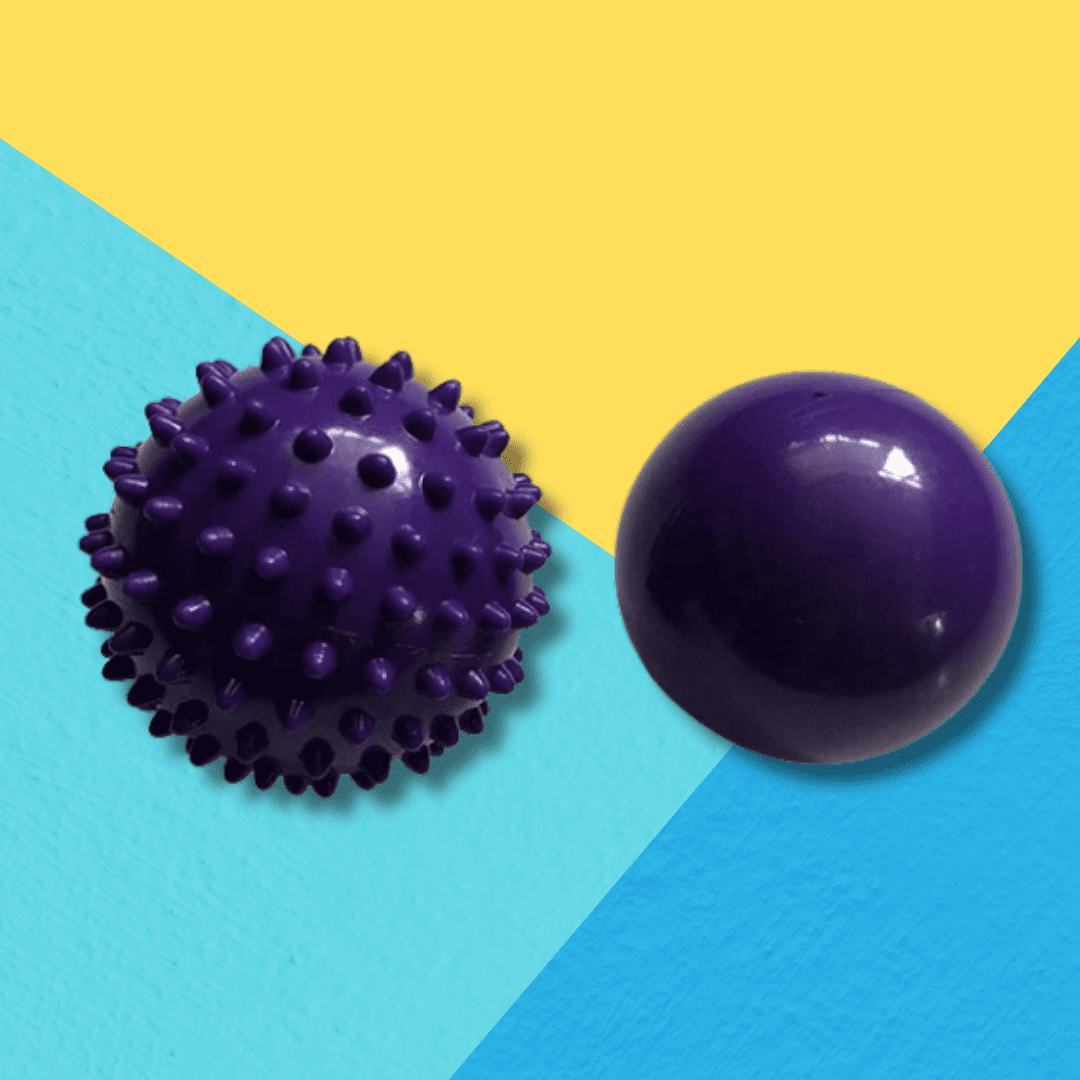 Experience the blissful relief and soothing benefits of hot and cold massage balls, with an extra release of stress and tension. These versatile massage tools offer a dynamic range of sensations, allowing you to customize your experience. By applying heat, the muscles relax, promoting increased blood flow and easing tension. The warmth penetrates deep into the tissues, soothing both the body and mind. Alternatively, the cold therapy option reduces inflammation and numbs pain, providing a refreshing and invigorating sensation. The combination of targeted pressure, heat, and cold stimulates the release of endorphins, the body's natural mood-boosting chemicals, promoting a sense of well-being and reducing stress and anxiety. With each glide across your body, these massage balls knead away muscle knots and release tension, leaving you feeling revitalized and at peace.
Incorporate hot and cold massage balls into your self-care routine, and let their therapeutic touch transform your mental state as you unwind, rejuvenate, and find harmony within yourself.
Stress Relief: Hot and cold massage balls provide targeted pressure and temperature therapy, helping to release stress and tension stored in the body.
Muscle Relaxation: The combination of heat and cold therapy helps relax muscles, improve circulation, and alleviate muscle soreness, promoting overall relaxation and comfort.
Pain Management: Hot and cold therapy can effectively reduce pain and inflammation, making the massage balls beneficial for managing chronic pain conditions and promoting pain relief.
Mood Enhancement: The release of endorphins triggered by massage and temperature therapy can improve mood, boost mental well-being, and contribute to a sense of calm and relaxation.
Versatile and Portable: Hot and cold massage balls are compact and portable, allowing you to use them anytime, anywhere for quick stress relief, making them a convenient self-care tool.
9. Affirmation Card Deck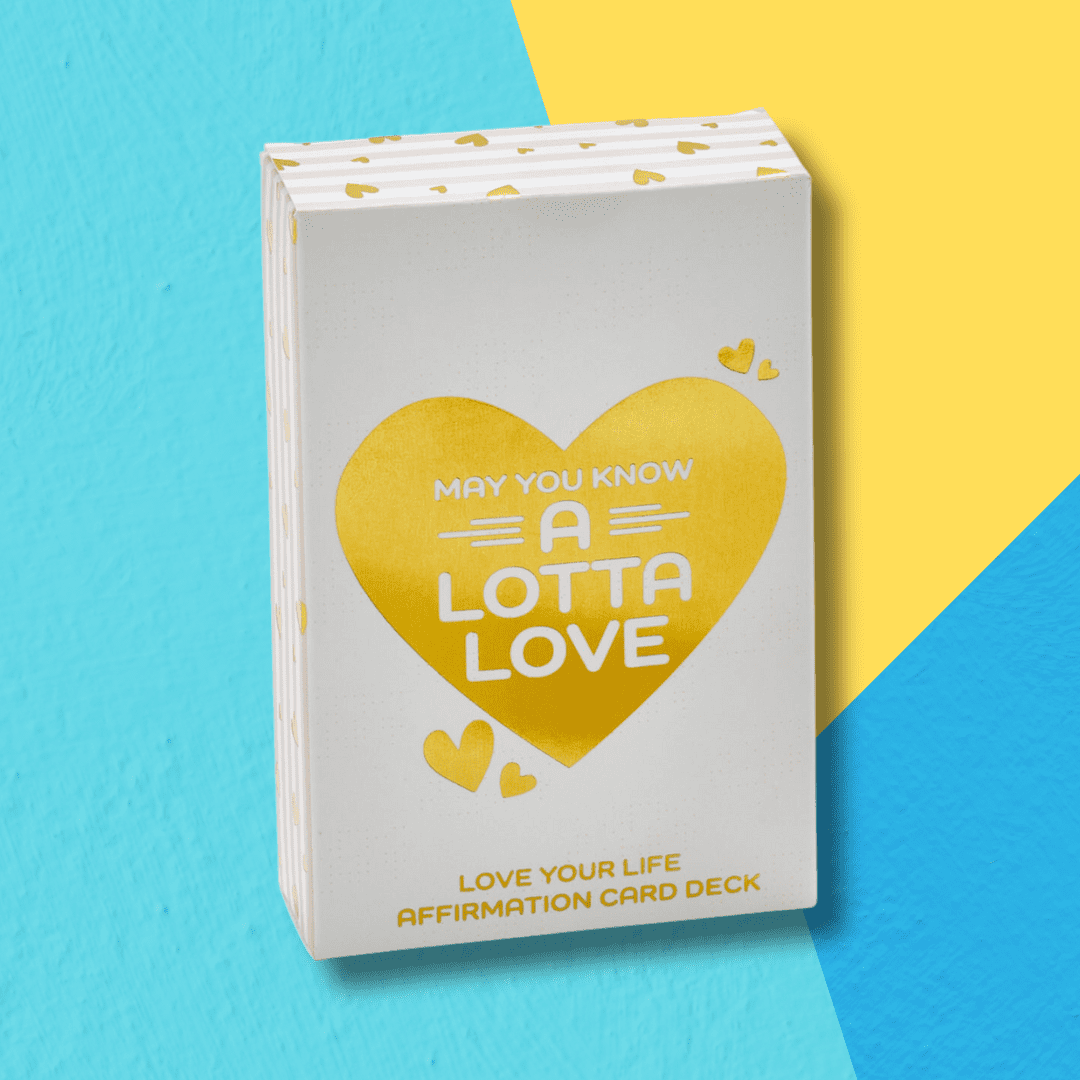 The power of affirmation cards has been well-documented and can be a great help with anxiety, as various studies show that using affirmations can uplift your mental health and encourage a more positive mindset. These beautifully designed cards carry empowering messages and affirmations that can transform your thoughts and beliefs. By regularly engaging with these cards, you invite a stream of positivity and self-compassion into your daily life. Affirmations have the ability to rewire your subconscious mind, replacing negative self-talk with encouraging and uplifting statements. As you read and repeat these affirmations, you cultivate self-confidence, inner strength, and resilience. They serve as a gentle reminder of your worth, capabilities, and potential. Incorporating affirmation cards into your routine can shift your perspective, reduce self-doubt, and improve overall well-being. Let these powerful words be a guiding light, supporting your journey towards a healthier and more positive mindset.
Positive Mindset: Affirmation cards help cultivate a positive mindset by replacing negative self-talk with empowering and uplifting statements.
Increased Self-Confidence: Regularly engaging with affirmation cards can boost self-confidence and promote a belief in one's abilities and worthiness.
Stress Reduction: Affirmations promote relaxation and stress reduction by shifting focus away from negative thoughts and redirecting attention to positive aspects of life.
Improved Self-Compassion: Affirmation cards encourage self-compassion and self-care, fostering a kind and nurturing relationship with oneself.
Enhanced Resilience: Affirmations build mental resilience by providing encouragement and motivation during challenging times, helping individuals bounce back from setbacks and adversity.
Embrace the transformative nature of affirmation cards and allow them to enhance your mental health, bringing joy, peace, and self-empowerment to every aspect of your life.
10. Journals & Notepads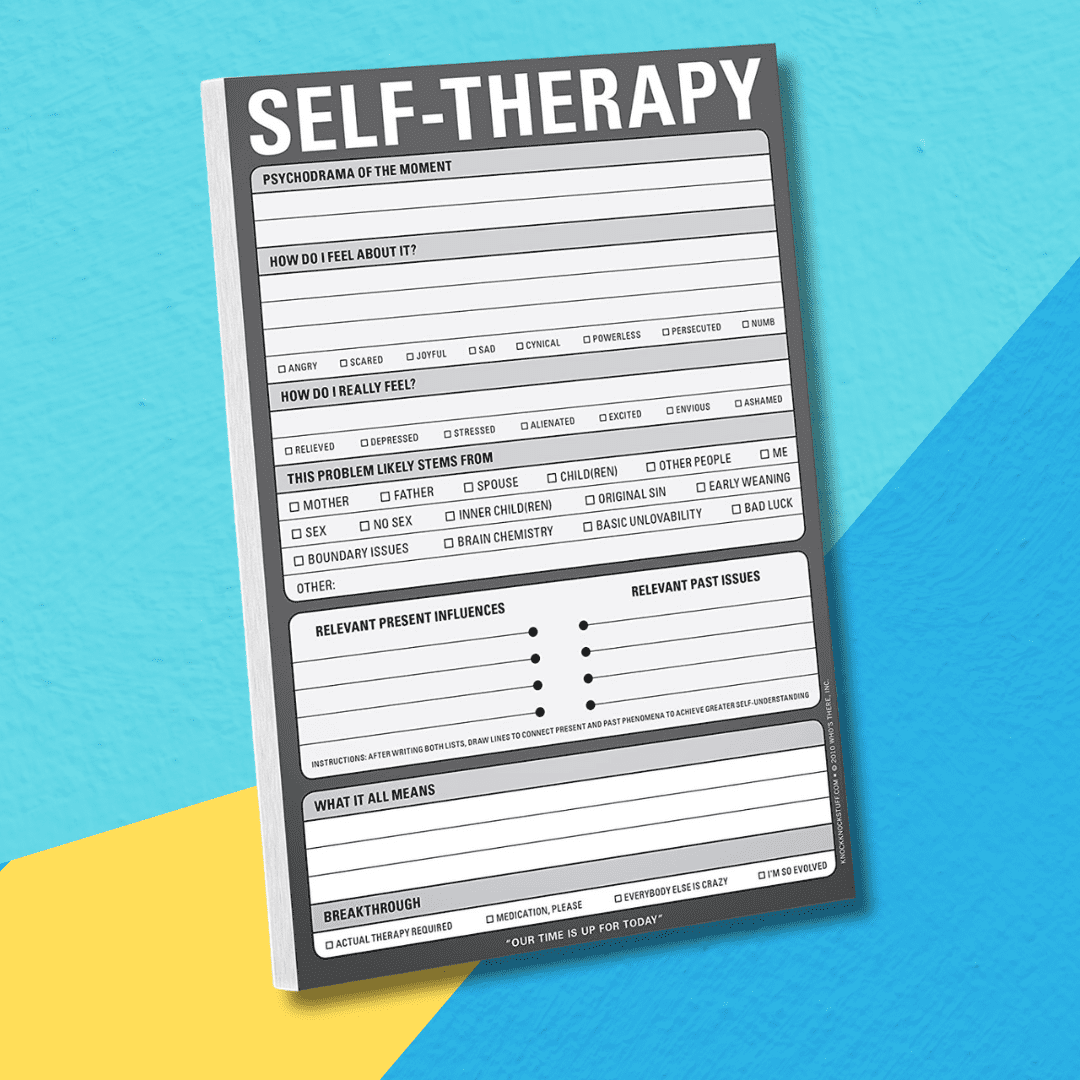 The benefits of journaling are worth every penny, as this simple act can serve as a powerful tool for your mental health. Journaling offers a safe and private space to express and explore your thoughts, emotions, and experiences. By putting pen to paper, you create an outlet for self-reflection, self-discovery, and self-expression. Journaling allows you to process and release pent-up emotions, reducing stress and promoting a sense of clarity and calm. It provides an opportunity to gain insights into your patterns of thinking and behavior, enabling you to identify and challenge negative thought patterns. Regular journaling can enhance self-awareness, improve problem-solving skills, and boost creativity. Moreover, journaling serves as a record of personal growth and a testament to your resilience. It becomes a trusted companion on your mental health journey, offering solace, perspective, and a safe space for self-care.
Emotional Release: Journaling provides an outlet for emotional release, allowing you to express and process feelings, reducing stress and promoting emotional well-being.
Self-Reflection: Regular journaling encourages self-reflection, helping you gain insights into your thoughts, behaviors, and patterns, fostering personal growth and self-awareness.
Problem Solving: Journaling can serve as a problem-solving tool, allowing you to explore challenges, brainstorm solutions, and gain clarity on various aspects of your life.
Stress Reduction: Engaging in journaling activities can help reduce stress levels by providing a constructive and therapeutic way to cope with daily pressures and challenges.
Enhanced Mental Clarity: The act of writing down thoughts and experiences promotes mental clarity, helping to organize thoughts, process emotions, and gain a sense of perspective and understanding.
Embrace the therapeutic power of journaling and watch as it transforms your mental well-being, empowering you to navigate life's challenges with resilience, gratitude, and self-compassion.
Incorporating calming products that can help with anxiety into your daily routine can be a transformative step towards finding relief and regaining control of your life. Whether it's the soothing scent of essential oils, the rhythmic motion of a spinning ring, or the gentle warmth of a SAD light, these products offer support on your journey towards greater peace and well-being. By seeking out and utilizing these anxiety-relieving tools, you actively take control of your mental health and empower yourself to navigate life with a sense of calm and resilience. Embrace the power of these calming products, let them be your companions on the path to tranquility, and discover the transformative impact they can have in helping you find inner peace and harmony. With their assistance, you can navigate the challenges of anxiety and find a sense of calm that truly helps with anxiety.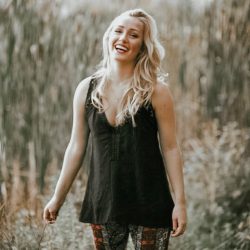 Latest posts by Chantal McCulligh
(see all)