Essential oils are the new hot topic these days, and they're not just for smelling good! These little powerhouses are capable of tackling all sorts of problems, from pesky headaches to annoying sore throats to those endless nights of counting sheep. Not only do they offer a natural solution to everyday ailments, but they're also easy to use and come in a plethora of delightful scents. So, get ready to ditch those over-the-counter remedies and say hello to the wonder world of essential oils! In this article, we cover the most calming essential oils that can help combat anxiety, stress and sleep disorders. 
What Are Essential Oils?
Get ready to take a deep dive into the wonderful world of calming essential oils! These little bottles of magic are made from a variety of plant parts, including flowers, herbs, barks, roots, peels, and petals. But, don't be fooled by imitations! Authentic essential oils are pure and free from any synthetic chemicals or artificial fragrances. The production process for these oils is also quite demanding. For example, it takes over 200 pounds of lavender flowers to make just one pound of lavender essential oil. So, next time you crack open a bottle of your favorite scent, remember that there's a lot of hard work that went into producing it!
How does aromatherapy work?
Let's get scientific for a moment and talk about aromatherapy. This practice involves using essential oils to promote healing and relaxation through scent, hence the name aroma-therapy. When you inhale the aroma of an essential oil, the scent molecules travel through your olfactory nerves and straight to the brain. Specifically, the amygdala, which is the emotional center of the brain, is impacted by these molecules. But the benefits don't stop there! Inhaling essential oils can also be beneficial for the respiratory system, especially when using oils with antibacterial and antiviral properties. On the other hand, absorbing essential oils through the skin involves the molecules penetrating the top layer of skin and entering the bloodstream. From there, they circulate throughout the body, providing a deeper level of healing. So, whether you inhale or apply them topically, essential oils offer a natural and effective way to support your overall wellbeing.
The Most Calming Essential Oils for Treating Anxiety, Stress and Sleep Disorders
It's time to take a deep breath and reach for some calming essential oils! These little bottles of magic can do wonders for your mental health and wellbeing. Simply inhale the soothing scents and let the worries melt away. But which oils should you choose? From lavender to chamomile to bergamot, there are countless options to help calm your nerves and ease anxiety. So sit back, relax, and let's explore the world of calming essential oils together!
Lavender Calms and Controls your Emotions
Lavender is the ultimate chill pill. Not only is it known for its heavenly scent, but it's also a natural anxiety-buster. And the best part? It won't knock you out like some other relaxation methods. Lavender has the power to calm your nerves and reduce anxiety without making you feel sleepy or sluggish. By targeting the body's fight-or-flight response, this versatile essential oil can work wonders for your mental health and wellbeing. So if you're looking to de-stress and unwind, don't forget to add some lavender to your aromatherapy arsenal.
This powerful oil has been scientifically proven to reduce:
anxiety
agitation
depression symptoms
disturbed sleep
nervousness
Jasmine Is Similar to Lavender Without The Sleepiness
Benefits of Jasmine Essential Oil for Mood and Hormone Balance:
Uplifts the mood and alleviates stress
Harmonizes hormones
Used as a natural cure for insomnia, low libido, emotional stress, anxiety, and depression
Gentle, yet effective way to balance emotions and enhance well-being
Has a delightful aroma and powerful therapeutic properties.
Holy Basil Treats Physical and Mental Stress
Holy basil, also known as the "queen of herbs" or "elixir of life," is a powerful plant with a multitude of health benefits. It has been used to treat various ailments such as digestive issues, lower blood sugar and cholesterol levels, and even fight against lung infections, malaria, diarrhea, eczema, ulcers, eye diseases, and insect bites. However, what many people don't know is that this amazing herb can also be a natural remedy for mental health. Holy basil or Tulsi, as it is also called, is a beautiful gift from nature that can have a positive impact on your emotional well-being. So, if you're looking for the most calming essential oils that soothe both physical and mental symptoms of anxiety, holy basil is a great option. 
Sweet Basil Is Great For Anxiety Relief and Less Sedating Than Medications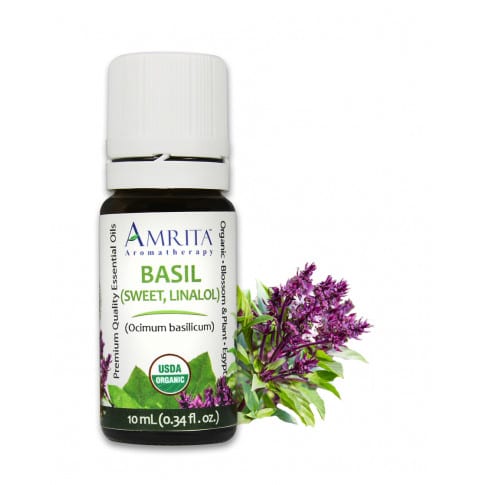 Sweet Basil is similar to holy basil, but has a sweeter scent. It's a great essential oil for anxiety as the compounds in the plant are shown to be as effective as some anxiety medication such as diazepam, without being sedating. The essential oils found in basil, such as eugenol, linalool, and citronellol, can also help to reduce inflammation in the body, help depression, improve cognitive function, and reduce the risk of age-related memory loss. So, the next time you're cooking with basil, take a deep breath and enjoy the added health benefits!
Bergamot Oil Can Help Combat Depression
Depression can manifest in a variety of ways such as feeling tired, experiencing a persistent low mood, loss of interest in activities, changes in appetite, and feelings of hopelessness. Fortunately, there are natural remedies for depression that can effectively address the underlying causes of this condition. Bergamot essential oil is one such remedy, containing compounds that possess both stimulating and antidepressant properties. By improving blood circulation, bergamot oil can also boost energy levels and promote a sense of cheerfulness and revitalization.
The benefits of bergamot essential oil for depression and mood disorders are:
Contains stimulating and antidepressant properties
Improves blood circulation, leading to increased energy levels
Promotes a sense of cheerfulness and revitalization
Can minimize symptoms of anxiety and mood disorders
Chamomile Oils Help With Generalized Anxiety Disorder
One of nature's most versatile herbs (and most calming essential oils) is chamomile. It provides numerous benefits, such as enhancing heart health, strengthening bone health, easing menstrual pain, and soothing anxiety. In fact, studies show that chamomile can benefit those suffering from generalized anxiety disorder as it eliminates anxiety symptoms. It's also great when used as a supplement for anxiety. It all comes down to the presence of apigenin, a natural compound similar to those found in anti-anxiety medications known as benzodiazepines, which allows chamomile to promote relaxation and improve sleep quality. Additionally, chamomile tea can also alleviate premenstrual spasms of the muscles.
Chamomile is a versatile herb and a calming essential oil
Enhances heart health and strengthens bone health
Eases menstrual pain and spasms of the muscles
Soothes anxiety and eliminates anxiety symptoms
Contains apigenin, a natural compound that promotes relaxation and improves sleep quality
Great supplement for anxiety, similar to anti-anxiety medications like benzodiazepines
Chamomile tea can alleviate premenstrual spasms of the muscles
Vetiver Has Anti Anxiety Abilities As Effective as Prescription Medications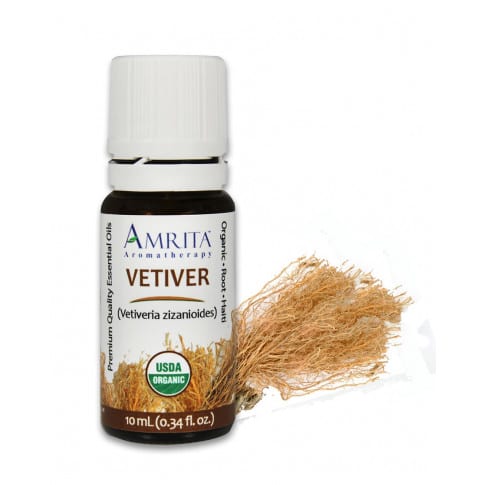 This sacred herb, which originates from India, is prized for its healing, soothing, uplifting, and protective properties. It is known as the "oil of tranquility" in India and Sri Lanka due to its natural cooling effects, which make it a popular choice in tropical countries. Vetiver oil can be used to treat heat strokes, joint disorders, skin problems, and boost energy levels. It's also great for soothing feelings of anxiety and nervousness. Recent studies have shown that Vetiver oil may be effective in treating symptoms of ADHD and ADD, as well as increasing libido and aiding in insomnia. In fact, it's sweet, earthy scent has the same anti-anxiety properties as prescription medications, such as diazepam.
Vetiver oil is healing, soothing, uplifting, and protective.
It's known as the "oil of tranquility" in India and Sri Lanka due to its natural cooling effects.
Vetiver oil can be used to treat heat strokes, joint disorders, and skin problems.
It can boost energy levels and soothe feelings of anxiety and nervousness.
Recent studies have shown that Vetiver oil may be effective in treating symptoms of ADHD and ADD.
It can also increase libido and aid in insomnia.
The sweet, earthy scent of Vetiver oil has the same anti-anxiety properties as prescription medications, such as diazepam.
Ylang Ylang Lowers Stress, Anxiety and Depression
Ylang ylang essential oil has a multitude of benefits. It's known for its antidepressant, antiseptic, antispasmodic and sedative properties. Studies show this essential oil blend can reduce anxiety and stress levels, as well as your stress hormones, blood pressure, and heart rate. In addition to its therapeutic benefits, it's also sought after for its ability to promote thick and healthy hair and its ability to heal the skin. 
Has antidepressant, antiseptic, antispasmodic, and sedative properties
Can reduce anxiety and stress levels, as well as stress hormones
Reduces blood pressure, and heart rate
It can promote thick and healthy hair
It can heal the skin
Frankincense Improves Anxiety and Depression
For centuries, Frankincense has been used in Indian Ayurveda medicine for its mood-lifting and natural anxiety and depression-relieving properties.
A study conducted on terminally ill patients demonstrated the effectiveness of using frankincense alongside other oils that promote relaxation in alleviating depression. Another study conducted by The Federation of American Societies for Experimental Biology involving researchers from Johns Hopkins University and the Hebrew University in Jerusalem found that burning frankincense resin activates certain brain ion channels to reduce anxiety and depression.
Frankincense is known to have a calming effect on the nervous system, encouraging deeper breathing patterns and reducing unpleasant sensory experiences. Additionally, it can create feelings of euphoria. Its anti-inflammatory properties may also aid in gut functioning and reduce symptoms of inflammatory gut diseases, such as Crohn's disease and ulcerative colitis, which can be exacerbated by anxiety disorders.
Here are the benefits of frankincense:
Helps lift mood and be an excellent natural remedy for anxiety and depression
Alleviates depression for terminally ill patients when combined with other oils known to promote relaxation
Uplifting and calming to the nervous system
Can lessen anxiety, encourage deeper breathing patterns, and decrease unpleasant sensory experiences
Creates feelings of euphoria
Anti-inflammatory properties may help gut functioning
Effective in reducing symptoms of Crohn's disease and ulcerative colitis
Clary Sage Eases Tension and Controls Stress Hormones in Women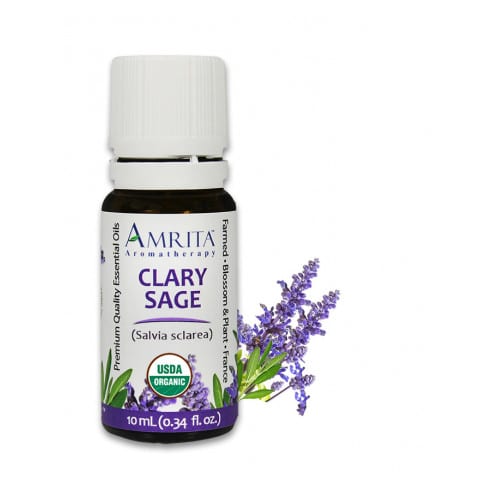 The clary sage plant, scientifically named salvia sclarea, has a rich history as a medicinal herb. It is a perennial in the genus Salvi and is widely considered to be one of the best essential oils for hormonal imbalances, especially in women. Many benefits are attributed to clary sage oil, including relief from cramps, heavy menstrual cycles, and hot flashes. It is also known to improve circulation, support digestion, promote eye health, and even fight leukemia. Clary sage oil boasts an impressive array of health benefits, with anticonvulsive, antidepressant, antifungal, anti-infectious, antiseptic, antispasmodic, astringent, anti-inflammatory, nerve tonic, and sedative properties, making it one of the most calming essential oils. Studies show that clary sage can ease tension and control cortisol levels (your stress hormones).
The benefits of clary sage are:
Reduces stress and anxiety
Helps with sleep and insomnia
Enhances focus and cognitive function
Boosts mood and overall emotional wellbeing
Reduces inflammation and pain
Improves respiratory function
Supports cardiovascular health
Enhances athletic performance
Boosts immune system function
Acts as a natural anti-bacterial and anti-viral agent
Adding calming essential oils into your daily routine can have a profound impact on your overall wellbeing. From lavender's soothing aroma to chamomile's calming properties, the options are endless. So go ahead and treat yourself to some much-needed relaxation with your favorite essential oils. Whether you choose to diffuse them, add them to a bath, or use them in a massage, take some time to unwind and let the calming scents transport you to a state of peace and tranquility. After all, life can be stressful, but with the help of essential oils, finding your inner calm is just a sniff away!
---
Sponsored
If you are experiencing a crisis, please reach out to a professional at Better Help online therapy counselling for anxiety.

---
This blog post is sponsored by BetterHelp, but all opinions are my own. I may receive compensation from BetterHelp or other sources if you purchase products or services through the links provided on this page.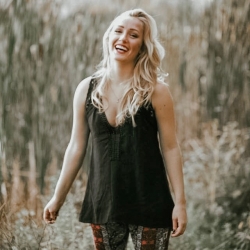 Latest posts by Chantal McCulligh
(see all)