By now you've likely heard of the trending #SelfCareSunday and while there's nothing wrong with a good TLC on the last day of the week before heading into the next, the best self care happens on a regular basis. So, don't forget to treat yourself well all seven days of the week. And hey! When you have 53 self care ideas, filling up those seven days should be easy.
What is Self Care?
Self care is any activity that you intentionally do to take care of your mental, physical, emotional and spiritual health. It's all about taking care of yourself and doing things that improve your mood and reduce anxiety; maintaining optimal wellbeing and personal health while working on self development and improvement.
As a rule of thumb, you want to fill your self care routine with self care ideas that cater to the following categories:
Emotional
Mental
Physical
————————————————— Scroll to continue reading—————————————————

53 Soothing Self Care Ideas
Now let's move onto the good stuff – the powerful self care ideas you can do to fill up your week – and life – to improve your mental, physical, emotional and spiritual health. Each of these activities should give you the dopamine boost you're looking for and when used together regularly, you can start to see a significant improvement in your overall mental health.  So, let's through the list of self care activities and see what appeals to you.
I have conveniently put links right in this list of self care activities so you can get started quickly and of course, stress-free.
Emotional Self Care Ideas
1. Do something that makes you happy
2. Practice breathing techniques
3. Share only positive things on your social media
4. Do some adult colouring to alleviate stress and anxiety
5. Try mindfulness exercises
6. Repeat positive affirmations
7. Define new goals each week
8. Write, write, write (workbooks, journals, poetry, bullet journals – you name it)
9. Create an inspirational collage or Pinterest board
10. Allow yourself to express all of your emotions in a safe (and appropriate) environment (journaling is also great for this).
11. Do something nice for someone else without expecting reciprocation
12. Refrain from being overly critical of yourself
13. Unfollow or mute toxic people on social media
14. Do something creative to release your fear and anxiety (ex: paint, colour, dance, yoga)
15. Write a letter to people who have hurt you, then burn the letter and let it all go
16. Declutter and clean up your living space
Mental Self Care Ideas
17. Avoid toxic people
18. Take a guilt-free nap
19. Challenge your negative thinking
20. Practice saying "no"
21. Do a workbook for mental health
22. Change up your routine and try something new
23. Turn into binaural tones to rewire your brain
24. Read a self help book
26. Try a new hobby
27. Schedule "me time" into your calendar
28. Reward yourself
29. Use adult colouring to unwind and release stress and anxiety
30. Be silly
31. Identify your triggers or warning signs that self care is needed
32. Listen to an uplifting podcast
33. Do something spontaneous
34. Unplug from technology for at least an hour
35. Take a mental health day
36. Create a to-do list to help clear the mind
37. Declutter and clean up
38. Make a playlist based on your current mood
38. Start a therapy journal to release your thoughts and emotions
Physical Self Care Ideas
39. Start stretching
40. Do some breathing exercises
41. Go for a brisk walk around the block
42. Take a walk in nature
43. Do yoga catered to self care
44. Stay hydrated
45. Workout and work out all your emotions
46. Get a massage
47. Go hiking and spend some time in nature
48. Scream loudly into a pillow to let it all out
49. Dance
50. Sleep in
51. Use a reflexology roller or massager to release tension
52. Get up, get ready and be prepared for the day
53. Try acupuncture
Lastly, and arguably the most important self care idea: therapy. If you are struggling to cope,  please try the affordable therapeutic options available from Better Help, a leading online platform for online therapy.
Incorporating self-care practices into your daily routine is essential for maintaining overall well-being and mental health. Taking time for yourself, whether it's through relaxation techniques, creative hobbies, or connecting with nature, can have a profound impact on reducing stress, increasing resilience, and fostering a positive mindset. Remember, self-care is not a luxury but a necessity, and it should be a priority in your life. So, make a commitment to yourself today and start implementing these self-care ideas into your routine. Embrace the transformative power of self-care, and watch as it elevates your life to new levels of balance, happiness, and fulfillment. Take that first step on the journey to self-discovery and self-compassion, and let it be the beginning of a beautiful and rewarding relationship with yourself.
---
This blog post is sponsored by BetterHelp online therapy, but all opinions are my own. I may receive compensation from BetterHelp or other sources if you purchase products or services through the links provided on this page.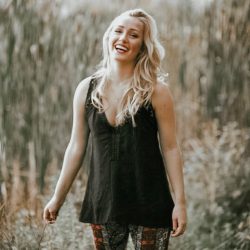 Latest posts by Chantal McCulligh
(see all)