Whether you're looking to create a calm space in your home to optimizing your meditation or simply want to transform your living area to alleviate negative energy, you've come to the right place.  Here are Anxiety Gone, we are strong believers in a home playing a significant role in your mental health. After all, we can all relate to being in people's homes and feel comfy, and being in people's homes and feeling frustrated and uncomfortable.
Why is a Calm Space In Your Home Important?
The world is made up of energy – including your house and if that energy is off, your mental health will be as well. Your mood and the way you feel in a space has a lot to do with your surroundings. When your home doesn't have a calming energy and relaxing ambiance, it can be difficult to truly feel at home.
That's also not to mention that research has shown that clutter has a profound effect on your overall mention health. The same can also be said about the oxygen quality in your home.
8 Ways To Make Your Home a Calm Space
Needless to say, it's time to give your home a little TLC so that you can feel better in it. Here are our favourite ways to turn any home into a calm space.
1. Add Plants To Improve Oxygen Quality
We talk a lot about oxygen quality and how it affects your mental health. To put it simply, when you're breathing stale, dirty, polluted air, your brain isn't receiving the quality oxygen it needs to function properly. This is particularly why people struggle with their mental health during the winter (Seasonal Affective Disorder). Houses are boarded up, windows are closed, dust is building up and as a result, mental illness worsens.
An excellent way to regulate the air quality in your home is to add plants into your living space. Take a trip back to grade 10 science and you'll remember that plants absorb particles and CO2 from the air, processes it into clean oxygen and releases it back into your environment.
In other words, plants purify the air. Adding the best plants for anxiety into your home can be an effective way to create a calm space.
2. Open The Windows and Embrace Natural Lighting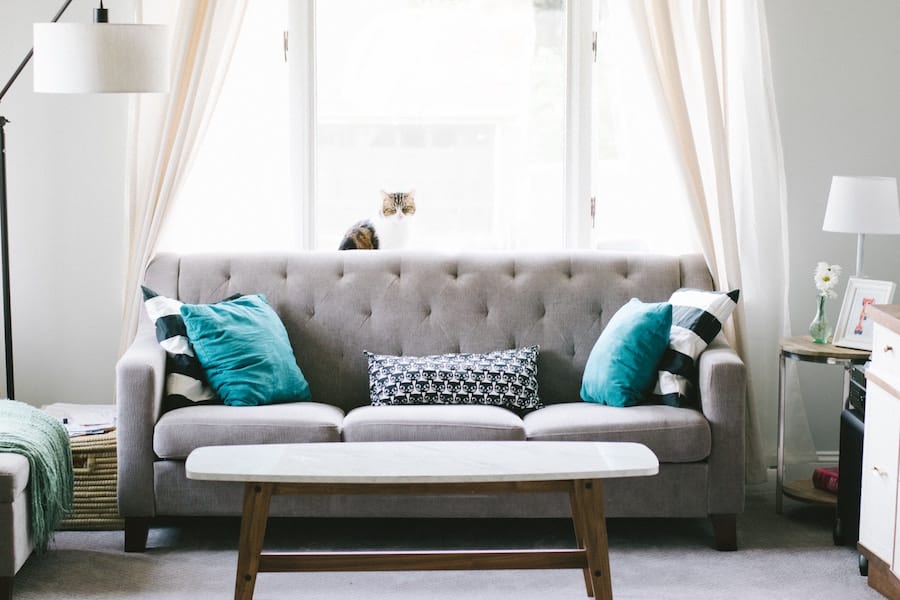 Speaking of the prior, another way to fighting of Seasonal Affective Disorder or to simply feel better in your home is to embrace the wonderful elements of the earth. If you have dark drapery hanging from your windows or always keep your blinds closed, it's time to change that up.
Hang light, breezy fabric from your windows and get in the habit of opening them up every morning to let the natural light fill your calm space. Doing so will help you feel more alive, inspired and happy when at home.
Another fabulous way to clean the air in your home is with Himalayan Salt Lamps. They also add a calming ambiance and enhanced aesthetics into the space which can help you to relax.
Psst: Check out our list of the best Himalayan salt lamps.
4. Declutter and Clean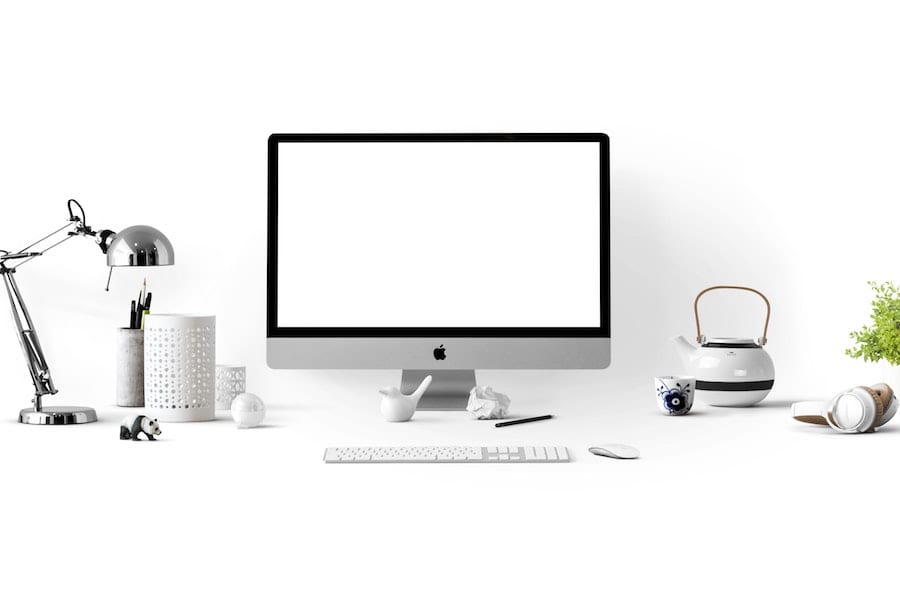 Studies have shown that a cluttered living space can have a drastic effect on your mental health. So, it's time to declutter. To be quite frank, get rid of everything you haven't touched in the past year – from your closets to your storage, decor items, furniture cutlery – you name it.
Less is more, especially when you're trying to create a calm space in your home.
In addition to decluttering, you always want to keep your new, calm space clean! Of course, we recommend using chemical-free cleaning supplies to keep the air quality up.
5. Diffuse The Best Essential Oils for Anxiety
It's no secret that we're big fans of essential oils. We use them regularly in the Anxiety Gone office, in our own homes and they're often added into our anxiety subscription boxes and online Anxiety store.
Why? Because they're amazingly effective. You just need an essential oil diffuser and the best essential oils for anxiety, and you're well on your way to creating your own zen den.
6. Use Room Sprays for a Calm Space
Similar to the prior, room sprays are an excellent way to clear negative energy and toxins from the air. Our spring Anxiety box was all about lavender (one of the best aromas for anxiety relief) and the room spray was an absolute hit! Even if you don't like lavender, there are tons if different scents to choose from, all of which can help redefine the purpose of your living space.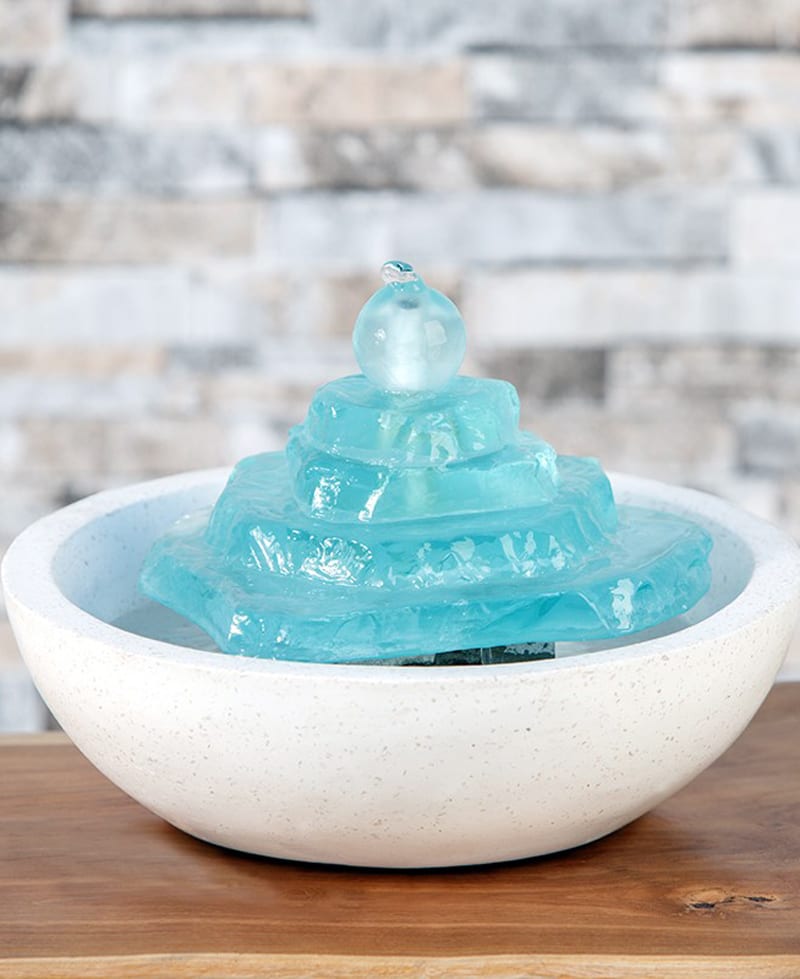 Chances are, you've never been around trickling water of some sort and felt stressed. That's because water has been linked to providing soothing benefits for your mind and spirit. Now, if you don't live by the water, don't pack up shop and throw a for sale sign on your front lawn just yet. Instead, place some indoor fountains throughout your home and see how they improve your mood moving forward.
8. Add Comfy Elements
Big comfy pillows, fluffy throw pillows, a massive bean bag, oh my. Whatever makes you feel comfortable and cozy, add it into your newfound calm space. Perhaps it's a bohemian tapestry or meditation cushion, or maybe it's a weighted blanket. If it makes you feel calm and relaxed, add it into your home.
These 8 affordable ways to creating a calm space in your home are all you need to start your very own zen den.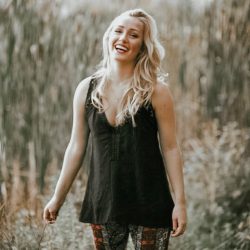 Latest posts by Chantal McCulligh
(see all)