Forget about taking medications to treat your panic disorder because all you need are the best oils for anxiety. This natural treatment has been brought into the limelight lately, as more people strive to live a cleaner, healthier lifestyle. But essential oils are new by any means. They've been used to treat various ailments for hundreds of thousands of years, with many cave paintings even paying tribute to plants for their medicinal purposes.
What are essential oils?
Essential oils are nothing more than fragrant extracts of natural sources, such as plants, flowers, trees, fruits, etc. The aroma is used to provide natural treatment for various diseases, illnesses and health concerns, with anxiety being one of them. Depending on the relief required, some essential oils are applied topically but for mental health treatment, the aroma simply needs to be inhaled. By doing so, the natural effects of the extract works with your brain waves to provide feelings of calmness, happiness, focus, etc. Just think about how you feel when you go outside and get a breath of fresh air. As you do this, you're breathing in the aroma of the earth, which is what essential oils are. The only difference is you can control what you're breathing in to target the things you need healed.
What are the best types of essential oils?
Like many things in life, not all essential oils are created equally. In order to capitalize on the benefits, you need to use 100% pure oils derived from natural sources. Thanks to the modern world, many companies are now created essential oils with all kinds of junk in them. So, beware of anything that reads "fragrance oil" or "perfume oil." They might have a similar smell but the healing benefits won't be there.
How to use the best oils for anxiety?
Here's the best part – all you need to reap the benefits of essential oils for anxiety is the oil itself, and a way to emit the aroma. The easiest and most common method is with a diffuser. However, most essential oils will dilute if combined with hot water. So, it's imperative to find a diffuser that uses cold water specifically. There are also many other ways to use essential oils, with some of these being my favourite:
I will dedicate an entire blog post to the different tools you can use to diffuse essential oils. So, be sure to subscribe to Anxiety Gone so you don't miss out on that.
What are the Best Essential Oils for Anxiety?
There are many essential oils for anxiety for you to choose from, such as lavender, lemon, peppermint, chamomile, ylang ylang, sandal wood, clary sage, and more. Many of these essential oils for anxiety help calm you down in general, but there are some added benefits to individual scents that may surprise you.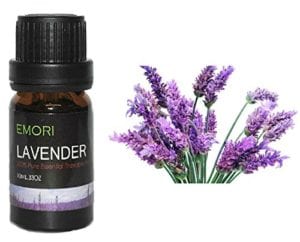 Lavender is inarguably one of the best oils for anxiety. A study released in Phytomedicine reported lavender essential oil to have the same effects on anxiety as does a prescription of lorazepam. Only, lavender is natural, you don't need a prescription and it's significantly less expensive.
It also has many additional healing benefits, such as helping with sleep, cognition, pain, migraines, restlessness, stress, inflammation and much more.
Personally, I have lavender essential oil on me at all times. I have a bottle in my room, in my purse and in my car to ensure I can get some anxiety relief whenever I need it.
You know that feeling you get when you walk into a freshly cleaned house? Well, that's the effect of lemon aroma. As such, it's an incredible essential oil for anxiety. Lemon essential oil has been linked to having a positive effect on your nervous system, immune function, mood and endocrine system.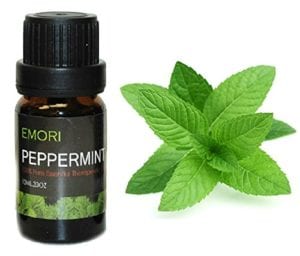 Peppermint is another essential oil that has a plethora of health benefits. It helps treat anxiety naturally and can also be used to alleviate headaches, enhance memory, increase alertness, bring feelings of calmness, indigestion, etc. It doesn't directly treat your mental health but rather, treats the feelings that can cause a spike of panic to occur.
For example, I get increased anxiety when my stomach aches up which it tends to do a lot because of a poor digestive tract. So, I'll diffuse some peppermint oil prior to going out to alleviate the symptoms that trigger an attack.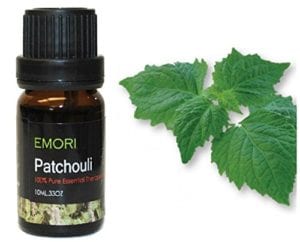 Another one of the best oils for anxiety that isn't as commonly talked about as the others is Patchouli oil. It's packed with many calming effects and acts as a light sedative, giving you effective relief of anxiety, stress, and depression.
Personally, I often feel lethargic as a result of suffering from anxiety, which is when I increase my use of Patchouli essential oil. It can also be used to promote emotional balance, making it one of my favourites.
Personally, I love chamomile. It's one of the most common ingredients found within my natural skincare regime, beauty products, and of course, natural anxiety relief system. Chamomile essential oils have a vast array of health benefits – physical, emotional and mental.
It's a powerful essential oil that has been proven by the Natural Institute of Health to reduce the symptoms of depression while also decreasing anxiety. As such, it deserves a spot on my list of the best essential oils for anxiety.
A new essential oil for anxiety that I've added into my regime is Ylang Ylang. It has the power to slow down your racing heart beat, which is a common symptom in the midst of an anxiety attack. As such, it can provide you with increased feelings of comfort when you're in the middle of a panic attack.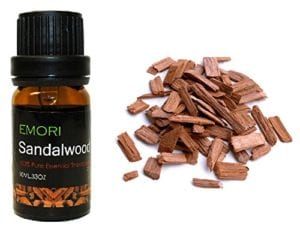 Sandalwood is one of the best essential oils for anxiety for anyone who has a hard time getting a full night's rest. Sleep isn't often an anxiety sufferers best friend. So, I highly recommend adding some sandalwood into your regime. Not only will it help you get a better sleep but it helps decrease stress and anxiety throughout the day.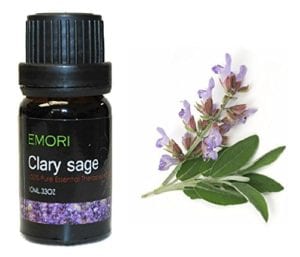 A power essential oil for anxiety and depression is Clary Sage. It's a powerful form of natural treatment that works as an antidepressant, while also calming the nerves. Clary Sage can also be used as a mild sedative and one of my own personal favourites is that it provides a feeling of euphoria.
So, you decrease all the feelings you don't want, while increasing all the feelings you do want when you diffuse Clary Sage. Can I get an amen?
You will likely recognize the scent of geranium because it's often used in candles and perfumes. However, it's imperative to remember that in order to capitalize on the benefits of essential oils for anxiety, you need to be using 100% pure varieties. In other words, when mixed with toxic candle wax, preservatives and weird perfume ingredients, it won't do justice.
More importantly, when used naturally, geranium essential oils will bring you an abundance of calming elements. It also acts as a mild sedative and can help you get a good night's rest – something many of us can't relate to.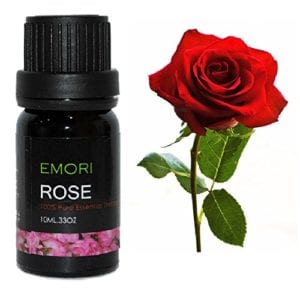 Rose essential oil is a powerful form of natural treatment for anxiety, as it releases feel-good hormones in the brain. It's often used to treat anxiety and depression by eliminating negative feelings.
This essential oil is often used to treat muscle and stomach pains. I like to use it to treat the symptoms of anxiety. However, Valerian Root has also been linked to helping the mind and body relax by improving sleep, reducing tension and increasing feelings of calmness.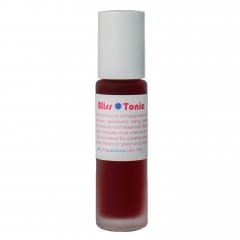 Bliss Tonic essential oil is a blend of the best oils for anxiety. It combines lavender, ylang ylang, roses and geranium, as well as many other essential oils. The careful blend is designed to provide you natural anxiety relief and feelingness of harmony and calmness. I keep this one in my purse at all times!
Another essential oil blend for anxiety that I use on the regular is Tonic. It combines lavender and peppermint, as well as other natural oils to provide calming effects that release tension, soothe apprehension, and boosts concentration. I use it regularly to help me get through tough days.
Essential oils for treating anxiety and other mental health issues are great. However, if you are experiencing a crisis and in need of help, please reach out to a professional. Online anxiety therapy is an excellent option that brings affordable professional help, support and guidance right to you in the comfort of your own home.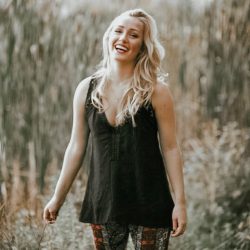 Latest posts by Chantal McCulligh
(see all)