It is difficult to say which is worse for the individual.  Is it depression that makes you so sad that you cannot function? Or, is it anxiety that makes you so afraid, with such heightened emotions, that you cannot ever relax – never mind sleep – never mind enjoy the moment.  At times like this you need a good counsellor – and good counsellors can be made – just check out the Counselling Courses From NCC Home Learning to learn how.
Here we give you some background details on how a counsellor can help someone overcome anxiety – it is not easy – but there are strategies.
Self Help Equals Tools for Life
Helping you overcome anxiety is going to be a mixture of self help tools and personal counselling about what is causing the anxiety.  It is important that the self-help strategies come first – and then when the counselling starts you will be able to cope with the upheaval in your thoughts.
A lot of us have some strategies we use when we start to feel anxious.  We might not call it anxiety – we might say we are wound up – or agitated – all these are the same bubbling emotions that lead to us wanting to run, to fight, or to freeze in place.  At these times we might count to ten – just like your mum told you to do.  At these times – if more severe – we may breathe into a paper bag.
Early strategies given to you by your counsellor will be about helping you back into the present.  Can you spot 5 things you can see, 4 things you can hear, 3 things you could touch, 2 things you could smell and 1 thing you can taste.  By going through this "senses game" you will have leapt to a different part of your brain where these heightened emotions don't play – and you will start to feel calmer.
Another self-help strategy is to go through the alphabet naming animals, or transportation, or favourite singers.  Again, your brain cannot work in two areas at the same time – whilst you are coming up with words your emotional core will calm, and the sense of threat will retreat.
Your counsellor will have a large number of self-help strategies that will help you cope when you start to feel anxious.
Getting to the root cause
You may have entered more destructive escape mechanism from anxiety – like drink or drugs – and these will need to be address before this root cause is addressed. At some point, when you are skilled in self-calming and managing your anxiety more productively, you will move on to exploring the root cause of the anxiety.
However, until you challenge the underlying root cause of the anxiety you will continue to struggle.  Although anxiety and fear are necessary in the natural world, to avoid danger, when there is no perceivable reason to sense danger – then there is a problem.  You want to run away if there is a bear, you want to freeze on the spot if moving forward means getting hit by a car, you will want to fight back if you are being attacked.  However, if there is nothing real – tangible – then you need to work out what has triggered these reactions – and then change your response.
The role of your counsellor is to help you work out what it is making you afraid – and then help you rethink this.
By addressing the irrational thought that leads to the anxiety response – you can come up with a new way of reacting.  Knowledge is power with anxiety.
For instance, if you work out you feel anxiety when someone asks you personal questions and you don't know why they want to know – then you can learn a response that helps you self-protect in a way that is not provoked by an anxiety response.  For instance, you could learn to say: Can I ask why you need to know that?
In short
Learning to become this counsellor that helps others to work with the feelings, to self-manage, is a powerful experience.  A counsellor can help with anxiety by getting to know you and helping you to understand your symptoms.  They can provide you with self help strategies to cope with the anxiety in the moment – but also a means of understanding how you can recover from the anxiety response altogether. With some simple strategies and tools, a counsellor can make the world of difference for somebody dealing with this heightened fear.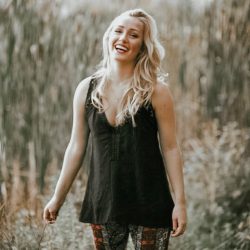 Latest posts by Chantal McCulligh
(see all)