Mindfulness is so much more than just a trendy word people use. It's about giving your full attention to what's happening right now, in this moment. Sounds easy, but we all know how our minds tend to wander, right? Suddenly, we're lost in thoughts about the past or worrying about the future, which can really amp up our anxiety. But here's the cool thing: mindfulness is something we're all capable of. It's something you truly have to experience to truly understand what it's all about and the benefits it can bring to your mental health. So, why not give it a try? You might be pleasantly surprised!
What is Mindfulness?
Mindfulness is pretty straightforward: it's your natural ability to be fully in the present, aware of your surroundings and actions, without getting too caught up in external stimuli. Even when we stray, mindfulness is like a friendly reminder to bring us back to the here and now, making it a powerful tool for combating anxiety and intrusive thoughts.
There are five core concepts of mindfulness:
 present-focused awareness
an accepting or open attitude
non judgemental approach
compassion for self and others
the energy of mindfulness
Benefits of Practicing Mindfulness
Being mindful isn't a "woo-hoo" practice with no evidence supporting it. There's a ton of recent research supporting the benefits of mindfulness. In fact, several have confirmed practicing mindfulness can have a positive impact on your health and wellbeing. Mindfulness-based treatments, specifically, have been shown to reduce anxiety and depression. There's also evidence that mindfulness can lower blood pressure and improve sleep. It may even help people cope with pain.
Let's take a look at some of our favourite benefits of mindfulness:
Reduces rumination (repetitive thinking or dwelling on negative feelings)
Reduces stress levels (and helps you manage stress better)
Improves memory
Enhances focus
Decreases emotional reactivity
Improves self-awareness skills
Boosts relationship satisfaction
Improves your ability to communicate emotions effectively
Makes it easier to enjoy life's pleasures and fully engagement in activities
Builds resilience in dealing with adverse events
Minimizes being consumed by future worries and past regrets
Helps you make deeper connections with others
Relieves stress and promotes relaxation
Enhances sleep quality
On top of that, mindfulness can help with the treatment of several physical health conditions, including heart disease, high blood pressure, chronic pain, gastrointestinal problems and many more.

How to Practice Mindfulness
It's important to note that mindfulness isn't a skill you have to create from scratch; it's already within you. You simply need to discover how to tap into it. You can use an online program, such as 7 Minute Mindfulness, for a follow-along experience that guides you through the way. It comes with a 60 Day Money Back Guarantee, so you have plenty of time to see what mindfulness is all about.
You can also start implementing some daily mindful practices into your life.
Paying Attention to Body Sensations
Start to notice subtle physical sensations like an itch or tingling, and simply let them be. You can also progressively focus on each part of your body from head to toe.
Engaging With Your Senses
Focus on your sight, sound, smell, taste, and touch. Label them without attaching judgment, then release them. You can do this while eating or brushing your teeth, simply by focusing on what you see, the sensations in your mouth, the smells, the colors, and so on and so forth.
Embracing Your Emotions
Calmly name your emotions, such as "joy," "anger," or "frustration." Accept their presence and allow them to naturally fade away.
Pressing Pause
In areas of your life where you tend to rush, whether it's out the door or responding to a text, practice mindfulness by taking time to pause and breathe when the phone rings instead of rushing to answer it.
Letting Go of Past and Future Thoughts
With anxiety, we tend to get wrapped up in our past and future thoughts; remunerating over something that happened a long time ago or fearing something that has yet to happen. This can drain your energy and keep you stuck in that awful anxious feeling but mindfulness can help!
As you practice mindfulness, you'll start to become more aware of your thoughts. When you notice that they are too far in the past or too far ahead, gently remind yourself to come back to the present moment and focus on the moment you're in right now. Let your thoughts be related to the present moment and keep those past and future thoughts where they're supposed to be.
Accepting The Present Moment
Embrace the current moment as it is, without passing judgment. This allows you to focus your energy on addressing the situation directly. Mindfulness liberates you from the urge to react impulsively.
Remember, mindfulness is a gift you give to yourself. It's about cherishing each moment, finding peace in the chaos, and connecting with your truest self. Embrace it with kindness, and let it become a guiding light in your journey. Trust that as you practice, you'll uncover a wellspring of inner strength and wisdom that will serve you in every aspect of your life. You're on a path of self-discovery, and each mindful breath is a step forward. Keep going, you're doing wonderfully!
---
Full Disclaimer: Clicking on these links could mean a tiny commission for me, at no extra cost to you.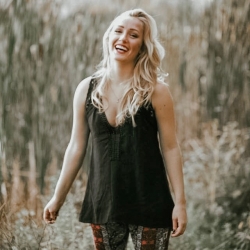 Latest posts by Chantal McCulligh
(see all)