Setting healthy boundaries is not just an act of self-care but an essential step for protecting your mental health and nurturing positive connections with those around you. These invisible lines play a significant role in defining what is acceptable behavior within your relationships. From business meetings to late-night gatherings with friends, boundaries define the expectations we have for ourselves and how others treat up.  In this article, we go over the different types of boundaries and steps for setting healthy boundaries in all aspects of your life.
What are Personal Boundaries?
Personal boundaries are the invisible yet crucial limits that define the parameters of acceptable behavior and interaction in various aspects of life. Think of them as the comfort zones we set for ourselves in the wild world of social interactions. They act as  personal guidelines the define the space between yourself and others. They are your definition of what you're comfortable with or find acceptable behaviour. These limits come in different forms, including physical, emotional, and mental boundaries.
These boundaries may have to do with:
physical contact (not feeling comfortable being hugged)
verbal interactions (not wanting to be spoken down to)
your own personal space (choosing to not have others in your home)
Boundaries can also exist in a variety of situations, including:
at work
at home
when visiting family
when out with friends
interacting with strangers
Types of Boundaries to Have
There are many different types of personal boundaries you'll want to have in place to protect your mental health, peace and relationships. The most common boundaries are:
emotional (protecting your own emotional well-being)
physical (protecting your physical space)
sexual (protecting your needs and sexual safety)
workplace (protecting your ability to do your work without interference or drama)
material (protecting your personal belongings)
time (protecting the use, and misuse, of your time)
However, there are also many other types of boundaries that you may want to explore.
Emotional Boundaries
Emotional or mental boundaries ensure your right to your own feelings and thoughts. These boundaries establish a zone where your feelings aren't up for criticism or invalidation, and you're not burdened with the task of managing other people's emotions. They draw a clear line between your feelings and those of others, holding you accountable for your own emotional health without making you responsible for how others feel.
Emotional boundaries play a crucial role in ensuring emotional safety and mental health. They encourage a mutual respect for each other's feelings and preventing the oversharing of personal information that you feel is  inappropriate.
An example of an emotional boundary is: If your partner has a hard day at work and comes home in a horrible mood, you don't have to also be in a bad mood. You can allow them to feel and express their emotions without taking those emotions on as well.
Physical Boundaries
Let's talk about physical boundaries – the unsung heroes that protect your personal space and body. These personal boundaries are all about your right to control who touches you, ensuring privacy, and meeting your physical needs. They communicate to others the distance you're comfortable with, the kind of touch that's acceptable (if any), how much privacy you crave, and the behavior expected in your personal space.
Essentially, a physical boundary boldly declares that your body and personal space are your own. Take, for instance, when someone invades your personal bubble by sitting too close; you gracefully move away or express the need for a bit more space.
Sexual Boundaries
Sexual boundaries are all about your right to consent, express your sexual preferences, and be informed about your partner's sexual history. These relationship boundaries set the stage for the type of sexual touch and intimacy you desire, outlining the specifics of how, when, where, and with whom these experiences take place.
An example of a sexual boundary: having a strict no-sex-on-the-first-date policy.
Time Boundaries
Time boundaries ensure that your time and how you spend it are respected. These boundaries shield you from committing to tasks you'd rather not undertake, prevent others from squandering your time, and ensure you maintain a healthy balance to avoid overwork.
An example of a time boundary: Reserving your evenings for time with the family and replying to work emails the following morning.
Spiritual Boundaries
Spiritual boundaries pertain to your freedom to believe in what resonates with you, your right to worship according to your preferences, and practice your spiritual or religious convictions.
An example of a spiritual boundary: Taking a moment to say a silent prayer prior to eating, and not letting others tell you otherwise.
Financial Boundaries
Financial and material boundaries are all about protecting your financial resources and possessions. These boundaries define your right to spend your money as you see fit and decide whether or not to lend or give your money or belongings. Financial boundaries can also pertain to work, ensuring that your employer compensates you as agreed upon.
An example of a financial boundary: Being on a budget and not allowing others to "bully" you into dining out.
Workplace Boundaries
A workplace boundary refers to the limits and guidelines you set in a professional environment to define acceptable behavior, interactions, and expectations. These boundaries are established to maintain a healthy and respectful workplace atmosphere, ensuring that all individuals feel comfortable, safe, and able to perform their job duties effectively.
Workplace boundaries can encompass various aspects, including communication style, personal space, work hours, task delegation, and overall professional conduct. Setting clear and appropriate workplace boundaries is crucial for ensuring a positive work environment, promoting effective collaboration, and preventing potential conflicts or misunderstandings.
Setting Healthy Boundaries
Setting healthy boundaries involves a thoughtful and intentional process aimed at defining and communicating your personal limits.
Self-Reflection: Begin by reflecting on your values, needs, and personal limits. Understand what is important to you and identify areas where you feel uncomfortable or stressed.
Identify Boundaries: Clearly define the boundaries you need to set in various aspects of your life, such as relationships, work, and personal space. Consider emotional, physical, and time-related boundaries.
Communication: Express your boundaries openly and assertively. Use "I" statements to convey your feelings and needs, focusing on personal experiences rather than making accusatory statements. Be clear, specific, and direct.
Be Consistent: Consistency is key in reinforcing your boundaries. Stick to your established limits, which helps create a predictable and respectful framework for interactions.
Learn to Say "No": Understand that saying "no" is a powerful tool for self-preservation. It's okay to decline requests or activities that don't align with your boundaries, and doing so helps maintain your well-being.
Adaptability: Be open to adapting your boundaries as circumstances change. Regularly assess whether your established boundaries still align with your needs and make adjustments accordingly.
Reinforce with Consequences: Clearly communicate the consequences of crossing your boundaries. Consistently follow through with these consequences to reinforce the importance of respecting your limits.
Seek Support: Share your boundary-setting journey with trusted friends, family, or colleagues who can provide support, encouragement, and understanding. Having a support system can make the process more manageable.
Educate Others: Educate those around you about your boundaries and why they are important for your well-being. Help others understand that setting boundaries is a healthy and necessary practice.
Professional Help if Needed: If you find it challenging to set or maintain boundaries, consider seeking support from a therapist or counselor. Professional guidance can provide valuable insights and tools for effective boundary-setting.
Full Disclaimer: Clicking on these links could mean a tiny commission for me, at no extra cost to you.
When practicing the art of setting and respecting personal boundaries, remember that you're actively investing in your mental wellbeing and overall happiness. Your boundaries are a reflection of self-love and self-respect, serving as a powerful tool to navigate life's twists and turns with resilience and authenticity. As you continue to prioritize your needs and communicate them openly, celebrate the positive impact this practice has on your mental health.
Remember, it's not just okay but essential to protect your emotional space and honor your limits. By doing so, you pave the way for healthier connections, increased self-awareness, and a more fulfilling journey towards personal growth and contentment. So, here's to a life where your boundaries become your greatest allies in the pursuit of mental and emotional flourishing!
---
Full Disclaimer: Clicking on these links could mean a tiny commission for me, at no extra cost to you.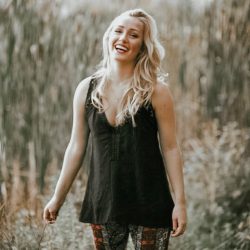 Latest posts by Chantal McCulligh
(see all)