Natural supplements are essential for everyone, but even more so for anxiety warriors. They give your body and brain the ingredients they need to function properly. I've talked a lot about the best natural anti anxiety supplements but there is one in particular that is the best supplement to take for anxiety and that's magnesium. So, let's not waste anytime and let's dive right into why you need to be taking magnesium for anxiety.
The Benefits of Taking Magnesium For Anxiety
If you've been looking for anti anxiety supplements, magnesium is one that should be at the top of your list. It is a natural muscle relaxer, which helps greatly with anxiety. It's also a nervous system relaxant and mineral that aids with fear, irritability, and restlessness. Magnesium is also great for easing tension and tension headaches that are a common symptom of anxiety. We all hold so much stress and anxiety in our muscles, whether it's frowning the brow, clenching the jaw or tightening the shoulders. Magnesium helps ease these pains and release the tension to provide you with relaxing calmness. Using magnesium can also promote a healthy heart, steady breathing, which helps to tackle heart palpitations and shortness of breath – two common symptoms of anxiety.
But why should you be taking magnesium natural supplements for anxiety?
You Don't Get Enough Magnesium
Studies show that over 75% of people do not get enough magnesium each day. Without magnesium, your body and brain are unable to function properly. Magnesium plays a key role in more than 300 biochemical reactions in the body.
The Lower Your Magnesium, The Higher Your Anxiety
I call it the vicious magnesium anxiety cycle. Low magnesium leads to increased anxiety and increased anxiety triggers your flight or fight response. This causes your stress levels to increase. However, the higher your stress levels are, the more magnesium you lose from your body. This results in even lower magnesium levels in your body, which increases your anxiety. Therefore, if you aren't taking magnesium supplements for anxiety, it can be near impossible to eliminate the symptoms.
The Westernized World Makes It Difficult to Absorb Magnesium
It should come to you as no surprise that the toxins, chemicals, preservatives, and pollution of today are incredibly harmful to your health. However, what may surprise you is that all of these harmful elements actually make it more difficult for your body to absorb magnesium. So, even if you are getting sufficient amounts each day through diet, your body will automatically break the majority of it down. So, it's imperative to use magnesium supplements for anxiety to give yourself a fighting chance.
Best Magnesium Supplement for Anxiety
While we cannot avoid the toxins that are prominent in today's world or the body's automatic response to flush out and break down magnesium, you can use magnesium for anxiety through supplements.
Magnesium Bisclycinate Supplements for Anxiety
There are many types of magnesium for anxiety, which likely has you wondering which magnesium supplement is best for anxiety. The supplement you want to look for is magnesium bisglycinate. However, since it is difficult for the body to absorb magnesium, it is imperative to use magnesium supplements that have a high absorption rate. I get all of my supplements for anxiety from 88Herbs and I have absolutely zero complaints. They have a ton of supplements that will change your life, including magnesium.
Magnesium Spray for Anxiety
Another incredible type of magnesium for anxiety can be found in a spray. It is my latest obsession and we even included a magnesium spray in our self care subscription box. When using a spray of magnesium for anxiety, you can bypass the digestive system so it doesn't get broken down. You absorb all of the good stuff. You can even spray it directly on any aches and pains you're experiencing from the stress and tension building up in your body. This provides you with all the internal benefits of using magnesium to treat emotional and mental symptoms, as well as the natural pain relief that comes with magnesium.
Magnesium Lotions for Anxiety
A magnesium lotion or cream is another great option for using magnesium supplements for anxiety. They give you the moisturizing elements you want from a lotion, as well as the anxiety relief you're looking for. Similar to the spray, magnesium lotions can be rubbed right into any areas you're experiencing aches and pains from all the stress and tension as well.
Anti Anxiety Supplement Routine
The best natural supplements for anxiety are definitely anything magnesium. Every warrior needs to be using anti anxiety supplements, as they are vital for keeping your symptoms at bay. I use all types of magnesium for sleep and anxiety. Here is the routine I follow:
Take a magnesium supplement in the morning
Rub magnesium lotion on my shoulders before starting the day
Use a magnesium spray on my feet before bed
Rub more magnesium lotion on my shoulders before bed
This routine allows me to use magnesium for sleep and anxiety, as it soothes the racing thoughts, aches, pains, tension, and jitters that make it difficult to relax day and night.
Using natural supplements for anxiety is a great way to soothe symptoms and to improve your mental, physical and emotional health. However, it's important to seek professional anxiety counselling if you are experiencing a crisis. Online therapy provides affordable professional counselling for anxiety that you can do right from the comfort of your own home.
---
This blog post is sponsored by BetterHelp online therapy, but all opinions are my own. I may receive compensation from BetterHelp or other sources if you purchase products or services through the links provided on this page.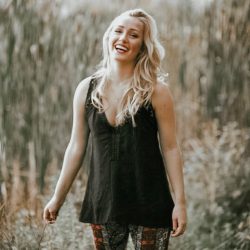 Latest posts by Chantal McCulligh
(see all)