You may be wondering if something as simple as a magnesium supplement could actually do anything to help manage anxiety and the answer is, YES! It's one of my favourite supplements for mental health. So, wonder no more. Here is everything you need to know about taking magnesium for anxiety.
Taking Magnesium For Anxiety
Taking magnesium for anxiety can help a lot. It's relaxes your nervous system and it's a mineral that assists with fear, restlessness and irritability. However, like most things in life, not all magnesium supplements are create equal. So, it's important to understand why some forms of magnesium supplements will help for anxiety, and why others will do very little to nothing (other than causing many trips to the bathroom… If you know what I mean).
Why Taking Magnesium for Anxiety Helps
It's widely known that most people consume far less magnesium than they require through their diet.  Add in anxiety, stress, and caffeine consumption, all of which deplete your magnesium levels naturally,  and a magnesium deficiency is common for many anxiety sufferers.
Benefits of Magnesium for Anxiety
There are many studies showing a strong correlation between low levels of magnesium and high levels of anxiety.  Magnesium is known as the "calming mineral".  If it absorbs properly into the body, it helps promote deep levels of relaxation and sleep, and can even lower stress and anxiety levels as a whole.
Magnesium Supplements Can Be… Crappy If The Wrong Kinds Are Used
The problem is that magnesium is hard to absorb into the body – very hard.  Just because you take a magnesium supplement, doesn't mean you are actually absorbing much, if any. Not only are you not getting the effects of magnesium supplements but with low quality magnesium supplements, you're more likely to experience side effects.
Problems with Low Quality Magnesium
Magnesium (in most forms) causes diarrhea because instead of absorbing into the body like you want it to, the natural supplement draws water into the intestines and comes out into the toilet.  This means that you are effectively getting very little magnesium into your body.
Magnesium by itself is a metal, so it needs to be present in some form in order to consume.  We won't go into every form here, but some of the most common ones are magnesium oxide, citrate, malate, threonate, and bisglycinate.
What is the Best Form of Magnesium  for Anxiety?
After doing extensive research, we found that our favourite is non-buffered magnesium bisglycinate (glycinate). The non buffered form is the most absorbing, and least likely to cause loose stool.
** Non-buffered is important because it means that the magnesium hasn't been mixed with anything. **
The majority of magnesium glycinate and bisglycinate on the market have actually been mixed with (buffered with) magnesium oxide which degrades the quality (and absorption).
So, the non buffered form is the most absorbing and least likely to cause loose stool.
Magnesium Bisglycinate vs. Magnesium Glycinate
Magnesium bisglycinate and magnesium glycinate are the same thing. Non-buffered is the real key.
Magnesium bisglycinate is really 2 natural supplements in 1 because it's a combination of magnesium and the amino acid glycine.
Glycine on its own is very calming. It works together with GABA as an inhibitory neurotransmitter. So, when you take magnesium bisglycinate, you may also lower your anxiety levels because of the glycine.
There is also some evidence that glycine helps promote deep and restful sleep.
The primary reason to take this non buffered (pure) form of magnesium bisglycinate is because of it's high absorption.  The higher the absorption, the more effective it'll be and the less chance of sitting on the toilet.
It is a very popular product and something we highly recommend.
Where to Get Magnesium Supplements
We personally get all of our natural supplements for anxiety, including magnesium, from 88Herbs. They're a Canadian store and in addition to reading all the scientific studies and keeping up with the latest research, they have thousands of customers leaving positive reviews about how the supplements work for them compared to what they've tried from other products.  These comments are all over their entire 88Herbs product line.
This feedback allows them to know what is truly working for people.  The 88Herbs brand is all about choosing the highest quality and most potent ingredients in all of our products.
They are also extremely careful with 3rd party testing and avoid using any unhealthy fillers.
Combine magnesium for anxiety with regular self-care, and you're off to a wonderful start.
If you or someone you know is suffering, please take advantage of the 7 Day Free Trial available on Better Help Online Therapy.
---
This blog post is sponsored by BetterHelp online therapy, but all opinions are my own. I may receive compensation from BetterHelp or other sources if you purchase products or services through the links provided on this page.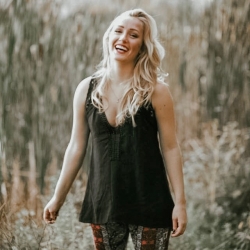 Latest posts by Chantal McCulligh
(see all)