As parents, we tend to ignore the behaviour we don't want to encourage for fear of making it worse, such as whining, complaining, lying, and exaggerating the truth. Unfortunately, ignoring your child showing signs of anxiety for fear of feeding into their behaviour will actually only encourage the anxiety to grow and worsen.
Dear Parents, You're Doing It Wrong
The other day my little five-year-old nephew turned to me after a nervous situation and said, "Aunt Tilly, when that happened my tummy got really sore." I knew just by the way he was telling me that it was anxiety. Otherwise, he would have just said, "My tummy is sore". Most children do not try to reason why they're tummy is sore – it just is.
Without feeding into the fear, I gently said to him, "That's okay honey. Aunt Tilly gets like that sometimes too. Deep breaths help."
However, it made me think about how many parents won't acknowledge a child showing signs of anxiety, for fear of encouraging it.
It isn't unusual to ignore unwanted behaviours, such as whining, complaining, lying and exaggerating the truth. You don't want to give attention to undesirable behaviour – any attention is good attention. But anxiety is different.
Unlike whining and complaining, anxiety isn't a choice. It is an over burst of emotions that are followed with physical symptoms. It's an illness that, if left unacknowledged, forces your child to suffer in silence.
Ignoring your child showing signs of anxiety doesn't stop them from experiencing those feelings; it only stops them from trying to reach out to you for help.
The thing is, as parents, you do acknowledge emotions – even the negative ones. You acknowledge hitting and back-talking as a result of anger, and you acknowledge withdrawal from social situations after your child is left out at school.
You use these emotions and the actions your child displays afterward as a lesson; to teach them how to manage them better. Let's take hitting for instance. Instead of ignoring such behaviour, you acknowledge it and try to teach your little one appropriate ways to handle that emotion so it isn't so intense and obstructive.
The same can be said about sadness and withdrawing from friends after being left out or bullied. You don't ignore these emotions and behaviours for fear of it getting worse; you teach them that some people aren't going to be nice and that it's okay to be sad.
But when it comes to a child showing signs of anxiety, the first thought is to ignore it; to not feed into it, so it doesn't get worse.
However, failing to acknowledge a child's anxiety for fear of encouraging it will actually do the very thing you're trying to avoid.
You have to teach your child ways to manage anxiousness and fear more positively. That is how a child will overcome anxiety, by learning the tools and coping methods that will lessen the impact of such an intense emotion. Otherwise, the anxiety isn't going away and ignoring a child showing signs of anxiety only forces them to suffer in silence.
Let me repeat – the anxiety will not disappear without proper management and tools. Children do not have these coping methods naturally and depending on their age, they don't have a way of finding them on their own. Thus, they need you – yes, you.
Children need their parents and loved ones to support them through those anxious times. This teaches them that it's okay which will encourage them to reach out when they're having an anxiety attack. When they do reach out, you're able to take the opportunity to teach them the coping tools that they'll carry on throughout the rest of their life.
However, if your child is showing signs of anxiety and they are ignored or told that "It's just in their head," not only will they suffer in silence but the anxiety will worsen. That is 100% guaranteed – it will get worse because they will now fear having anxiety which heightens the emotion.
So parents, please start acknowledging your children's signs of anxiety. It will not encourage it in any way, shape or form. Instead, it will help them manage those emotions so that they aren't plagued with debilitating anxiety for the rest of their lives.
Thanks for reading,
Chantal
We share many coping tools for children's anxiety on Anxiety Gone that are great for when a child is showing signs of anxiety and you can even find some helpful options on our online Anxiety store.
However, if you have no idea where to start when it comes to children's anxiety or anxiety in general, I highly recommend seeking professional help. Online therapy is a great option that doesn't break the bank nor does it require you to pack up all the kids and leave the house. You can hand your little one their iPad and sit down with them on the coach as the sessions begin.
Better Help offers a FREE 7 Day Trial which can be an excellent start.
---
This blog post is sponsored by BetterHelp online therapy, but all opinions are my own. I may receive compensation from BetterHelp or other sources if you purchase products or services through the links provided on this page.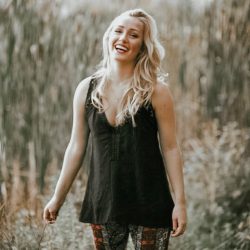 Latest posts by Chantal McCulligh
(see all)