With the majority of therapy types costing a pretty penny, it can be easy to get discouraged. However, light therapy for anxiety and depression is one of my favourite forms of treatment and it won't completely break your bank. Here's what you need to know.
What is Light Therapy?
Light therapy for anxiety and depression is exactly what it sounds like. It's a white light used to mimic the effects of sunlight. As such, it's commonly used to treat Seasonal Affective Disorder, people who experience their depression and/or anxiety worsen during the winter months due to the lack of sunlight. However, phototherapy can also be used to treat anxiety and depression, as well as sleep disorders and jet lag, anytime of the year.
How Light Therapy Works?
Symptoms of anxiety and depression worsen when there is a lack of sunlight, as it causes a chemical imbalance in the brain. Phototherapy provides the same effects of sunlight, allowing you to maintain a healthy chemical balance in the brain. It's that simple.
As for using light therapy, it's just as easy. You just have to sit in front of a SAD lamp. Most people use SAD lamps which they place on their desk or table, sit in front of it and receive the benefits of the "sun". Yes, it's that easy. The only problem with that is you can't carry this lamp around with you. SAD Lamps work amazing for when you're at home or in the office but if you aren't in those areas, you can't get your phototherapy. I address this concern later in this Anxiety Gone post.
For light therapy to work, the light must enter your eyes indirectly in order for your brain to receive the photosynthesis' benefits.  This can be difficult to do because you aren't supposed to look directly at the SAD lamp, as it can damage your eyes.
Other than that, the effectiveness of light therapy for anxiety and depression comes down to three things:
Intensity

It's recommended that you sit approximately 15-25 inches from your light box, or as you're about to discover, the better alternative

Duration

Light therapy is typically done in 15-30 minute sessions

Timing

Most people find light therapy to be highly effective when used in the morning
Benefits of Light Therapy for Anxiety and Depression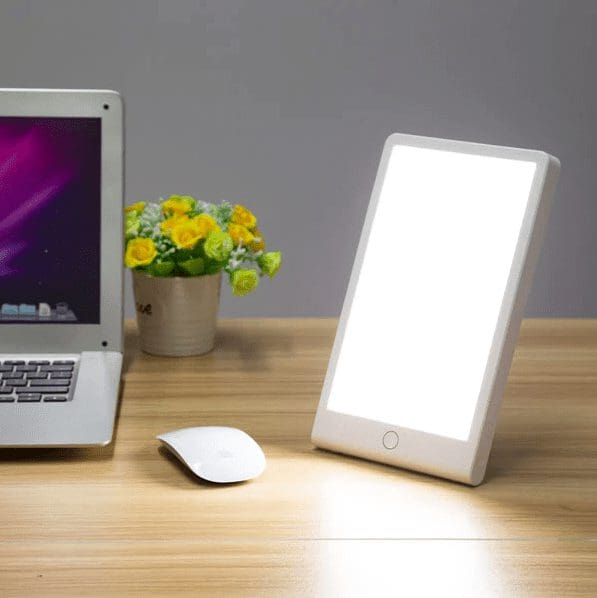 Scientific evidence proves light therapy can decrease symptoms of anxiety and depression
Light therapy has proven to help veterans struggling with major depressive disorder
Provides the same effects as anti-depressant and/or anti-anxiety medication
A natural alternative to prescription meditations
Provides the effects of natural sunlight even when indoors
Provide sunlight in the dead of winter
Regulates biological clock
Maintains chemical balance in the brain
Increases energy levels
Reduce the effects of jet lag
Improves mood
Increases mental alertness
Less anxiety
Decreased depression
Drum roll, please. Human Charger is, inarguably, the greatest thing for treating anxiety naturally. It is everything you've read previously, only in ear bud form.
As you read, in order for light therapy to be highly effective, the light must penetrate through your eyes and into your brain, putting your eye health at risk. With the Human Charger, you're skipping the risks and allowing the photosensitive receptors to flow right into the brain via your ear canals.
It's light therapy in your ears that can be taken with you wherever you go. There's no need to sit in front of a desk, nor is there any need to go without your phototherapy when you're out an about. It's there anytime you need a boost in mood, a lift in alertness or a decrease in anxiety and depression symptoms.
How does SAD lights work?
If you thought sitting in front of a SAD lamp was easy, you'll love the Human Charger.  All you have to do is put the ear buds in your ears for 12 minutes. You can do so while in meetings or while walking, talking, dancing, shopping, running errands – you name it. It's incredibly effective and efficient, and completely revolutionizes light therapy.  It's literally sun in your pocket.
Benefits of a SAD Lamp
The benefits of light therapy are all that was mentioned previous, with the addition of:
Receive the benefits light therapy whenever and wherever you go
Avoid potential damage to your eyes
Penetrate the sunlight effects right into your brain's photosensitive receptors
Receive the benefits of light therapy in less time
Reduce jet lag by 50%
Increase levels of serotonin, dopamine and noradrenaline
Receive anxiety and depression relief any time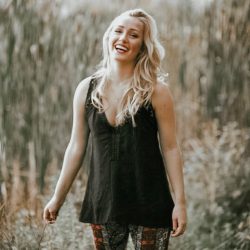 Latest posts by Chantal McCulligh
(see all)