Negative energy surrounds you every day, whether you feel it or not. Everything on this planet – from humans to objects – have an energy that attaches to you when you come into contact with it. Often times, these energies are positive, but many can also weigh you down. This is why it's so important to do energy healing practices along with relaxation techniques for anxiety relief. Our Cutting Cords spiritual subscription box teaches you how to cut cords to remove energies that no longer serve your highest good.
What Are Energy Cords?
Energy cords are invisible strands of energy that connect you to people, places and things. These energy strands can can be thin and transient, or they can be thick and mucky. Anytime two people interact with each other, energy cords are formed between them so you can imagine how many cords are attached to you if you have never cut cords before, some of which no longer serve your highest good. Think about past relationships, sexual partners, toxic friendships – these are all energy strands still connected to you. Learning how to cut cords can help you remove that energy to free you from negative situations still holding you back.
However, it's important to know that when you are cutting cords, you are not removing the connection. You are simply removing the connection that is no longer good for you. Perhaps it's a bad situation you had with a parent as a child or an argument you had with your spouse that is holding you back from trusting them fully, these are the types of cords that get cut.
How to Cut Cords
There are an abundance of powerful cord cutting techniques that you can use at anytime. In our Cord Cutting spiritual box, you receive one of my absolutely favourite books that teach you all about energy strands and how to cut cords safely and effectively. Then, the box comes with several cord cutting techniques and tools you can use to learn how to cut cords. 3 Ritual Candles: Light these mini candles and let them do their magic – white for cleansing, purple for connection to spirit guides, and black for protection.
Cord Cutting Tools
In our Cord Cutting Box, we provide you with the following items to help you free yourself of energy strands:
Energy Stands Book: "The Ultimate Guide to Clearing the Cords That Are Constricting Your Life"
This spiritual book changed my life. I stumbled across it at an estate sale after being introduced to spiritual healing (funny how these things happen when you start to open your mind to spirituality). It is the one and only book you need, in my opinion, to understand how energy works, how it affects your life and how to cut cords to achieve your greatest good. Energy Strands covers topics, such as:
Understanding energy strands
Exploring your strands
Different types of energy – good and bad
Cutting the ties that bind: releasing the strands diminishing you
Protecting and shielding your energy field
Strengthening the strands that empower you
Attachments to family, friends, lovers, past-lives and pets
Space clearing methods
If there's one book I recommend, it's Energy Strands by Denise Lynn.
Selenite Rods for Protection and Cleansing
In the Cord Cutting box, you also receive three selenite rods wrapped with a cord that you can physically cut when learning how to cut cords. Selenite rods are powerful stones for removing negative thought patterns, energies and attachments, and for cleansing and protecting your space and aura. It is one of the few stones that does not need to be charged as it's a high vibrational stone, and it can be used to charge your other crystals to amplify their healing properties.
You learn how to use selenite rods in the Energy Strands book provided.
Charcoal Soap to Purify and Nourish Your Body
Let's not forget about the energies lingering on the surface of your skin and aura. In the box, you receive a bar of Charcoal soap from Vibes Soap. They are a Canadian soap company that is paraben and sulfate-free. Vibes Soap also aims to spread positive vibes by giving back to initiatives supporting mental health.
Sterling Silver Tourmaline Necklace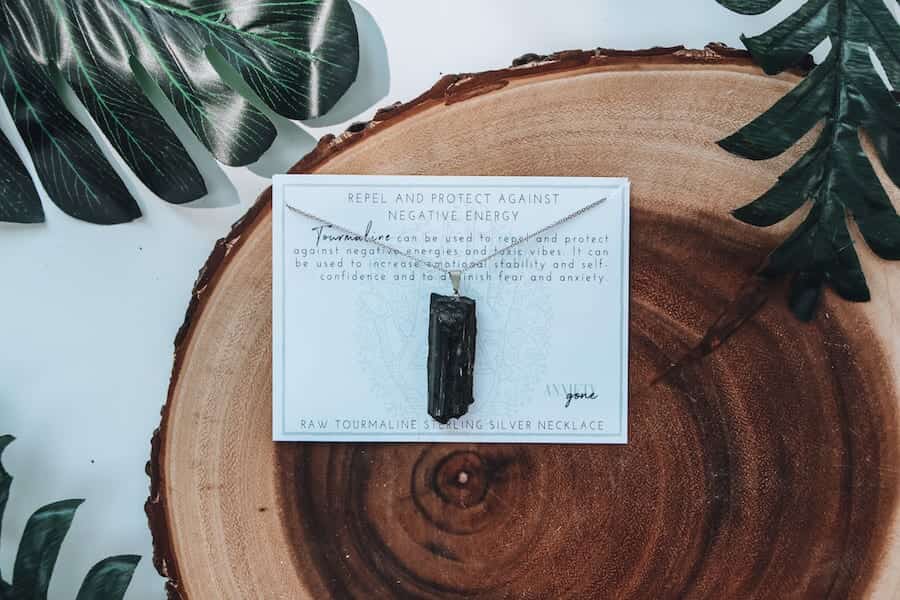 Tourmaline is another powerful stone for anxiety and protection. It helps repel and block negative energies and can also be used to cleanse, purify, and ground you as needed. This tourmaline necklace is made with quality sterling silver that looks just as stunning as its protection feels.
Cleansing Fragrance Oil
As you learn how to cut cords, you'll also learn the importance of cleansing energies on a regular basis. This yummy cleansing fragrance oil can be added into an essential oil diffuser or wax warmer to cleanse the space of negative vibes.
Palo Santo Room Mist
After months of experimenting with energy clearing essential oils, I perfected the perfect blend for removing negative energies. If you're new to smudging, many of these scents are quite pungent, as they need to be to cut through the thick, negative energy you're trying to clear. It's an amazing practice but not for everyone due to the smell (my boyfriend hates when I sage the home). This Palo Santo room spray has masked the pungent smells with a beautiful yet subtle floral scent, offering a soothing way to smudge your home, smoke-free.
3 Ritual Candles
Ritual candles are also great for all of our spiritual junkies out there who like to turn their cord cutting practice into a full-out healing ritual. The Energy Strands book also teaches you how to cut cords using candles. So, in the box, you receive three mini ritual candles – white for cleansing, purple for connection to spirit guides, and black for protection.
Cord Cutting Techniques in a Box
You can get all of these cord cutting tools and energy healing techniques valued at over $120 for only $69CAD. And don't forget to also subscribe to our spiritual healing subscription box so you don't miss out on new energy healing techniques that can transform your life.
Each season, we put a box together that teaches you how to embrace more spirituality and energy healing into your life. We also have a wellness mental health box that sends health and wellness right to your doorstep. These boxes include relaxation techniques from mental health experts, wellness products, calming items, soothing tools and more.
Subscribe to any of our mental health subscription boxes for 30% off.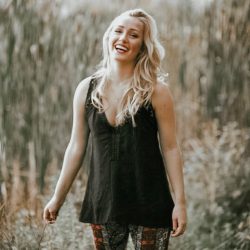 Latest posts by Chantal McCulligh
(see all)