By now, you've probably seen colorful mandalas everywhere and wondered how they these calming items can be beneficial for you and your mental health. Well, it all comes down to the power of art therapy. Mandalas are sacred calming items that can help your anxiety and overcome panic attacks. I was a skeptic at first as well, until I stumbled across Mandala Blooms, had the most beautiful talk with the owner about mandala art, and then did some hefty research on our end to discover how to use a mandala in therapy.
What are Mandalas?
In order to understand the healing power of mandala art, how to use a mandala in therapy or just art therapy in general, you need to first know understand the sacredness behind these beautiful shapes.
A mandala is a symbol used to represent the universe. The Sanskrit word literally translates to "circle".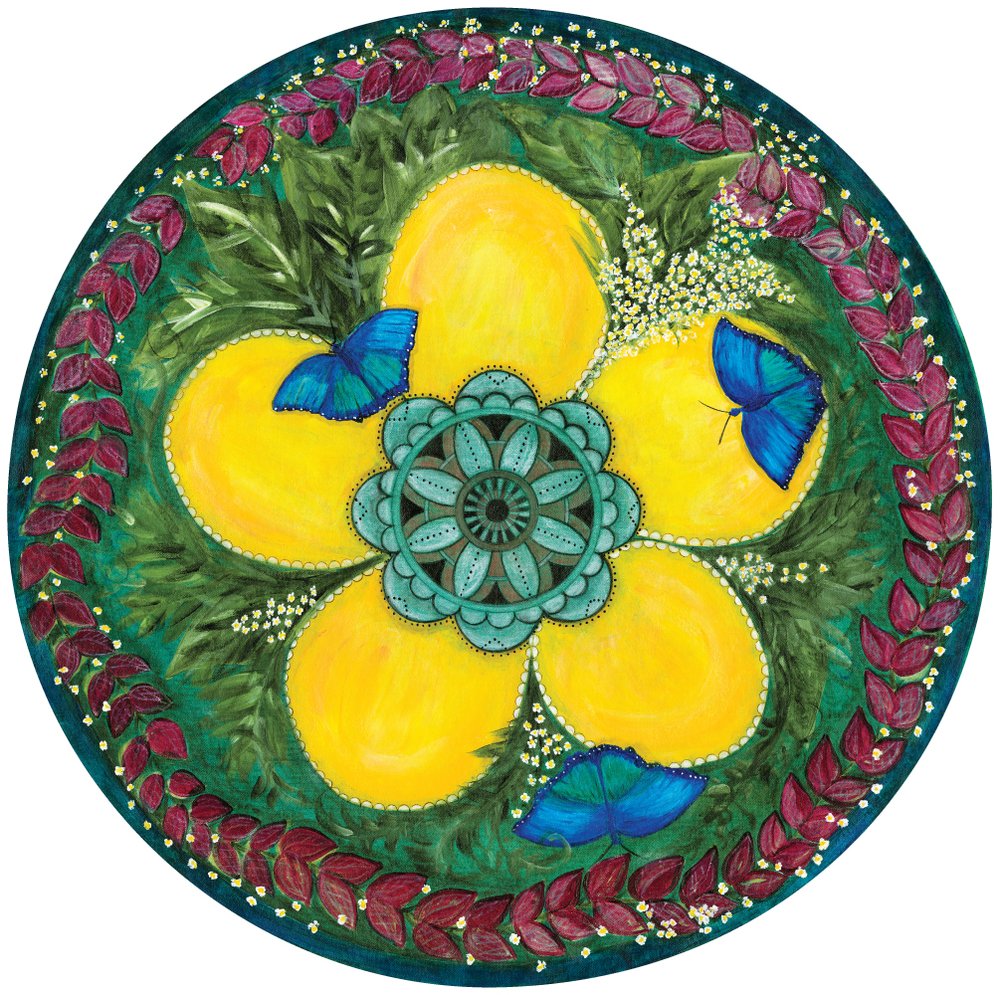 However, a mandala is much more than just a circle. They're often used to symbolize your journey through hardships or through life, in general. As such, mandala therapy is used to reveal what you should be doing to grow, develop and heal, in this case, from anxiety and panic attacks.
How to Use a Mandala in Therapy
Since mandala art is literally a circle created by letting your mind, hand and body wander across a canvas or piece of paper, you're likely still wondering, how to use a mandala in therapy? After all, it's a circle.
There are several ways you can use a mandala in therapy, with three of our newfound favourites being:
Mandala Meditation
The first is mandala meditation. If you're new to Anxiety Gone, prepare to learn more and more about meditation because it truly is a huge component to overcoming anxiety naturally. You simply can't heal your mind when your mind is a mess; meditation takes care of that while also offering a long list of benefits.
However, for the sake of keeping this blog post shorter, let's focus on mandala meditation specifically.
What is mandala meditation?
Imagery is a form of meditation, and as you may have guessed, mandala meditation is a form of visual meditation. Instead of closing your eyes to meditate, you rest your gaze on the mandala flower, allowing your thoughts and mind to empty out onto the mandala.
How to use a mandala in therapy?
Here are the steps to meditating on a mandala:
Place your mandala art in front of you at arm's length (either flat on the ground or on a wall)
Sit comfortably in front of it with your feet flat on the floor or legs crossed
Begin to breathe slowly and deeply from the diaphragm, emptying your mind and body of any tension or worries
Gaze at your mandala and relax your eyes so the mandala is slightly out of focus
Continue breathing and concentrate eon the image, allowing the image to come in clearly and fully
Breathe and focus on the shapes, colours and patterns
If you become distracted, redirect your mind back to the mandala
Continue doing so for a minimum of 5 minutes
Coloring Mandala
The second way to use a mandala for anxiety is through mandala colouring. These adult (and children) colouring books have popped up all over the place and are often recognized as being the best calming items. Art therapy has been used – and prescribed to patients suffering from anxiety – for years. It's only now that it's gone mainstream and everyone can do it without a trip to a therapist.
What is mandala coloring?
Mandala colouring is the process of coloring mandalas. Simple enough, right? Doing so involves repetitive and rhythmic hand movements and focused attention, which allows you to escape your troubling thoughts. It takes you away from your over-active mind, creating a sense of safety, control and familiarity, three things that are quite opposite to what you feel when you're anxious.
Here are some awesome mandala colouring books we've recently discovered:
Mandala Drawing
Mandala drawing is the exact same as the prior, only you're drawing the mandalas instead of colouring them in. This is a great process and form of creative therapy that allows you to express (and release) your emotions, anxiety and stress. Mandala drawing kits are an awesome activity for learning you how to make these beautiful designs so you can start e
What is mandala drawing?
Mandala drawing or mandala painting is the process of drawing or painting, well, a circle that turns into a mandala flower! However, this form of art therapy goes far beyond that. The key is to let your mind and intentions draw the mandala and to create the patterns that tell your story or feelings – the brain understands patterns! Mandala drawing isn't just about drawing the perfect circle, it's about creating a deeper connection and understanding of your feelings.
How to use a mandala in therapy?
Here are the steps on how to draw a mandala:
Draw a dot in the center of your paper
Grab a ruler and place it in the center of your dot
Draw 3 dots to the left, right, top and bottom of your main dot, making sure each dot is the same distance from the center as the other

For example: Make all of the first dots from the center a 1/2″, all second dots from the center 1″, all third dots from the center 1.5″

Draw a vertical and horizontal line to connect the dots
Draw another set of dots in between the lines, at the same distances from the center as the other dots you drew
Connect the dots in circles

For example: Connect all the first dots from the center to form a small circle, all the second dots from the center to draw a slightly larger circle and so on and so forth

Let your mind do the rest! Fill your mandala in as you please
Benefits of Using Mandala for Anxiety
Now that you know how to use a mandala in therapy, it's time to learn the powerful benefits of doing so. These benefits don't relate to the mandala per se, but rather, the process of using a mandala for anxiety.  By doing so, you can receive the following benefits:
Promote mindfulness and healing
Increase focus
Release emotion, fear, worry, tension, anxiety and stress
Increase your understanding of your anxiety disorder
Stimulate creativity
Release emotional blockages
Learn how to decrease impulsive behaviour
Promote self-discovery
Control worrying
Using a mandala to heal is beneficial for your anxiety because you're allowing your mind to escape onto a piece of paper. Instead of hoarding all of these unpleasant thoughts and anxious feelings inside, you can now put them on a piece of paper (whether physically or through meditation). This instantly frees your mind and body of anxiety, decreasing the symptoms that have plagued you all this time. Mandalas also allow you to have a better understanding of what's going on, so you can then find the proper tips, tools and techniques that work best for you.
What is Mandala Blooms?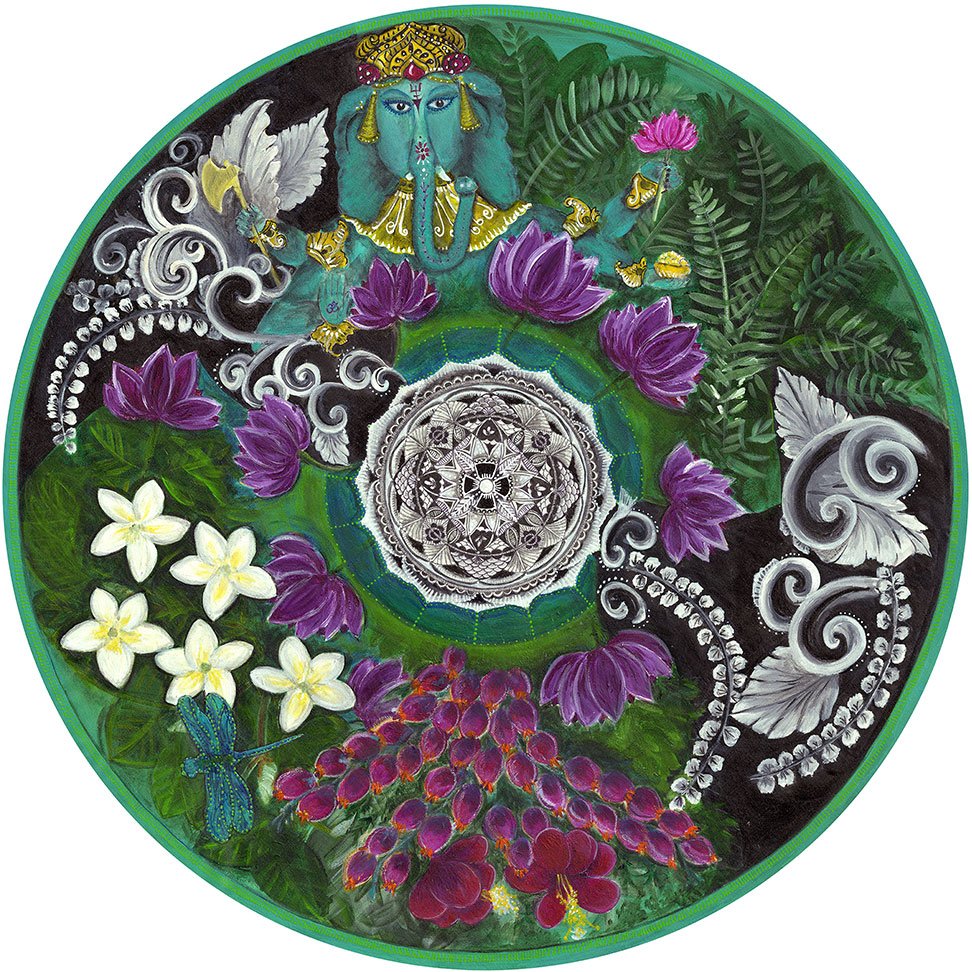 We can't complete this post without talking about Mandala Blooms, the company that got us using mandalas as a form of meditation and therapy for anxiety.
Mandala Blooms is owned by Carolyn Trotter, an artist and meditation advocate living in Vancouver. She was actually going through some tough times and decided to pick up a paint brush and splatter her feelings onto canvas. She found herself focusing on the centers and couldn't really figure out why, but painting after painting, they all had this intricate center. It was only when her friend said that they looked like mandalas that Carolyn had a "light bulb" moment. She researched the meaning of mandalas and low and behold, that's exactly what she had been painting all this time. Her journey and what she was going through was on each canvas – exactly what mandalas and mandala meditation should do.
Today, she sells her beautiful mandalas to help others overcome their struggles. But don't be mistaken. You aren't getting a computer printed version of her mandalas. Instead, they're printed on cotton canvas, so it's literally like getting her authentic mandala painting.
How to use Mandala Blooms
We have the Spiritual Opening mat in the Anxiety Gone office and it truly creates such a calming, centered atmosphere to be in. When in times of need, we take a couple of moments to gaze at the mandala to recollect ourselves.
You can use Mandala Blooms to decorate your space with mindfulness and relief, and use it as we do. Or, you can use the mandala to meditate.
Whatever you do, know this one thing – the Mandala Blooms mat comes with energy and good vibes that go far beyond its beauty.
So, if you're ready to use mandala in therapy, support a Canadian and shop Mandala Blooms. You won't regret it.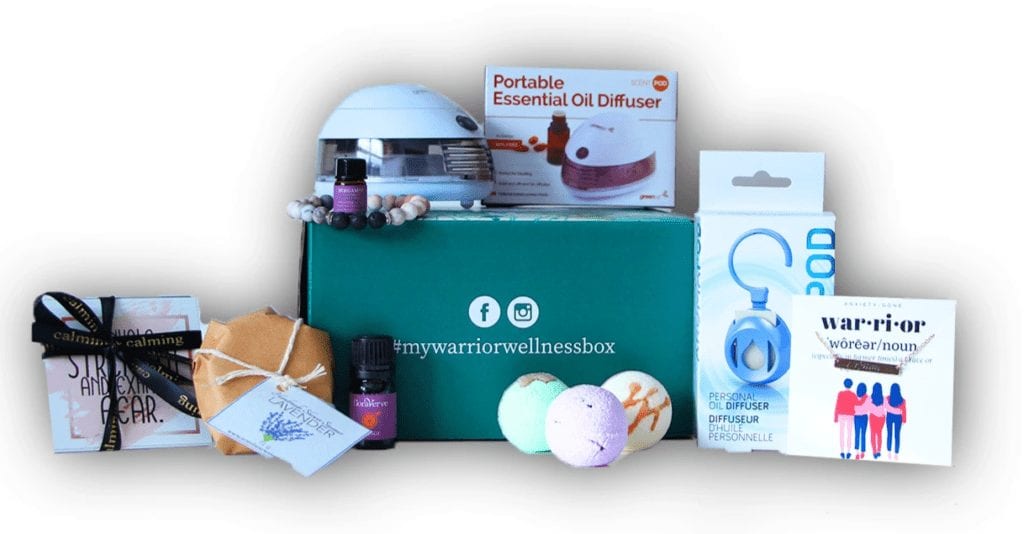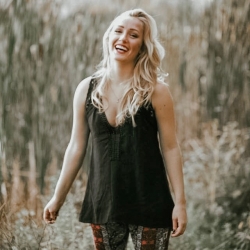 Latest posts by Chantal McCulligh
(see all)