When it comes to Covid, managing anxiety can feel like an insurmountable challenge. Tracking medical advice, worrying about friends and family, and stressing about the sickness can prove to be powerful triggers. Thankfully, there is one factor that can potentially provide an 'early warning' to help track your personal health and that's your blood oxygen levels.
Easing Anxiety Surrounding Covid
While there is no substitute for professional medical care during a crisis, properly managing anxiety can help ease your stress and anxiety associated with Covid. There are a few extra precautions you can also take to help protect yourself and others from Covid 19, which will help provide you with peace of mind. These include taking vitamin supplements, exercising daily, eating healthy, wearing a mask, social distancing, and being selective with where you go and who you see. But there's one other way you can ease anxiety and that's through your blood oxygen levels. But what does keeping an eye on your blood oxygen levels do if you are concerned about catching the disease or if you are undergoing recovery? Let's find out.
Why is Managing Anxiety Triggers Important
Whether you have been diagnosed with an anxiety disorder or are struggling to keep your head above water in difficult times, managing your environment and personal health is absolutely essential. Thankfully, there are some simple steps you can follow every day to avoid the triggers and stress that can lead to an episode, while also making your condition more manageable.
To begin managing anxiety during Covid, follow these simple steps:
Create Your Routine
The lack of control that surrounds Covid can lead people to feel disruption in their daily habits. Take time to understand and focus on the elements that you can control right now. This can be as simple as taking time to yourself in the morning to practice gratitude, enjoying a reading break during the day, or taking a calming walk in the afternoon. All of these activities put you in control of many aspects of your health. These are also great activities for managing anxiety in general. So, set a schedule and do your best to stick to it (just don't beat yourself up if you miss out on a day or two).
Avoid Negative News
While it's helpful to be informed, remember that reading negative news can be incredibly stressful and counterproductive for managing anxiety. If it helps calm you down, great. However, if the news causes your anxiety to increase, be selective with how much you follow. An excellent tip is to subscribe to government alerts that keep you informed about essential changes, but limit time spent on Twitter, Facebook and other online media. This is also a great tip for managing anxiety post-Covid.
Monitoring your Personal Health
Taking the time to exercise when possible can help balance your mood and give a sense of structure to your day. Take a walk in the great outdoors or create your own at-home exercise regime. Staying active is key to managing anxiety and is one of the most essential tool in your anxiety management arsenal.
However, when it comes to monitoring your vitals, tracking your blood oxygen level can be an incredibly effective and practical way to give yourself peace of mind. By monitoring your blood oxygen level, you can potentially spot infection before it happens or track your recovery post-Covid. This eliminates unnecessary stress and worry.
What is Blood Oxygen Level?
As the name suggests, your blood oxygen level represents the degree of oxygen saturation in your blood. For healthy people this should sit around the high 90's, which means your blood is enjoying a healthy level of oxygen. At this level, you're able to metabolize energy efficiency and avoid issues around O2 starvation.
What Does Low Blood Oxygen Mean?
Your blood oxygen level can be low for any number of reasons, but the results are always critical.
Known as hypoxemia, if the saturation in your bloodstream drops below 90% you will almost immediately start experiencing negative side effects that you may not even notice. This can cause simple problems or complaints such as dizziness, shortness of breath, headaches and more. This can also lead to a condition known as hypoxia where your body is being starved of oxygen. As a result, your judgement making abilities become impaired and can result in dangerous behaviour or dangerous decision making.
Many sources have also noted that lowered blood oxygen levels are an early warning sign of Covid-19 or a potential recovery marker for individuals that have contracted the condition. While data is by no means absolute, monitoring your blood oxygen levels can help act as an 'early warning' of Covid, allowing you to seek support or quarantine as needed. You can also use this to start managing your anxiety, as you can put your mind at ease if your levels are good.
How Can I Monitor My Blood Oxygen Level Effectively?
Thankfully, medical technology makes it easier than ever to monitor your blood oxygen levels correctly and safely. This can easily be done by using a device called a blood pulse oximeter. This is clipped onto an available finger and uses a beam of light to measure the level of light absorption in your skin, allowing the device to quickly measure an accurate level of oxygen saturation alongside a measure of your pulse. For many, this is an effective way to monitor your health and provide an accurate reading to a medical professional if you feel concerned.
If you feel that an oximeter would be a useful tool to have, they are easy to pick up and are available from a number of reliable providers such as market leaders like Sensoronics or other notable producers. Taking the time to confirm that your device is from a trusted provider is essential and, if you are in doubt, validate your purchase to provide peace of mind and ensure that your oximeter can be relied upon when you potentially need it most.
If you are truly struggling managing anxiety during this difficult time, remember that the NHS and other healthcare providers have made specific advice available through their online service.
You are by no means alone in this situation and there are a number of resources and lines for support available to ensure that you get the support you need.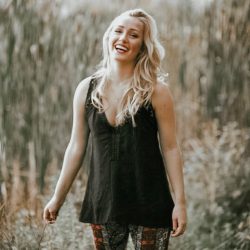 Latest posts by Chantal McCulligh
(see all)