Finding the right healing crystals for anxiety can sometimes cause you to feel more anxious. There are thousands of stones, crystals, and gems to choose from, and sifting through the different types to find the stones you need for your mental health can be a difficult task. The good news is that I make it easy! On our online mental health shop, we only sell crystals for mental health so you can easily pick whichever ones you gravitate towards and know that it has the benefits you're looking for. However, if you're looking for purple crystals for anxiety relief, this guide will steer you towards the best ones for that.
How Do Crystals Help With Anxiety?
Crystal healing can be difficult to understand, especially if you're new to this type of therapy. Yes, it's a type of therapy – crystal therapy, to be exact. But how do crystals help with anxiety, you ask?  For thousands of years, people have used crystals, stones and minerals to promote physical, emotional and spiritual healing. It's believed that different crystal positively interact with your body's energy meridians, also known as chakras. This is done through vibration. You've likely heard of the saying, "everything is energy". What we see as physical, is actually mostly energy. For example, science has proven that physical matter is actually 99.999999999999% empty space and in that empty space is energy. Put this together and crystal therapy can be described as using stones with different energetic frequencies to get the healing you're looking for. Each stone has a different vibration, which determines how it can positively affect the way you think, feel, live, etc. And while this type of alternative health may be new to you, healers, shamans, ancient romans, cavemen and all types of cultures have used healing crystals for thousands of years.
Purple Crystals for Anxiety and Stress
When picking a crystal for anxiety, it's always best to go with whatever you feel gravitated towards. Your intuition is a powerful survival mechanism that will lead you to what you need most. From personal experience, anytime I have allowed my intuition to lead me to a crystal (I picked whichever one captivated me the most), a quick Google and the healing vibrations of that particular stone did resonate with what I needed. So, if you feel pulled towards purple crystals for anxiety or want to add more purple crystals in your collection, here are the best options for anxiety and stress relief.
Amethyst Keeps You Grounded and Sober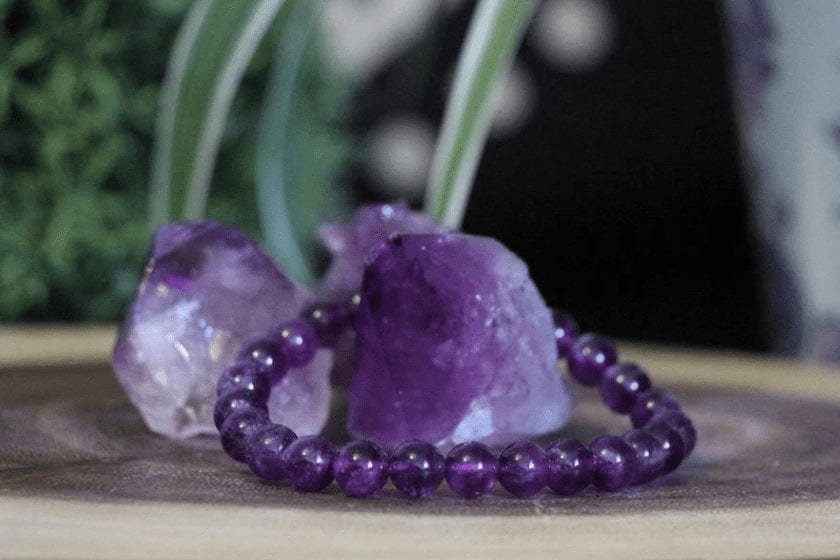 Out of all the purple stones for anxiety, amethyst is certainly at the top fo the list. It's the perfect beginner stone and as you advance through your journey, you'll quickly realize it's a staple. Amethyst is known as the "All Purpose Healing Stone" and historically, it was used to keep people sober. It's also said that Ancient Greek Romans would kiss the ring to keep themselves grounded. Put this into modern terms, and amethyst is a great stone for keeping you grounded and pure.
How Amethyst Helps with Anxiety?
Amethyst detoxifies your mind, body and spirit and provides healing of physical ailments, emotional issues, energetic blocks, and mental health concerns. Amethyst clears your energetic field of toxins and negativity, while also protecting you from negative thoughts, emotions and energies. Here are some of the healing properties of these purple crystals for anxiety:
Assists with energy blocks that disrupt the balance in your mind, body and spirit
Brings forth trust, intuition and spirituality
Detoxes and stabilizes the mind
Regulates mood swings
Clears negative thought patterns
Promotes better communication(great for social anxiety)
Enhances meditation
Balances emotional extremes
Increases creativity, wisdom and understanding
Provides protection from negative thoughts, emotions and energy
Enhances cognitive perfection
Helps you remain clear, centered and calm
Assists with the grieving process
Initiates putting thought into action
Increases focus and success
Lepidolite Contain a Natural Anti-Depressant and Anti-Anxiety Ingredient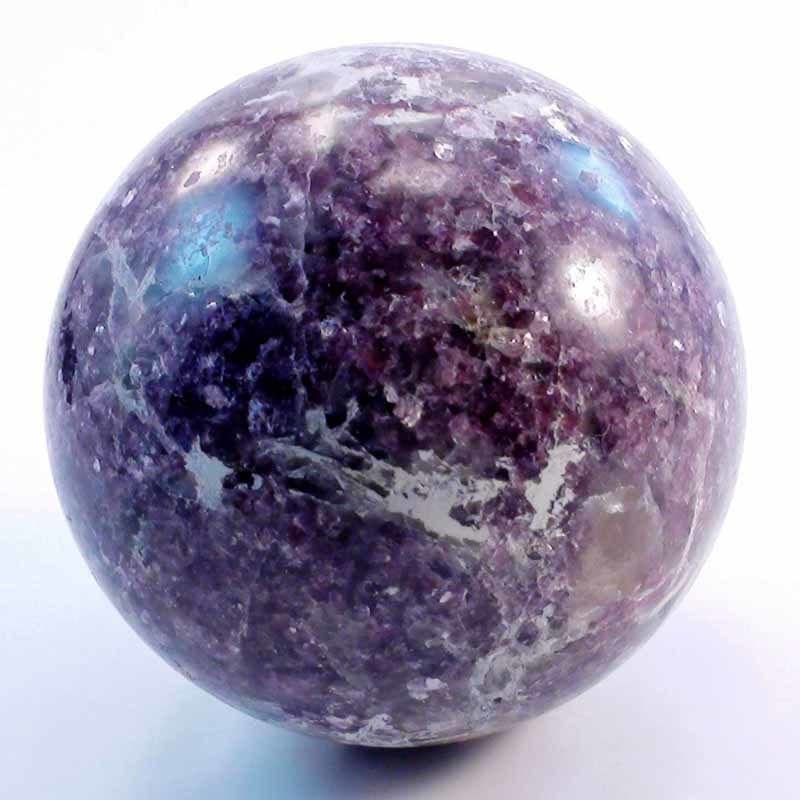 Out of all the purple crystals for anxiety, lepidolite is one everyone needs in their collection for optimal mental health. Lepidolite contains lithium, which is a natural anti-depressant used in many prescription medications for anxiety and depression today. They are beautiful purple crystals that are can take you out of the anxious state quickly, by providing you with balance during stressful times when you feel emotionally overwhelmed or excessively worried.
How Lepidolite Helps with Anxiety?
The lepidolite crystal meaning is associated with restoring balancing and harmony in your mind, body and spirit. It's a powerful balancing stone that is typically blue, with purple lepidolite being much more rare. It clears out whatever "poison" you're struggling with, whether it's anxiety, personal demons, a toxic ex, or a negative mindset. Here is a quick breakdown of lepidolite healing for anxiety specifically:
Restores balance and harmony
Guides you to your true life purpose
Helps you let go of anger, sadness, anxiety and depression
Enhances your self awareness
Provides you with guidance
Helps you make the best choices for your happiness
Guides you through stressful, overwhelming moments
Replaces feelings of anger and resentment with positivity
Provides a constant flow of peaceful, soothing vibrations
Purple Banded Agate Promotes Mental Strength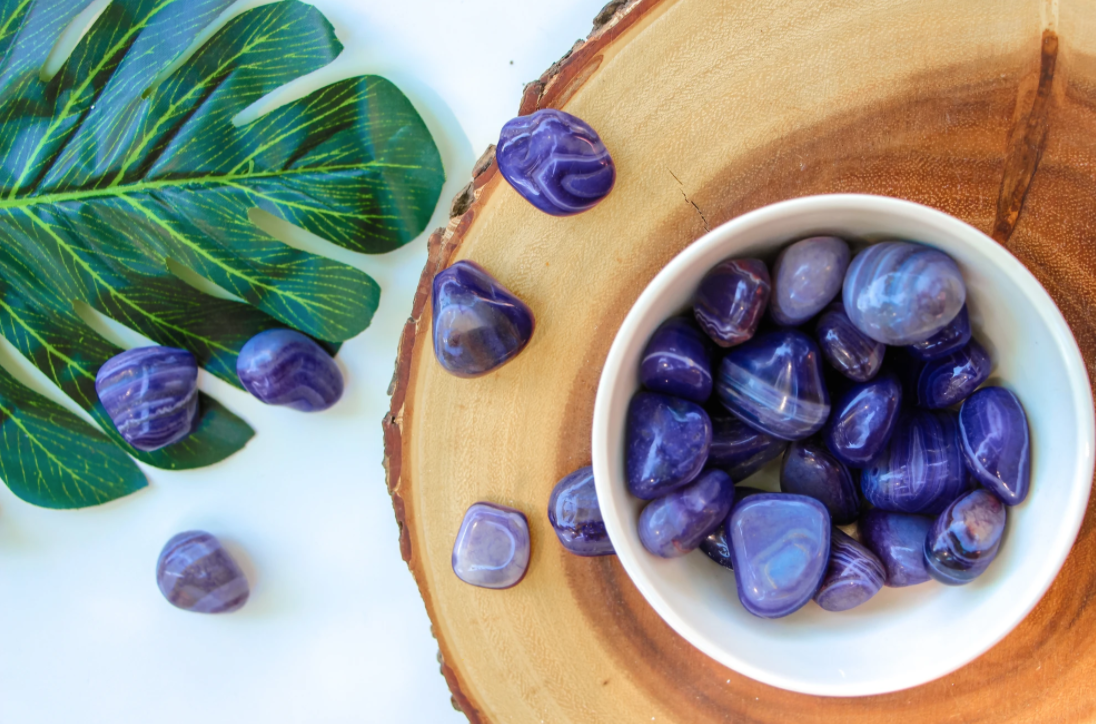 When you're experiencing anxiety, it's easy to feel like you're emotionally weak or not mentally strong enough to deal with whatever it is you're going through. This couldn't be any further away from the truth. Anxiety effects everyone and anyone; it does not discriminate. You are not weak just because you're experiencing anxiety. However, using purple banded agate for anxiety can provide you with mental strength and clarity to get through those stressful times.
How Does Purple Agate Help with Anxiety?
Purple agate healing stones are great purple crystals for anxiety, especially when you need an extra boost of positive energy to increase your mental and physical performance. It can provide you with increased relaxation, tranquility, inner stillness, and balance between Yin and Yang energies. Here's a quick breakdown of the healing properties of purple agate for anxiety:
Increases relaxation and tranquility
Fights against stress and anxiety
Restores inner stillness and balance
Helps you find your talents
Promotes good luck
Enhances strength during difficult situations
Increases creative energies
Provides protection from bad luck
Encourages you to achieve your goals
Purple Fluorite Helps You Through Chaos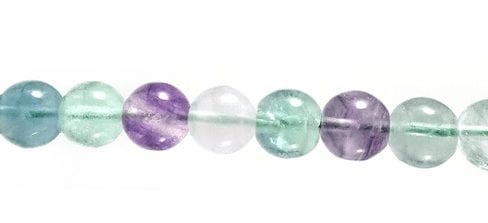 Anxiety is chaos, so it only makes sense that purple fluorite be mentioned on this list as it is one of the best purple crystals for just that. It's a stone of protection that is believed to become more protective the longer you use it. The vibration is said to help you find order to chaos; to organize your thoughts and emotions to find the harmony in difficult situations.
How Does Purple Fluorite Help With Anxiety?
Fluorite comes in different colours, with purple fluorite being the most peace-giving of all fluorite. So, make sure to grab these purple stones for anxiety to get through those mental ruts.  Here are some healing properties of purple fluorite for anxiety:
Provides protection
Helps you see through chaos
Stimulates brain cells for more life force (prana)
Enhances mental awareness
Increases manifestations
Provides peace and clarity
Restores balance
Encourages exploration and creativity
Detoxes environmental stress and energies from electromagnetic fields
Helps you stay focused and organized
Keeps the mind calm and productive
Provides therapeutic support
Increases focus
Ametrine Detoxes the Mind and Body of Anxiety
From the amethyst family, it's no surprise that ametrine is one of the top purple crystals for anxiety. Ametrine brings forth the perfect balance of both amethyst and citrine, offering an abundance of healing for your mental health. It helps unite your feminine and masculine energies for inner balance for enhanced mental and spiritual clarity. 
How Does Ametrine Help with Anxiety?
If you're looking for purple crystals for anxiety, ametrine is at the top of the list. It relieves tension, promotes serenity and brings balance to your mental stability and self confidence. It's also detoxes your mind, body and spirit and is often a stone used to help release addictions. Here are some additional healing properties of ametrine:
Relieves tension, stress and anxiety
Promotes serenity and calmness
Provides mental stability and balance
Detoxifies the mind and body
Releases addictions
Unites feminine and masculine energies
Enhances mental and spiritual awareness
Opens up Solar Plexus Chakra and Crown Chakra
Increases creativity
Heals the mind, body and soul
Strengthens and aligns your energies
Relieves depression
Soothes and balances emotions
Enhances compatibility and acceptance of others
Helps with transition/change
Stichtite Helps You Deal With Difficult Situations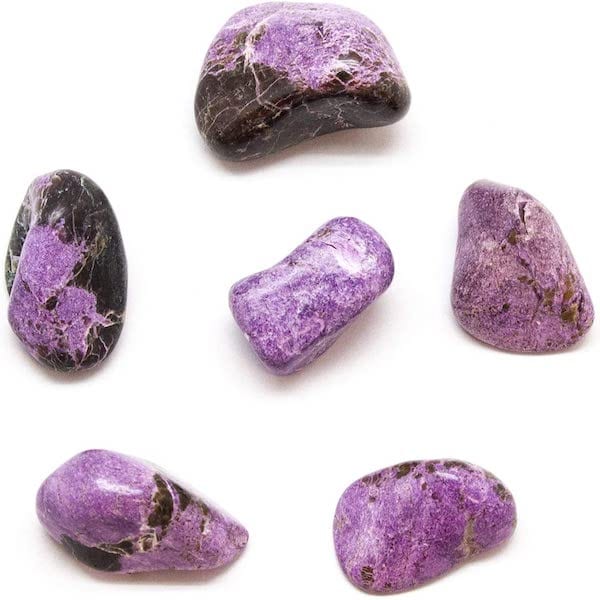 Anxiety is a difficult situation and stichtite is a purple crystal that is known for helping you deal with difficult situations. So, it's a must-have stone for anxiety. It works with your heart to provide you with protection from hurtful and harmful emotions, situations and people. Stichtite is infused with loving energies that help you resolve and heal your emotional state.
How Does Stichtite Help With Anxiety?
Stichtite stimulates feelings of love, compassion, forgiveness and healing of emotional distress. It helps you create deep emotional healing while also protecting your emotions throughout the process of digging up old, painful roots. Here are additional stichtite healing properties that help with anxiety:
Heals emotional trauma
Provides emotional protection
Helps you forgive old issues
Encourages you to let go of old issues
Releases ego-based problems
Helps build friendships and relationships (great for social anxiety)
Gives you an abundance of loving energy
Helps you through emotional distress
Guides you through healing unresolved issues
Encourages you to be more affectionate with others
Charoite Transmutes Negative Energy into Healing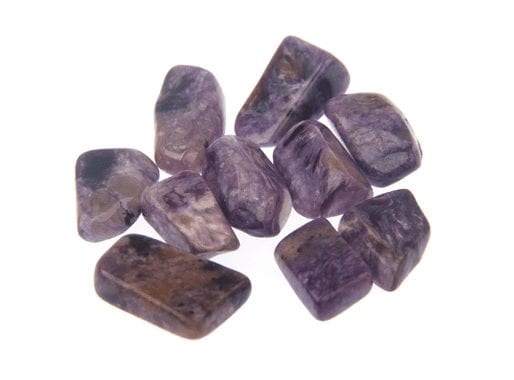 Dealing with anxiety can create an abundance of negative energy within your mind, body and spirit. After all, rarely does an anxiety attack make you feel positive. Charoite is a powerful stone for helping turn that negativity into healing. It helps open up your hearts and flood you with unconditional love. Charoite is also a great stone for people dealing with sleep issues, insomnia or nightmares.
How Does Charoite Help With Anxiety?
Charoite is a transformative stone that gives you the unconditional love and support you need to get through tough moments. Then, it guides you through the process of transmuting negative energy into healing. In other words, when you have an anxiety attack you have two options – soak in the fear and let it bring you down or face that fear and let it promote your healing. Charoite is all about the latter. Here are some additional healing properties you can expect:
Promotes unconditional love
Reduces stress and worry
Opens up your heart
Cleanses your energetic field and meridians
Transmutes negative energy into healing
Encourages transformation
Improves sleep
Helps with insomnia
Fights off nightmares
Keeps you grounded and connected to loved ones
Helps with acute loneliness and alientation
Eases fears associated with health, pain and dying (great for health anxiety)
Alexandrite Gives You Courage to Face Change Without Fear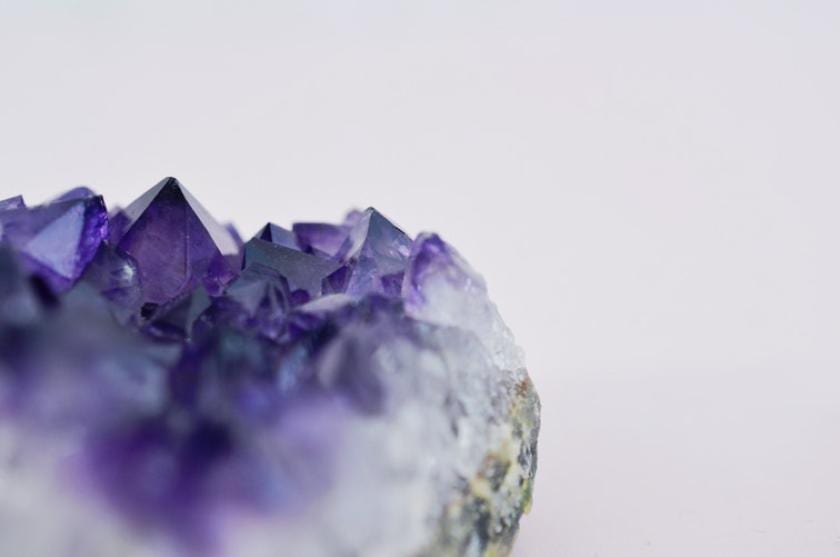 People fear change. It's in our DNA. But change isn't always a bad thing, especially when you learn how to embrace it and that's where Alexandrite will help you. Alexandrite is a stone of courage that balances the nervous system to help you face change with no fears.
How Does Alexandrite Help With Anxiety?
Alexandrite helps you face change and difficult situations without fear, which combats anxiety right then and there. It's also helps balance your nervous system to alleviate anxiety, tension and stress. Alexandrite is also a great stone for treating physical anxiety symptoms, such as tension headaches. Here are some additional healing properties of Alexandrite:
Balances nervous system
Provides you with courage
Helps you face change without fear
Encourages you to experience joy
Enhances your self esteem
Eases tension and anxiety
Soothes tension headaches
Alleviates motion-sickness
Encourages you to listen to your inner voice and feelings
Promotes emotional maturity
Helps you assess your emotions and emotions of others
Guides you to accept change
Encourages you to let go of emotional issues
Promotes calming feelings when feeling lost
Crystal therapy using purple stones for anxiety offers well-rounded healing that addresses physical, mental and emotional issues contributing to your mental health. It's a natural alternative that is readily available to you at anytime. As long as you have your purple crystals for anxiety, you have the healing you're looking for. 
However, if you are in a really difficult spot in your life and find yourself struggling, there are many other types of therapy for anxiety. Please speak with a professional who can provide you with the necessary techniques and guidance needed to get you through. 
---
This blog post is sponsored by BetterHelp, but all opinions are my own. I may receive compensation from BetterHelp or other sources if you purchase products or services through the links provided on this page.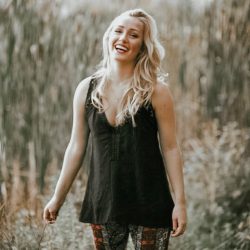 Latest posts by Chantal McCulligh
(see all)