Social media has its perks when used properly. It doesn't have to be this media channel where you scroll through for hours mindlessly comparing yourself to others. Instead, it can be an excellent source of motivation, inspiration, and therapy. And when it comes to mental health influencers, there certainly isn't a shortage of amazing warriors to follow.
What are Mental Health Influencers?
Whether you want to call them mental health influencers, mental health bloggers, mental health advocates or regular people who share their journey online, they all fall within the same category. These are the type of people who are inspiring others by turning their pain into purpose. However, just because someone is a mental health blogger or influencer does not mean they're worthy of a follow (sorry!). There are many accounts out there that actually promote harmful content that can negatively impact your own progress.
Why You Should Become a Mental Health Influencer Yourself
There a million-and-one reasons why becoming a mental health blogger or influencer can help your healing. It helps turn your pain into purpose, as you can use your experiences to help others. Now, being a mental health influencer isn't for everyone and it does require some thick skin, extreme vulnerability, and honesty. You directly impact the lives of all of your followers and need to be aware of that at all times. However, because of these exact reasons, you can change the world for so many people.
Becoming a mental health influencer can also be an excellent source of revenue and healing. Yes, the top influencers get paid through sponsored posts, product endorsements and collaborations. But it isn't the money that makes influencing so good; it's the fact that you are influencing others and inspiring them to begin their own healing.
Different Types of Mental Health Influencers
You don't have to put your entire life and trauma on display to become a mental health influencer. Instead, there are many ways you can turn your passion into purpose via social media, blogs and videos. Becoming a health and wellness blogger is one of those ways, as you can share what has worked for you to help others find the best healing for them. You can be like one of the influencers mentioned on this list, simply by sharing your professional knowledge or experiences and becoming a healthcare influencer. It's entirely up to you, but it's definitely something worth thinking about because not only are you helping others along your journey, but you're also doing wonders for your own self healing.
Top Mental Health Influencers to Follow
To help you steer clear of the bad mental health accounts on social media, I've created this list of the most inspirational, authentic, genuine mental health influencers to follow.
Chantal McCulligh, Owner of Anxiety Gone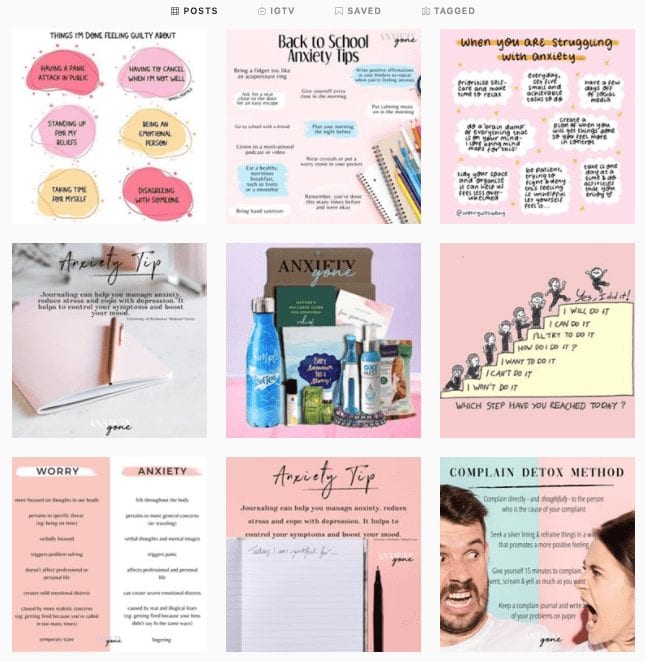 Excuse me while I toot my own horn here! There are two amazing mental health accounts to follow here – Anxiety Gone and Chantal McCulligh (Yes, that's me). Alright, but I'm not being self righteous here, as both accounts have received amazing feedback from people who have found my content to drastically improve their lives.
Anxiety Gone is, as you may have guessed by the name, our company mental health Instagram and Facebook. On these two platforms, we share powerful messages of inspiration, motivation, self-help, DIY therapy, relaxation techniques, coping mechanisms – you name it. We teach you about new forms of anxiety relief and how every day products you likely already have can help soothe your symptoms. What separates our mental health social media apart from others is that we share posts that provide you with quick anxiety tips and anxiety technique you can implement, complete with scientific evidence and clinical studies proving that they can help you.
Chantal McCulligh on Instagram is slightly different. It is my personal page, where I share my ventures being a mental health influencer and business-owner, and how you can be one too! I also have a mental health podcast where we talk about everything that pertains to your mental wellbeing, including health, wellness and spirituality.
The Anxiety Healer on Instagram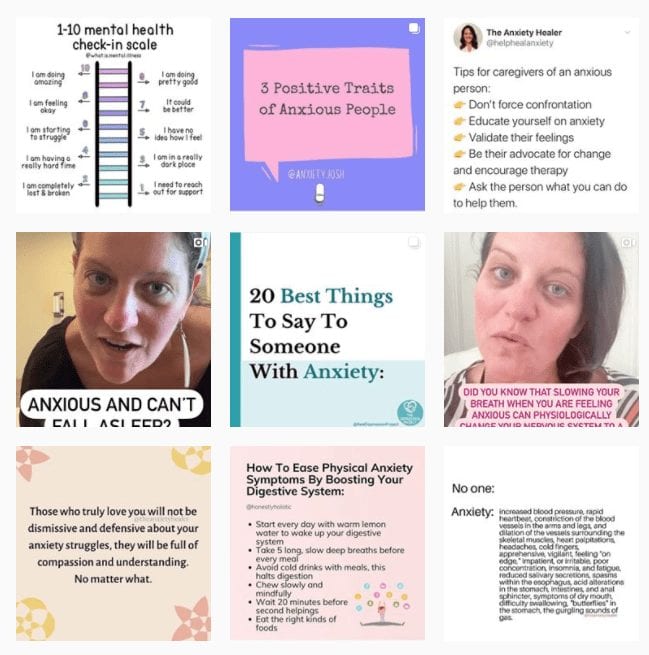 One of my favourite mental health influencers on Instagram is The Anxiety Healer. With almost 200K followers, you can't go wrong by giving this account a follow. Alison Seponara, MS and LPC, is the creator of this powerful platform. She is an anxiety healer and CBT expert, and the host of The Anxiety Chicks podcast.  On her accounts, you'll learn incredible techniques and advice that will help you overcome your daily anxiety struggles. Alison's content is super relatable and genuine, which is why so many people love her. We even teamed up with her to create the worksheets in one of our anxiety subscription boxes.
The Holistic Psychologist on Instagram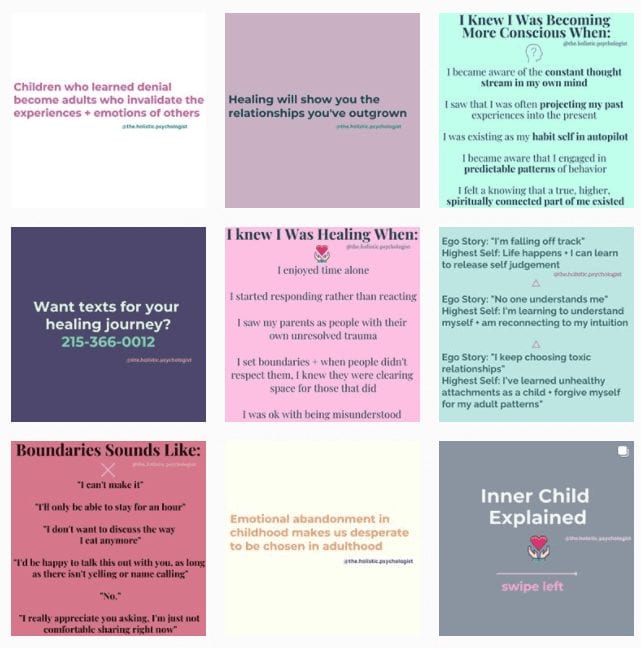 If there is any mental health influencer to follow, it's The Holistic Psychologist. In as little as a year, Dr. Nicole LePera has gained over 2 million followers due to her powerful, motivation, and life-changing content. Her mental health Instagram is like taking a trip to your psychologist, complete with anxiety advice, relaxation techniques, coping mechanisms and so much more. I can't say enough good things about this account. It will change you.
AnxietyCoachLeigha on Instagram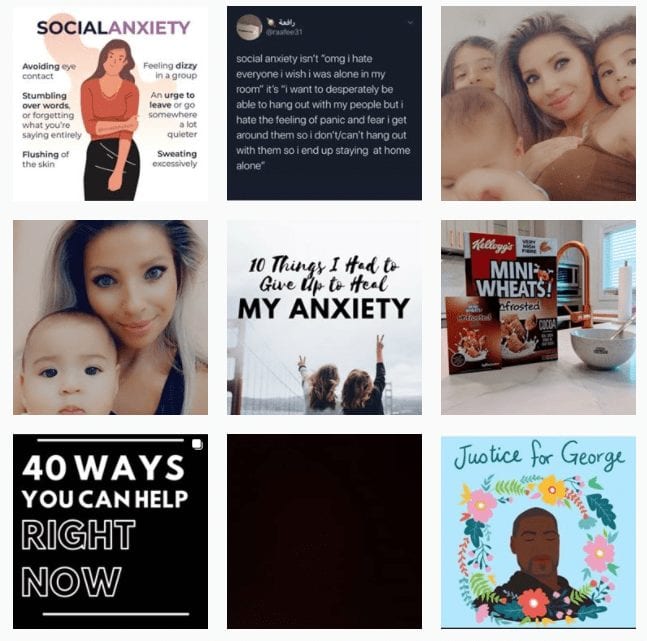 Another powerful mental health blogger that is certainly worth a follow is Anxiety Coach Leigha. She is an AWP Certified Coach, Founder of Social Anxiety Success, and has helped thousands of people gain the knowledge and tools needed to overcome their social anxiety. She's totally sweet and super relatable; following her account can make you feel like you're sitting down to a nice cup of tea with a bestie.
MissMental_0 on Instagram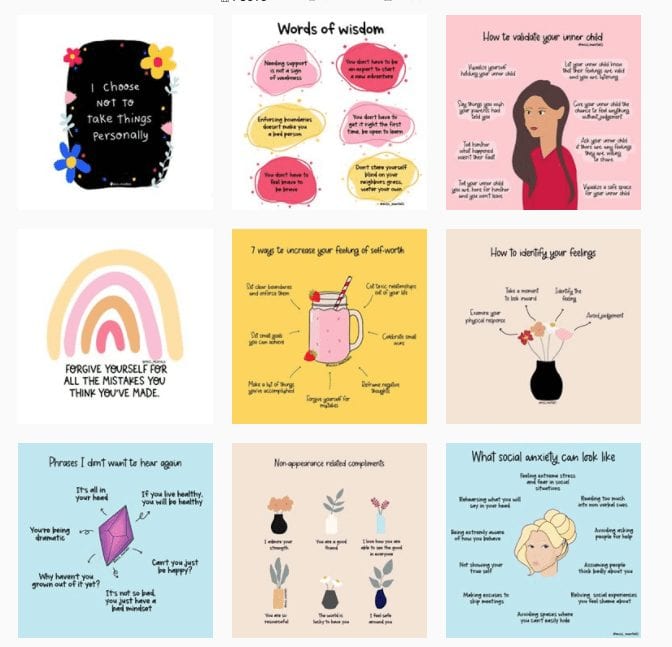 Mental health has never looked so good. MissMental_0 is a top mental health influencer who creates her own graphics to share her experience and advice. She is a strong mental health advocate who places importance on self-development and sharing positive vibes, which you can see with a quick look on her page. On her account, you'll also find a personal development blog with a focus on self-care, self-love, creativity and mental health.
TheBrainCoach on Instagram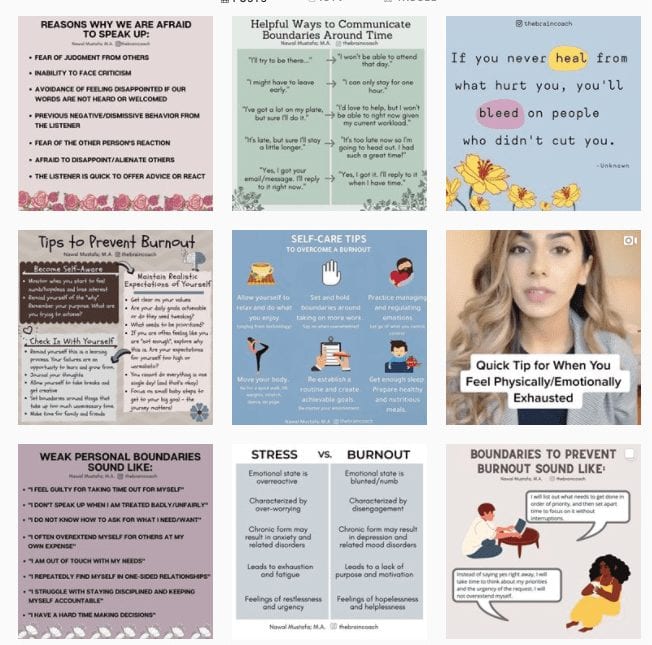 I love a good ole' Canadian repping her mental health advocacy! Nawal Mustafa is the Clinical Neropsychology student behind The Brain Coach. She has over 295K followers and fills her feed with powerful self-help tools that can make a huge difference in your life. Totally worth a follow!
Every post counts. Make yours count too!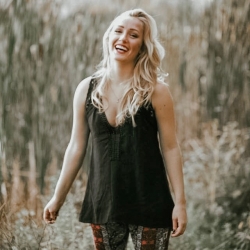 Latest posts by Chantal McCulligh
(see all)