Driving anxiety is no joke! You're driving along and suddenly, your anxiety symptoms come out of nowhere. Then, you start to question the safety of yourself and others if you're driving with anxiety, which causes more anxiety. And the vicious cycle begins. However, there are some incredible coping mechanisms, relaxation techniques and tools you can implement to manage your anxiety while driving and get yourself feeling comfortable behind the wheel.
What is Driving Anxiety?
Just as the name suggests, driving anxiety is a common form of anxiety can come in various degrees. It's typical to feel anxious when driving, especially as a new driver. However, feeling anxious and having anxiety while driving are two different things.
Driving anxiety is when your anxious thoughts and symptoms affect your life. It can range in severity from an avoidance to drive, a hesitation to drive, and where anxiety is always present while driving. All types of driving anxiety are terrifying and when not addressed, it can even become a paralyzing phobia.
Benefits of Dealing With Anxiety While Driving
Before I jump into the different coping mechanisms and relaxation techniques you can use to treat driving anxiety, I want to talk about the benefits of dealing with this fear in the first place. For starters, driving is freedom. In fact, when I finally got my license and my own vehicle, my anxiety disorder drastically improved because I finally had control. Most anxiety is associated with feeling like you don't have control, so this is an important benefit to mention. If you're new to driving and feel nervous, that's okay and to be expected. However, try to remember that once the nerves settle, your new driving skills can take you to wonderful places. There are many additional benefits of dealing with anxiety associated with driving, such as:
Control over your own destinations
You get to choose when to go or leave if you're feeling anxious, without having to someone else
Convenience
You're more likely to go outside of your comfort zone, as you can leave if need be
Less stress associated with getting to and from places
You feel more confident, as you do have control
More job opportunities
Increased security and safety, as you can always get to where you need to be on your own
Independence
Improve your health – see this study
How To Overcome Anxiety in a Car
View this post on Instagram

There are two types of driving anxiety – anxiety while you are driving and anxiety while in a car even if you aren't driving. Millions of people struggle with a fear of driving, with highway anxiety being at the top of the list. The good news is that you can overcome this fear, just like the millions of people who do each year. Simply by reading this article, you are one step closer to overcoming driving anxiety.
Coping Mechanisms for Driving
Coping mechanisms are a great place to start when learning how to overcome your anxiety while driving. These are strategies you can use when you are experiencing anxiety.
Hire a Driving Instructor
If your fear of driving is associated with the safety of it or not having sufficient driving skills, hiring a driving instructor will be a huge benefit for you. These instructors provide you with accurate knowledge and training about road safety, and guide you through the process. Just a couple of sessions with a driving instructor may be all you need to overcome your fear of driving.
Take Small Steps with Exposure Therapy
Exposure therapy is one of the harder coping mechanisms for anxiety, but it is also the most effective. As the saying goes, nothing worth having comes easy. With exposure therapy, you'll be exposing yourself to your fear. However, you don't have to do this in a way that is absolutely terrifying.
Instead, you'll want to take small steps with Exposure Therapy. So, start by identifying what your driving anxiety trigger is or where you're currently at. For example, if you have completely avoided driving altogether, perhaps your first step is to hold the keys, walk to the car or sit in the driver's seat. If you are able to drive and experience highway anxiety, your first small steps of Exposure Therapy may be going on the highway and getting off at the next exit, or doing so with a friend and then, trying it by yourself.
Exposure therapy works wonders, as it allows you to face your anxiety in small doses, so it's a little less scary each time. This type of therapy works for all fears and anxiety, so even if you don't experience anxiety in the car, exposure therapy can change your life.
Repeat Positive Affirmations for Anxiety
Affirmations are powerful, positive statements you repeat to yourself, whether outloud or in your head. They are scientifically-proven to reduce stress, increase feelings of personal power, and positively improve your brain health.  So, the next time you feel your anxiety creeping in as you're behind the wheel, use an affirmation to interrupt your pattern of negative thoughts.
There are thousands of effective affirmations for anxiety, but here are some to get you started:
I feel calm and confident of my actions behind the wheel
I drive with confidence and ease
I am a safe driver
I improve my driving every day
I know how to remain calm during any situation
I relax and flow with the traffic
I am a good and confident driver
I drive with confidence
I know that my hands and legs always know what to do
I feel safe in and out of the car
I am relaxed behind the wheel
Relaxation Techniques for Driving
Coping mechanisms help you cope when faced with anxiety. Relaxation techniques, on the other hand, pertain to any method, process, procedure, or activity that helps you relax, reduce levels of pain, anxiety, stress or anger. While you don't want to get so relaxed that you're drifting away into a meditative state, there are some effective relaxation techniques you can use to prepare yourself to drive.
Take Deep Breaths
As always, the number one relaxation technique for driving anxiety is to breathe. Deep breathing techniques alway works, as long as you do it. Often times, we start to notice our breathing only once it's short and shallow and when we start, we don't follow it through until the anxiety is completely gone.
The next time you're experiencing anxiety associated with driving, take slow, long deep breaths until your symptoms subside. Remember, you can always pull over if you need to.
Practice Daily Stress Management
When you learn how to manage your stress, you aren't so taken back by the sensations that arise when you're faced with anxiety. You'll also feel better all around. So, implement some healthy lifestyle habits for anxiety, such as exercising daily, eating a healthy diet, reading self-help books, meditating, taking a hot bath, and going for nature walks.
Turn Calming Music On
Listening to calm music in the car can keep your stress and anxiety levels low. Music therapy has been used for thousands of years and although the way we use it has changed, it's just as powerful. So, download some binaural music for anxiety and play them the next time you get in the car.
Listen to Motivation Podcasts
Sometimes, all you need is a hefty dose of motivation and there are many incredible mental health podcasts for that.
Relaxation Items for Driving Anxiety Symptoms
Anxiety can produce all types of physical symptoms, such as hot sweats, heart palpitations, dry mouth, feeling like you can't breathe and shakes. There are an abundance of effective relaxation items you can use to help ease these symptoms while driving.
Atomizer for Treating Hot Sweats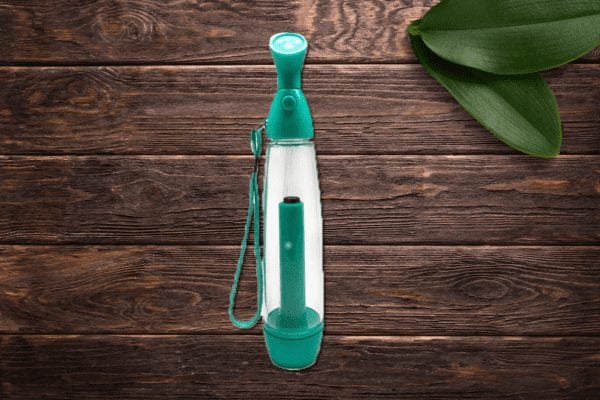 If you're like me, hot sweats are your arch enemy. I can handle almost every physical symptom better than I can hot sweats. The spike of temperature just brings on all kinds of other anxiety symptoms, so learning how to treat hot sweats has been a crucial step in my healing.
Atomizers are flawless handheld devices that spray the perfect amount of cooling mist on you with a click of a button. They don't get you wet like splashing water on your face or pulse points do, which is great for the ladies who have their hair and makeup done. Atomizers are at the top of my list of must have relaxation items for anxiety. Plus, they work for soothing menopausal hot flashes, night sweats, and for cooling you down on hot days.
Gum or Mouth Sprays for Dry Mouth
When anxiety comes, it can feel like all of the moisture in your mouth vanishes. If you experience this physical anxiety symptom, consider bringing gum or hydrating mouth sprays with you. I personally never leave my house without these two relaxation items.
Acupressure Ring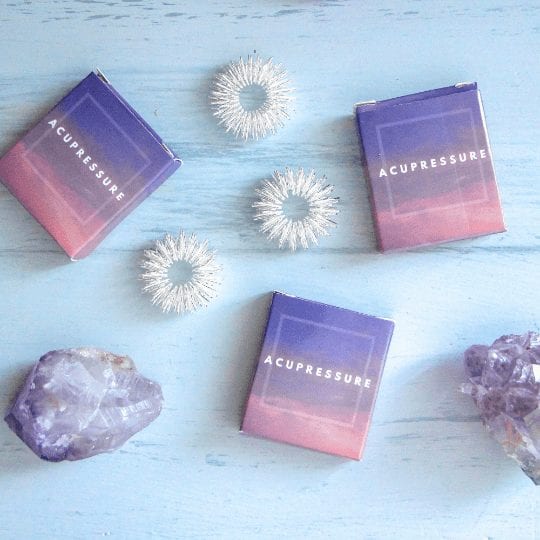 Another excellent relaxation item for anxiety is an acupressure ring. They're super affordable and activate the nerves in your finger to provide you with a calming sensation. Acupressure rings are simple enough that you can wear them while driving.
Car Essential Oils
Pop in an aromapod or car essential oil vent clip and add a couple drops of the best essential oils for anxiety. Let that aroma fill your vehicle and calm you down throughout your dry.
Don't let anxiety while driving determine your destiny. Take small steps and implement the relaxation techniques, coping mechanisms and calming items you've learned in this post. If you have trauma associated with your driving anxiety, speak with an online therapist who can help you work through those issues, so you can get back behind the wheel.
---
This blog post is sponsored by BetterHelp, but all opinions are my own. I may receive compensation from BetterHelp or other sources if you purchase products or services through the links provided on this page.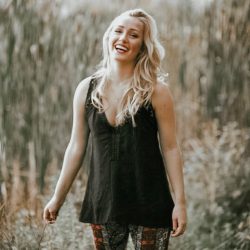 Latest posts by Chantal McCulligh
(see all)