The first thing many of us forget to do as soon as we feel anxiety creeping in is breathe. Your heart rate increases, your breaths get shorter and the anxious thoughts take over. However, when you learn how to breath properly with effective breathing techniques (and practise regularly), it is one of the most powerful way to cope with anxiety and panic attacks.
How Do Breathing Techniques Calm Your Nervous System?
The science of breathwork has long been recorded. When you use a breathing technique to calm your anxiety, you instantly bring forth stress-relieving effects which is done in two ways.
Your body has two peripheral nervous systems that are similar to the gas and brake of your car. It speeds up and slows down based on various factors and functions, such as your heart rate, surroundings, digestion, etc.
Every time you take a breath in, you're drawing blood from the heart to your lungs. This creates a deficit of blood in the rest of the body which causes your heart to beat faster to push more blood throughout the body. When you're having anxiety and your breaths get shorter, your heart beats faster, hence the racing heart beat and palpitations that are common symptoms of anxiety.
Using breathing techniques to slow your breath slows down your heart beat while in turn, slows down your nervous system as a whole.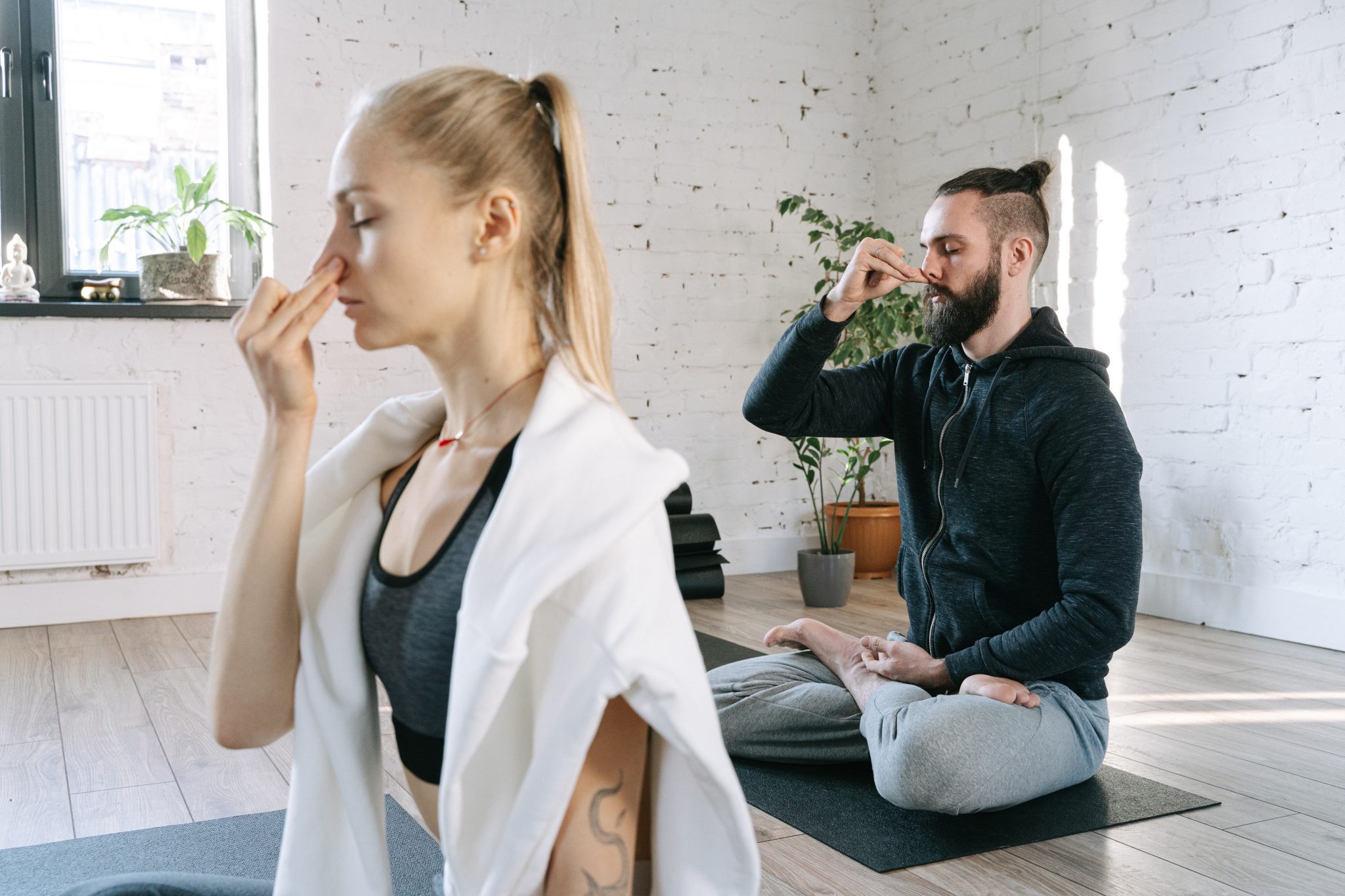 Breathing Exercises for Anxiety
Someone once asked me what is the number one thing I recommend for calming your nervous system. I responded to, "Just breathe. As long as you remember to breathe, you will be fine." However, this is often easier said than done and it does take some practice.
To get you started on your journey towards perfecting effective breathing exercises for anxiety that can calm your nervous system, here are three types of breathing you'll want to practice.
Alternate Nostril Breathing
Alternate nostril breathing, also known as Nadi Shodana Pranayama, is a powerful breathing technique for calming your nervous system. It helps to relax your whole body and mind, and can help alleviate nervousness and anxiety leading up to situations.
How to do Alternate Nostril Breathing
Sit up straight with a long back
Bring your right hand up to the front of your face
Take your pointer and middle fingers and place them between your eyebrows (optional) to bring your attention to your ring finger and thumb which are the two fingers you'll be using for this breathing technique
Using your thumb, close your right nostril
Exhale through the left nostril
Inhale through the left nostril then close it with your ring finger
Exhale through your right nostril
Inhale through your right nostril then close it with your thumb
Exhale through your left nostril
Repeat
Controlled Breathing Technique
The Controlled Breathing Technique is particularly great breathing exercises for anxiety as it helps slow down your heart rate and relax your muscles. This sends a signal to your brain that you're calm, so it will actually relax your nervous system.
How to Do The Controlled Breathing Technique
Find a comfortable place to sit
Close your eyes, unfrown your brow and relax your jaw
Inhale for two seconds
Hold your breath for one second
Exhale for four seconds
Repeat
Body Scan Breathing Technique
The body scan breathing technique is particularly beneficial for anxiety, as it uses the breath to calm your nervous system while also distracting you from your anxious thoughts. It also helps you harness the power of a mind-body connection which increases mindfulness which is great for eliminating anxiety as a whole.
How to Do a Body Scan Breathing Technique
Sit or lie down in a comfortable, quiet place
Slowly inhale and exhale to relax your entire body
Start by bringing your attention to the top of your head
Focus on this area, taking long deep breaths
With every exhale, imagine your anxious thoughts leaving your mind
Spend a couple of minutes focusing on the head before moving to your shoulders and repeat
Work your way down your entire body, focusing on relaxing individual parts for several minutes at a time
Remember, as long as you continue to breath – and breathe properly – your anxiety will always calm down. Try practicing these breathing exercises for anxiety each day, so that you know how to use them when you need to quickly induce calmness and relaxation. 
In addition to using breathing techniques for the nervous system, getting help from a professional can make a drastic improvement on your overall wellbeing and the way you deal with anxiety. Better Help offers a 7 Day trial for their online therapy which you can do right in the comfort of your own home.
---
This blog post is sponsored by BetterHelp online therapy, but all opinions are my own. I may receive compensation from BetterHelp or other sources if you purchase products or services through the links provided on this page.