Movement, affirmations and breathwork are all three major factors for mental health, all of which can be found in various types of yoga for anxiety. It's like 'killing two birds with one stone' – only a million times better because we are talking about your mental health here! Yoga is a powerful coping mechanism for anxiety that teaches you valuable tools and techniques that you can use during a panic attack or before a panic attack to deter it completely. While some people practice yoga for the physical benefits, today I am going to focus on the best types of yoga for anxiety specifically. The physical benefits are an added bonus.
How Does Yoga Help with Anxiety?
Yoga is the greatest gift for anyone who suffers from an anxious mind. It's a type of exercise that incorporates a variety of elements that help to strengthen your emotional, physical and mental health. This is done in a variety of ways and the techniques that are used depends on the type of yoga you do. For example, there are types of yoga that focus on gentle, therapeutic stretches and just as many that offer you a good, hard workout. 
The techniques you learn from yoga can be used to help you battle your anxiety, stress and depression on and off the mat, as they teach you how to slow down your breath, quiet your mind, slow down your heart rate, and calm down naturally. This also gives you the confidence needed to go out and face your triggers and fears, so that you can gradually overcome them. 
Benefits of Yoga for Anxiety
The benefits of yoga for anxiety flow in from all angles. You'll receive the physical health benefits of exercising and strengthening your body, as well as the emotional, spiritual and mental health benefits that come from the soothing practice. Below is a list of some of the best known benefits of using yoga to cope with anxiety. 
Lowers tension in your body (goodbye, stress headaches)
Tames the body's stress response
Improves mood and functioning
Calms the nervous system
Promotes relaxation
Helps with PTSD
Helps you control your breathing
Interrupts worry cycles
Strengthens your self-awareness
Helps you manage stress better
… And that's just to name a few.
Best Types of Yoga for Anxiety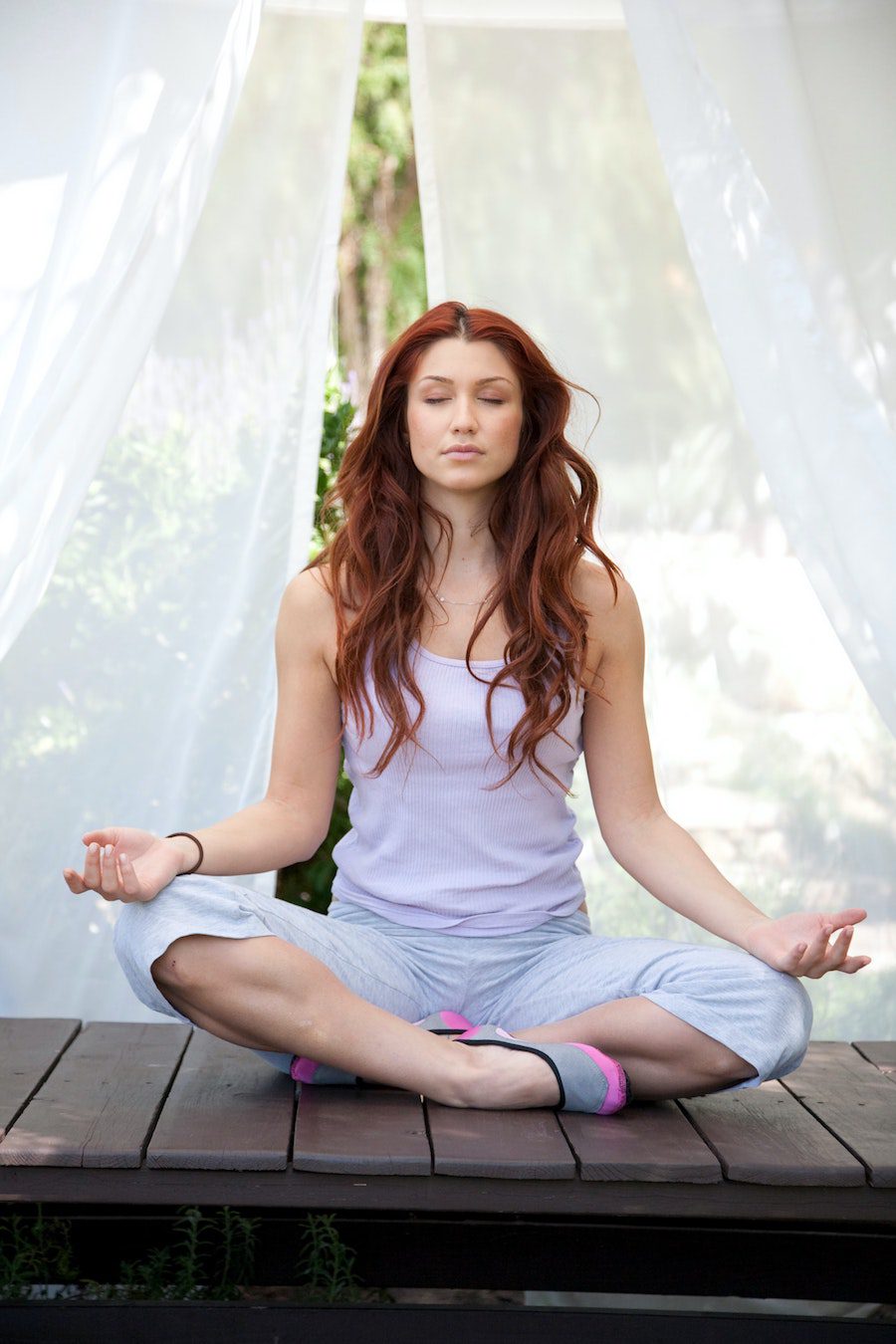 There are many types of yoga that serve an abundance of purpose. However, there are some yoga styles that are particularly beneficial for anxiety. Here are the best types of yoga for anxiety and why they're a powerful style to practice when learning how to overcome anxiety naturally.
Ashtanga Yoga for releasing stress and tension
Ashtanga yoga uses a traditional series of postures done in the same sequence every time. It brings all of the benefits of yoga for your physical, mental and emotional help with the extra dose of security, as you know what you expect from each session. Ashtanga yoga is particularly great for purifying the mind and body, as you're able to release a lot of built up stress, anxiety and tension as you move quickly through the movements. 
Anusara Yoga for experiencing bliss and relaxation
If you're looking for a nice, heartfelt yoga practice that boosts your mood and calms your mind, anusara yoga classes are an excellent option as this type of yoga focuses on experiencing bliss and joy on the mat and in your daily life. A typical anusara class encourages self-acceptance and self-expression. 
Bhakti Yoga for connecting with oneself and healing the heart
For anyone on a spiritual journey, bhakti yoga has a lot to offer as it's
spiritual yoga practice that helps you find your spiritual guide or to connect with your higher self. The movements and breathwork focus on
enlightenment
, devotion and love.  Bhakti yoga can help you overcome moments of heartbreak and open you up to healing. 
Chakra Yoga for cleansing your energy centers
The body is made up of thousands of energy points but there are 7 in particular that are known as your main chakras: root chakra, sacral chakra, solar plexus chakra, heart chakra, throat chakra, third eye chakra and finally, your crown chakra. With
Chakra yoga
, you combine meditation, movement and chanting designed to relax your mind, reduce stress and increase your energy. It also gets rid of any yucky, stagnant energy lingering around. 
Hatha Yoga for slowing and quieting the mind
The easiest way to describe hatha yoga is to think about a typical, standard yoga class (and movements) and slow them down significantly. Hatha and vinyasa use many of the same poses, with the main difference being the pace of the class. Hatha is done much more slowly, poses are held for longer and it involves a lot more stretching. 
Kaivalya Yoga for detoxing the mind, body and spirit
Kaivalya yoga is a beautiful practice that focuses on detoxing the mind, body and spirit. It incorporates different detox methods into the practice, such as chanting, meditation, breathwork and movement to help you experience enlightenment and freedom from every day stress and anxiety.
Iyengar Yoga for erasing tension from your mind, body and spirit
Grab your props and start some iyengar yoga classes if you're looking to erase tension from your mind, body and spirit. This type of yoga focuses on proper alignment, allowing your energy centers to flow freely and decompress. Iyengar yoga is also great for improving your posture which has been proven to improve certain symptoms of anxiety, stress and depression. 
Kundalini Yoga for connected with your spiritual self
There is no other form of yoga that is quite like kundalini. This spiritual yoga practice uses a combination of mantras, meditation, breathwork and guided relaxation to help you connect to your deeper self to soothe the mind and body. It's also great for increasing your energy, which can be particularly helpful after an exhausting episode of anxiety or depression. 
After a long hard day at work, restorative yoga can revitalize your spiritual and mental health. It's a gentler form of yoga that focuses more on incorporating mindfulness into your practice, as opposed to focusing mainly on strengthening and toning the body.  This is an excellent type of yoga for anxiety as it teaches you how to sink into a deep state of relaxation. 
Vinyasa Yoga for aligning the body and mind
One of the most common forms of yoga is vinyasa. These classes use breathe and movement to develop a stronger mind-body connect that allows you to destress and strengthen all at once. It's the perfect type of yoga style for getting in a good workout for your mind, body and spirit. 
Yin Yoga for increasing your inner awareness
When your mental health is feeling yang, adding some yin yoga into your day can help rebalance your mind, body and emotions. This style of yoga offers a relaxed, passive form of exercise that involves holding poses for longer durations than what you would see from other types of yoga. The classes are designed to encourage you to pay attention to your breath, thoughts, and body sensations.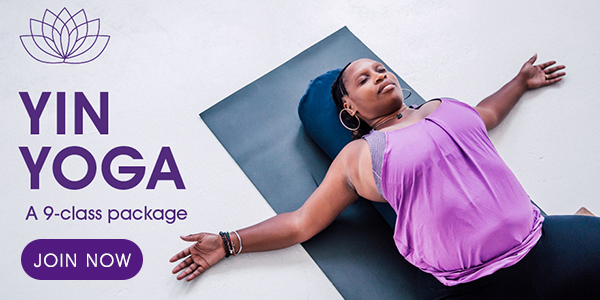 Online Yoga Classes for Anxiety
Yoga is one of the best things you can start doing to improve your mental health and to decrease the severity of your anxiety. Unfortunately, it can be difficult to step outside of your comfort zone and sign up for a class with a bunch of strangers. Hello, social anxiety! 
Online yoga classes for anxiety just make sense. You don't have to go anywhere. You don't have to see anyone and you don't have to worry about having anxiety as you try to do something that is supposed to decrease anxiety. 
If you or a loved one is suffering, please seek professional help. Better Help is an online therapy platform that offers a free 7 day trial and financial plans that suit your specific situation.
---
This blog post is sponsored by BetterHelp online therapy, but all opinions are my own. I may receive compensation from BetterHelp or other sources if you purchase products or services through the links provided on this page.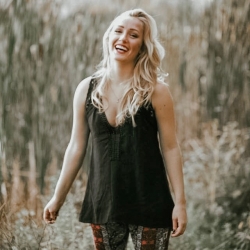 Latest posts by Chantal McCulligh
(see all)