You have to do yoga to overcome anxiety.
Yoga is great for helping treat depression.
For years, we've these two statements repeated time and time again. From medical staff to professional yoga teachers, to family and friends, everyone recommends yoga for mental health. So, we decided to finally try out the best types of yoga for anxiety and depression, and all we have to say is, we wish we didn't wait so long.
What is yoga?
In order to understand the importance and value of yoga for treating anxiety and depression, you need to know what it is. While there are various types of yoga, each with a definition of its own, this type of exercise can be generalized as an exercise for your mind, body, and spirit. Yoga combines physical postures, breathing exercises, and meditation for a thorough, head-to-toe, internal and external workout.
How does yoga help with anxiety and depression?
Yoga helps treat anxiety and depression in various ways. So, we'll be dedicating an entire Anxiety Gone article to answer this question. However, here's a shorter version.
Regular yoga practice teaches you how to remain calm and relaxed in daily life. Each type of yoga is infused with breathing techniques and body movements that help you control feelings of discomfort. It's a type of exercise designed to strengthen your mind, emotions, body, and spirit. As such, when you feel anxiety or depression seeping in, you have the strength, breathing techniques and tools to calm yourself down naturally.
Just think about it for a second. When you feel anxious and depressed, your breathing becomes shallow, constricted, and rapid. This makes your nervous system spike even more. Now, with yoga, you learn how to maintain a calm, steady breath no matter what gets thrown into your day. So, your anxiety and depression plateaus; you're keeping it maintained and at bay.
You're simply in a better place all around. So, anxiety and depression is naturally decreased.
Benefits of yoga for anxiety and depression
More specifically, you receive the following benefits from the self-soothing techniques of yoga:
Tame the body's stress response
Improve mood and functioning
Calm the nervous system
Lower tension
Promote (and learn) relaxation
Help with PTSD
Learn how to control your breathing (the key to coming out of an attack or episode)
Interrupt worry cycles
Strengthen your self-awareness
Manage stress better
… And that's just to name a few.
Best types of yoga for anxiety and depression
There are many types of yoga for anxiety and depression specifically. Of course, there are several other benefits – such as a sexy, toned body – but let's try not to get off topic here. Instead, let's find out how you can use this powerful form of exercise that combines physical postures, breathing exercises and meditation, to improve your mental health.
Types of yoga for anxiety and depression
Ashtanga Yoga

Purifies the body and mind by moving so quickly, you will release a lot of tension and buildup, both physically and mentally

Ananda

Focuses on meditation and you'll learn how to direct energy to different parts of your body to further alleviate symptoms of depression

Anusara Yoga

Focuses on heartfelt movements, self-acceptance, and self-expression

Bikram 

Focuses on reducing the stress hormones and cleansing the mind and body

Hatha Yoga

Increase flexibility and strength, while also improving your breathing and quieting the mind

Kaivalya Yoga

Focuses on rebirth, enlightenment and freedom

Iyengar Yoga

Eliminates tension in your mind, body, and spirit
Kripalu

Emphasizes flowing movement, centered breathing, and meditation
Teaches you how to know, accept, and learn from your body

Kundalini Yoga

Uses mantras, meditated and guided relaxation to soothe the mind and body
Spikes your energy (which is definitely needed after an exhausting episode of depression or anxiety)

Restorative Yoga

Focuses more on mindfulness than intense exercise
Teaches you how to sink into deep relaxation

Sivananda

Focuses on proper breathing, diet, exercise, relaxation and positive thinking

Vinyasa Yoga

Focuses on relaxation techniques and endurance with faster-paced movement sequences

Yin Yoga

Regulates the body's flow of energy with stretches that target the deep connective tissues throughout the body
Add the best types of yoga for anxiety and depression into your life
The internet is a powerful place and you can finally every type of yoga with a quick search online. However, we also know this can be insanely frustrating, especially when you can't find the exact type of yoga you're looking for. So, here's a short list of the things we rely on for my newfound love of yoga. 
This online yoga for anxiety and depression is my go-to. It focuses on Dynamic Sequencing which is flowing forms of movement.
This powerful online yoga program is different from any other ones I've tried and that' s because it focuses on progress; not yoga. Progressive yoga is used throughout the highest stress occupations because it teaches you how to progress from the stress in your life, and become a better, stronger, healthier person. 
I personally love this online yoga program because it isn't just about yoga – it's about a Ayurvedic experience. It focuses on everything from the 7 Chakras, to using Spices as Medicines, creating a healing sanctuary for yourself, exercises, balance, and more.
Everyone on Yoga Download is amazing. They offer a vast array of different types of yoga (including the best types of yoga for anxiety), and even have classes for meditation and mindfulness, overcoming trauma, etc.

And there you have it! You won't regret getting off your booty and doing some yoga – and that's coming from a girl who absolutely despises working out.
Please do not suffer in silence. Speak with a trained professional at Better Help if you or a loved one is having a hard time dealing with their mental illness. Online counselling and online therapy can be the solution you're looking for. Start your 7 Day Free Trial today.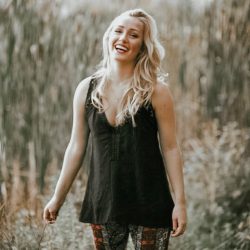 Latest posts by Chantal McCulligh
(see all)