Talking about your thoughts and emotions is a powerful and effective way to start the healing process. Otherwise, those very thoughts and emotions get buried deep down inside of you and come out in negative ways. Needless to say, it's time to start talking. As you're about to see, there are many different types of talk therapy, many of which you can do at home for a fraction of the price of traditional therapy. 
What is Talk Therapy?
Talk therapies can described as types of therapies that are psychological treatments for both emotional and mental problems, such as anxiety and depression. Put simply, talk therapy is where you speak with a trained therapist, whether one-on-one, in group session or online therapy platforms. Speaking with your loved ones is also a form of talk therapy. 
Different Types of Talk Therapy
There are many different types of talk therapy, and understanding the different forms will help you find the perfect option for you. More importantly, almost all of the following can be found through online therapy sessions,  provided by Better Help. 
Cognitive Behavioural Therapy (CBT)
One of the most common types of talk therapy for mental health is Cognitive Behavioural Therapy. This type of therapy helps you discover new ways to think about your life so you can change unhelpful thought and behavioural patterns. You can do Cognitive Behavioural Therapy online through platforms such as Better Help, and you can try it out for free for 7 days. 
Guided Self-Help
Guided self-help is also an effective type of therapy for people suffering from anxiety, panic disorder and depression. Unlike the prior where you receive help from a professional therapist, you take on the initiative yourself. Though, some guided self-help is done alongside a therapist. 
For example, our anxiety subscription box is a form of guided self-help. We send you the products and therapeutic worksheets designed to help you, and it is up to you to complete them. 
Other types of guided self help include CBT-based workbooks and CBT online programs. 
Behavioural Activation
This type of talk therapy is particularly helpful for people with depression as it teaches you the simple, practical steps to take to start enjoying life again. It's highly motivational and focuses on positive behaviour changes you can make to change your mental health and life for the better. 
Behavioural Activation typically involves learning new problem-solving skills to help you navigate through problems that affect your mood. 
Eye Movement Desensitization and Reprocessing (EMDR)
EDMR is a type of talking therapy that is often used to help people with Post Traumatic Stress Disorder (PTSD). It aims to help intrusive thoughts, nightmares, flashbacks and memories of traumatic events. 
Interpersonal Therapy (IPT)
IPT is a type of talk therapy that aims to help people with depression identify and address problems they are experiencing in their relationships. It can be used for everything from marriage counselling to fixing relationships with friends and family members. 
Through Interpersonal Therapy, you learn helpful techniques that will teach you how to adapt to roles and situations. As such, it's commonly used to treat depression and social anxiety. 
Mindfulness-Based Cognitive Therapy
A personal favourite type of talk therapy is Mindfulness-Based Cognitive Therapy. It's an effective form of therapy that helps you narrow in on your thoughts and emotions as they happen, allowing you to deal with them now instead of later on when they've gotten worse. 
Mindfulness-Based Cognitive Therapy is a type of therapy you can do at home through various online mindfulness programs and techniques, such as breathing exercises and meditation. 
Dialectical Behaviour Therapy
This type of talking therapy is quickly being recognized as one of the most effective forms of treatment for people with severe depression or borderline personality disorder. It's particularly beneficial to those who had suicidal thoughts of actions in the past. 
Dialectical Behaviour Therapy is a type of cognitive behavioural treatment, and it aims to help people develop and use new skills and techniques to improve their life. It often involves strategies to help with emotion regulation, mindfulness, distress tolerance and interpersonal effectiveness. 
You do not have to suffer in silence, nor do you have to go through this alone. There are an abundance of talk therapies you can start right here, right now. Better Help combines many of the types of talk therapy into their online therapy sessions, and they offer a 7 Day Free Trial. 
---
This blog post is sponsored by BetterHelp, but all opinions are my own. I may receive compensation from BetterHelp or other sources if you purchase products or services through the links provided on this page.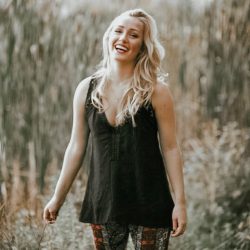 Latest posts by Chantal McCulligh
(see all)