Determining whether or not you have anxiety can be done with a quick trip to your doctor. However, if you are plagued with the constant worry of, "Do I have anxiety?" and are looking for a quick answer, you've come to the right place. 
What is Anxiety?
There are many different forms of anxiety, all of which have similar characteristics with different levels of intensity, triggers and symptoms. The most common forms of anxiety are Generalized Anxiety Disorder (GAD),  Panic Disorder and Social Anxiety. Though, Post Traumatic Stress Disorder (PTSD) and Obsessive Compulsive Disorder (OCD) are considered to be the most common types of anxiety disorders . 
What is Generalized Anxiety Disorder?
Generalized Anxiety Disorder (GAD) is often described as constant or chronic anxiety, tension and exaggerated worrying.  This type of anxiety came often happen for no rhyme or reason. 
What is Panic Disorder?
Panic Disorder is characterized as sudden and unexpected spikes of intense fear that most people would only experience if they were in an extremely dangerous situations; for anxiety warriors of this disorder,  there rarely is an imminent danger. This type of anxiety is often accompanied with physical symptoms, such as chest pain, shortness of breath, dizziness, abdominal discomfort and heart palpitations. 
What is Social Anxiety?
Social Anxiety, also known as Social Phobia, is when you experience overwhelming anxiety and increased self-consciousness when in social situations. The trigger can be limited to only one type of situation, such as public speaking, eating in front of others or large groups of people. In its most severe form, social anxiety can produce symptoms anytime you're around other people. 
What is Post Traumatic Stress Disorder?
Post Traumatic Stress Disorder (PTSD) is a type of anxiety that results after experiencing a frightening experience where you were physically harmed or threatened. The most common traumatic events that can trigger PTSD include military combat, violent assaults, car accidents and natural or human-caused disasters. 
What is Obsessive Compulsive Disorder?
Obsessive Compulsive Disorder (OCD) is characterized by reoccurring, unwanted and repetitive behaviours or thoughts. The most common behaviours include excessive hand washing, counting, cleaning or checking something but are not limited as such. For OCD warriors, they perform these tasks in hopes of preventing or eliminating the obsessive thoughts and doing so can provide temporary relief but the trade off is the need to perform the  repetitive and disrupting behaviours. 
If you recognize yourself in any of these categories, I highly recommend speaking with a professional to start yourself on a journey towards self-healing. Online therapy is my personal favourite option that is realistic therapy for all types of anxiety sufferers, as you can complete your sessions in the comfort of your own home. You can also try online therapy for free for 7 days with Better Help. 
---
This blog post is sponsored by BetterHelp online therapy, but all opinions are my own. I may receive compensation from BetterHelp or other sources if you purchase products or services through the links provided on this page.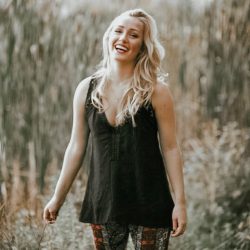 Latest posts by Chantal McCulligh
(see all)