Decorating homes can be a struggle for anyone, let alone someone who has anxiety. People with anxiety can find it super overwhelming walking into a store because of everything they see and all the decisions to make. Even if you're shopping online, there can be too many choices and no way to narrow down to what you really want. The alternative is to fix a theme and scour the internet for images that could help spark some ideas. Here are some tips to help decorate your home if you have anxiety.
Natural Scents and Elements Are Your Friend
When you have anxiety, anything that helps keep you calm and that makes your home more relaxing is a bonus to have in your space. Natural fragrance from essential oils can take the edge off your anxiety. When you start decorating your home, you should also make it a point to pick up some plants for anxiety relief.  These can help keep the air quality clean, thus providing your mind and body with a healthy dose of fresh air.
Apart from this, here are some tips:
1. Use aromatherapy candles. Candles are great because they give off a light scent, and they can be used in any room in the house!
2. Add your favourite essential oils into a spray bottle with water. This can be used as a natural air freshener for all your rooms. You can also purchase room sprays that already have the perfect blend of essential oils to help you achieve different goals, such as anxiety relief or sleep.
3. Purchase a diffuser for your home or office space so that you can enjoy the benefits of scented candles without having to worry about fire hazards or accidentally setting things on fire!
Pick a Neutral Palette
The color of your home can affect your mood, so it's essential to pick a neutral palette that's calming and soothing. If you feel like the walls are closing in on you or are constantly feeling anxious and stressed out, try picking a neutral color scheme for your house. Neutral colors like beige, white, gray, and black have been shown to have a calming effect on people with anxiety disorders.
It's important to note that this doesn't work for everyone. For example, if you're suffering from depression or another mental health issue where color can help alleviate symptoms (like seasonal affective disorder), this approach may not be right for you.
A Fireplace Can Make Your Space Cozy
When you're feeling anxious, the last thing you want to do is sit in an empty room that's dark and uncomfortable. When you're decorating your home, some things can help alleviate those feelings of anxiety. One of those things is a fireplace.
A fireplace can help to warm up and brighten up a room, making it more inviting and cozy. It can also add a little bit of warmth to an area where there might not be much natural light coming through windows or doors. This could be especially helpful if you live in an apartment where it's darker than usual!
Don't have a fireplace? Try a portable campfire.
Add Warmth With Candles
There are many ways to add warmth to your space without making things feel overwhelming or chaotic. One way is with essential oil candles! Candles are a great way to add warmth, texture, and smell to your home's decor without making it feel busy or overwhelming. They also add a soothing effect that helps the mind and body when you're having trouble relaxing and calming down.
Candles also add a sense of romance to any room, and who doesn't love some romance? They also add warmth to the room, which can be especially helpful if you live in cooler temperatures and need some warmth on chilly nights (goodbye, seasonal affective disorder).
Use the Right Lights
When you're feeling anxious, it's hard to find the energy to decorate your home. So, if you're looking for ways to make your space more soothing, you can use lighting to set the mood. Lighting is one of the most critical elements in home decor. It can create a sense of calm or drama, depending on what you choose. For example, a soft glow of light through sheer curtains can create an atmosphere that'll help you relax.
If you have anxiety and are looking for ways to calm yourself down at home, try using dimmer switches or lamps with a regulator so you can adjust the lighting level as needed.  It's also important to consider where the light is coming from when creating an atmosphere conducive to relaxation or productivity. SAD lamps are also an excellent addition for light therapy.
Pictures Are Worth a Thousand Words
If you're feeling anxious, it's essential to make your home a place where you can feel safe and comfortable. That's where family and friends' pictures come in. When you look at photos, it can be an incredibly comforting experience. The faces of the people you love remind you that they care about you and want only the best for you. This can help alleviate anxiety by reminding you that there's nothing more important in this world than you.
Add Some Greenery
If you have anxiety, the last thing you want to do is make your home feel smaller or more cramped. If you're looking to add some greenery to decorate your home, you may be surprised at how it can actually make your apartment feel bigger.
You can start by adding popular house plants for anxiety to your windowsills. This will allow natural light and fresh air to come into the room. It'll also help improve the air quality in the room and reduce dust particles circulating in the air.
Another way to decorate with greenery is by using vases filled with flowers or herbs as decorations around your home. Flowers help relieve stress and create a positive environment.
With these decorating tips, your home should start to feel like a more relaxing space. The ideas presented here will work wonderfully for those looking to spruce up and redecorate their space without putting in too much money or effort. Ultimately, though, we're sure you'll agree that the most important thing is making the decisions you feel the most comfortable with and genuinely happy with.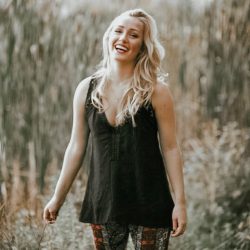 Latest posts by Chantal McCulligh
(see all)