Everything on this planet has vibrations, including the earth's materials (stones) and yourself. When panic strikes, which we all know can happen at any time, using the best crystals for panic attacks can soothe the vibrations to help ease the severity of the symptoms.
10 Best Crystals for Panic Attacks
With so many incredible healing stones for anxiety out there, finding the best ones for panic attacks can be a stressful experience which is counterintuitive. So, I've done all the hard work for you and narrowed the thousands of stone and crystal calming items out there down to the best crystals for panic attacks specifically.
Rose quartz is a versatile healing crystal for anxiety that is particularly powerful for healing associated with relationships. If you tend to experience panic attacks around a certain person or have them when old memories of a relationship come to your mind, rose quartz is a great stone to keep in your collection.
This stone will help remove energy blocks surrounding your heart chakra while also absorbing the pain and panic associated with relationships – past or present. It will then clear up the heartbreak that's causing you to panic and allow space for new opportunities to blossom.
Blue lace agate is hailed as the best healing crystal for panic attacks. It's blue hue and vibrations brings forth soothing energies that help calm the anxious thoughts racing through your mind. It's an incredible stone for anyone experiencing panic attacks in crowds or social situations.
Similar to rose quartz, smoky quartz produces vibrations that help clear out stress and tension in the mind and body that can cause a panic attack. It's one of the best healing stones for relieving tension, fear, sorrow, grief, stress, anxiety, jealousy, anger, panic attacks and all of those other negative emotions that can be disrupting your healing.
Pink and purple lepidolite are the rarest types of Lepidolite but they are also the most powerful. So, they are difficult to come by but when you do, you definitely want to snag them up. We recently added some new Pink Lepidolite tumbled stones into our collection on Anxiety Gone, our online anxiety store.
They are powerful healing crystals for panic attacks (and depression) because they contain lithium, a natural anti-depressant. Lepidolite healing stones can also take you out of the anxious state quickly, so hold this stone tight.
My new personal favourite crystal for panic attacks is Desert Rose. It's been used for centuries protection and wellbeing. Better yet, it helps you build emotion strength and confidence.
So, it's particularly great for those moments when you feel emotionally or physically weak, which is something we can all relate to when anxiety spikes. Desert Rose helps you overcome the storm, while discouraging negative moods and and triggers associated with your panic attacks, making it one of the best calming items to carry around with you.
The past is often the culprit of many panic attacks. Mangano Calcite is a great stone that helps you overcome those emotional triggers that have stemmed from trauma. It induces serenity and peace within your mind, body and spirit, while also erasing feelings of guilt, shame and anxiety.
I always say, anyone with anxiety needs amethyst. They are one of the calming items that I have on my must-have list; the one stone I carry with me at all times because it is full of soothing vibrations that make it easy to overcome anxiety and panic attacks.
Amethyst dispels fear and anxiety, while also easing tension in your body. So, all of the physical and emotional symptoms that often come with an attack aren't as intense when you have this crystal with you.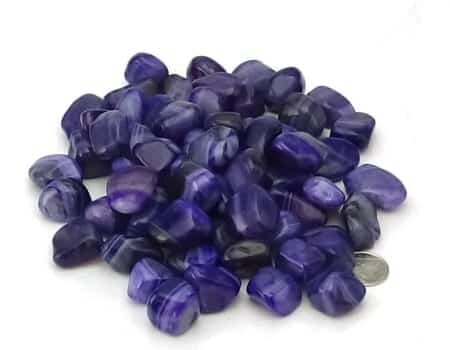 Agate is yet another powerful healing crystal for anxiety as it comes in so many varieties that offer an abundance of calming energies. This stone is used to help heal and cleanse qualities within oneself. This helps eliminate negativity in the mind, body and spirit. Agate also strengthens and heals emotion tension, which relieves stress that can spike an attack.
Moonstone is a powerful healing crystal for panic attacks as it stabilizes emotions and emotional triggers that cause an overreaction to situations which leads to heightened anxiety. In addition to calming those triggers, it gives you deep emotional healing that is often key to managing anxiety.
Moss agate is a great stone for releasing fear and deep rooted triggers. By doing so, you're able to develop strength and emotional healing. This is also why it is associated with new beginnings.
How to Use Crystals to Stop Panic Attacks?
With the right crystals for panic attacks, you can ease the mind and body's panicked state to help you come out of the sensation quicker. But how do you use crystals to stop panic attacks? There are many options but here are some of my favourites:
Wear jewelry made with healing stones for anxiety
Place the stones for anxiety on your body where you are experiencing symptoms
Keep healing crystals for anxiety in your pocket
Meditate holding the stone for anxiety
The secret is to refrain from simply holding the healing crystals for anxiety. Instead, feel the vibrations; think about what you want from that stone; envision the outcome, and let the warmth fill your mind, body and spirit. That's when things truly start to happen.
I've been diving into crystal healing a lot lately. It has been an incredible experience that is hard to explain – it's one of those things you have to feel in order to understand. So, I have added all of my favourite healing crystals for panic attacks and anxiety onto my online anxiety store for you to take advantage of.
Receive these types of calming items and more in our self care box for mental health. Subscribe and save 30% off every box!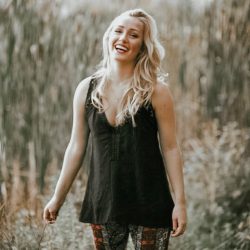 Latest posts by Chantal McCulligh
(see all)