Everyone who follows Anxiety Gone on social media already knows about my obsession with Monq personal inhalers. And if you have no idea what I'm talking about, you'll definitely want to stick around because today, I'm talking all about using monq for anxiety and stress relief.
What are Monq personal inhalers?
Put simply, Monq diffusers are portable essential oil diffusers that allow you to take the therapeutic benefits of aromatherapy with you wherever you go. They're tasty blends of the best essential oils for anxiety, stress, depression, happiness, wellness, health, sleep, relaxation, you name it. Many of the best anxiety monqs have a blend of the top oils for anxiety put into one. I'll let you know what those are in just a moment.
Do Monq Diffusers help with anxiety?
Absolutely! There are specific Monq diffusers that are made with the best essential oils for anxiety to give you the relief you're looking for. For example, the Zen Monq inhaler is one of my personal favourites for alleviating anxiety symptoms. I also use it for achieving general relaxation and well, zen!
Funny story: My boyfriend had a bunch of his guy friends over one night and they all got into my Monq personal inhalers. Needless to say, as they're sipping away on their brews watching the game, they were passing around the soothing Monq blends.
What types of anxiety blends are there?
Monq currently offers 15 aromatherapy blends, all with a different purpose. The name of each personal inhaler is actually what the essential oil blend will provide. For example, the Monq inhalers are:
Happy
Zen
Relieve
Cheer
Focus
Love
Healthy
Active
Sexy
Vibrant
Sleepy
Ocean
Forest
Mountain
Pumpskin Spice
Monq is always adding new aromatherapy products and anxiety oils to their collection as well. Their most recent edition are the Monq pods, which are reusable personal essential oil inhalers. They're similar to vapes in the sense that you refill them with the essential oil blends. And if you fall in love with a specific aromatherapy blend (you will), you can also purchase them as bottled essential oils for your home.
The Best Monq for Anxiety and Stress
Let's get into the good stuff – the best monq for anxiety and stress. Almost all of the personal aromatherapy inhalers include terpenes combined with the best essential oils for anxiety, making them perfect for on-the-go anxiety treatment.
What are terpenes?
Terpenes are fragrant molecules that come from the earth. Experts say that certain terpenes from natural can improve overall wellness and mental health. This is precisely why you feel so great after being out in nature – nature is full of terpenes.
Experts say terpenes help with things such as treatment of pain, inflammation, anxiety, stress, depression, addiction, epilepsy, cancer, and even fungal and bacterial infections. Monq captures certain terpenes and puts them into almost all of their personal diffusers. So, even the nature ones named "Ocean", "Forest", and "Mountain" can be great for anxiety relief. (These are actually some of my absolute favourite blends).
8 Essential Oil Blends For Anxiety and Stress
So, what are the best monq blends for anxiety and stress, you ask? Here are my personal recommendations and why they can help you alleviate anxiety symptoms and cope with your anxiety moving forward…
Sleepy Monq Helps You Get A Good Night's Rest
Sleep is not something that comes easy for anxiety warriors. Unfortunately, our brain doesn't stop at night and your anxious thoughts can keep you up all night long. This leaves many of us looking for natural sleep aids that calm our mind enough to let us dip into REM. Even if you are one of the lucky few who do fall asleep easily, you may not be diving into the REM that your brain and body needs to function properly the next day. The Sleepy personal inhaler gives you the soothing elements that calm your mind and body before bed. The sleep essential oils used are chamomile, kava and lavender. There are all common essential oils for anxiety relief and as a a natural sleep supplement/aid. Additionally, this Monq diffuser also includes Bergamot, Lemongrass, Marjoram, Neroli and Sandalwood, many of which are on my list of the best essential oils for anxiety.
The Happy Monq Makes You Feel Good With a Boost of Positivity
For the days when you just aren't feeling your best, the Happy Monq blend is definitely one that I recommend. It's a grounding aromatherapy mix that has Fennel, Thyme and Vanilla. And yes, it tastes as good as it sounds. This blend also includes some other anxiety essential oils, such as Caraway, Clary Sage, Lavender, Mandarin Green, Marjoram, Parsley Seed, and Petitgrain.
Relieve Monq Eases Aches and Tension Often Caused by Stress and Anxiety
For me, one of the worst things about having anxiety is the physical symptoms. No matter how many stretches I do, how long I meditate or how many yoga classes I take, my shoulders are rock hard due to stress and tension. This often leads to intense headaches and body aches elsewhere. The Relieve Monq Blend helps soothe body aches and pains. I even found it to be super calming for my anxiety. It's actually neck-and-neck with my other favourite Monq blends. Relieve is a combination of anxiety essential oils such as. Ginger, Helichrysum and Spikenard, with additions of Bergamot, Black Pepper, Copaiba, Frankincense, Geranium, Jasmine, Lavender, Nerolina, Ravensara and Roman Chamomile.
Zen Monq Blend Brings You Peace and Calmness
If you're new to using essential oils for anxiety relief or are unsure as to which Monq blend to start with, the Zen Monq blend is a good choice, as it's includes the best oils for anxiety to create a really calming and will put you into a peaceful mindset. It's quite straight forward and as far as I've seen, incredibly enjoyed by everyone who tries it. Zen has Frankincense, Sweet Orange and Ylang Ylang. Extra sprinkles of Black Pepper, Clary Sage, Dill Seed, Eucalyptus, Lemon, Rosemary, Sage, Spearmint, and Tea Tree are added for the ultimate experience.
Vibrant Monq Blends Get You Up and Motivated
Waking up and getting motivated to tackle the day isn't something that comes naturally to warriors. After all, we are exhausted all of the time. To be quite frank, sometimes we just don't feel like "adulting".
The Vibrant Monq blend helps you out on those days, as it gives you energy and insight that sparks your day. It's primarily with Ginger, Lemon and Spearmint, with some added Basil, Bergamot, Bitter Orange, Black Pepper, Caraway, Clary Safe, Copaiba, Dill Seed, Geranium, Hyssop, Oregano, Parsley Seed, Peppermint, Rosemary, Sage, and Sweet Orange.
The Ocean, Forest and Mountain Nature Blends Are Packed With Therapeutic Terpenes
As a self-proclaimed "nature junkie" and someone who values the healing that comes from the earth, I am a big fan of the nature blends – Ocean, Forest and Mountain. Just as the names suggest, they are infused with terpenes that inspire the happy feelings associated with these places.
The Ocean Monq Blend is one personal inhaler I never risk running out of. As someone who lived in an ocean-side condo in Florida, I need the elements of the ocean. It is my happy place. This blend comes with Eucalyptus, Lime and Tangerine, with dashes of Bergamot, Cedar Wood, Cypress Leaf, Douglas Fir, Frankincense, Geranium, Juniper Leaf, Lavender, Lemon, Lemon Grass, Litsea, Manuka, Neroli, Peppermint, Scotch Pine and Ylang Ylang. Many of the natural elements added into the Ocean blend are the best essential oils for anxiety relief, such as lavender, ylang ylang and frankincense.
The Mountain Monq Blend has primarily Juniper Leaf, Peppermint and Scotch Pine with a splash of Cypress Leaf, Douglas Fir, Lemon and Thyme. The aroma makes you feel like you're in the world's most beautiful forest. Therefore, it delivers the terpenes and therapeutic benefits of these scents.
The Forest Monq Blend has primarily Black Spruce, Douglas Fir and Sandalwood, with sprinkles of Allspice, Bergamot, Black Pepper, Cedarwood, Copaiba, Cypress Leaf, Dill Seed, Elemi, Frankincense, Geranium, Ginger, Juniper Leaf, Lemon Balm, Lime, Manuka, Nagarmotha, Peppermint, Petitgrain, Rosemary, Scotch Pine, Spearmint, Turmeric, and wild orange. Like the other natural essential oils from these inhalers, Forest includes many of the best aromatherapy for anxiety.
Monq personal aromatherapy diffusers are something I never leave the house without. I pick a Monq blend that caters to what I need at that specific time or day. I highly recommend giving them a try. There's not one person I've recommended Monq inhalers to who hasn't been blown away by how great they are. Visit the official Monq website for more information on these incredible devices for natural anxiety relief.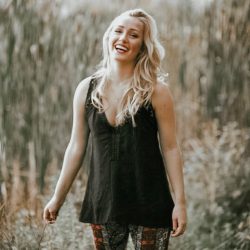 Latest posts by Chantal McCulligh
(see all)