Whether it's from work, family, conflict, or relationships, there's no shortage of places where stress invades our lives. It's unavoidable and in some situations, necessary and beneficial. However, too much stress can negatively impact your physical and mental health, which is why finding ways to manage stress and maintain a healthy balance is crucial.
The Harmful Effects of Excessive Stress
Whenever you perceive some sort of threat, your body releases a plethora of hormones to temporarily boost all of your bodily functions to keep you alert and "safe". This is where the 'fight-flight-and-freeze' response comes from.
While this is incredibly important in many circumstances, modern lifestyles have made it difficult for the body to step down, so to speak. There's simply too much stress going on to allow ourselves to return to a more relaxed state.
This keeps your cortisol hormones high and constantly running through your bodily systems. Over time, this can wear out the cells in your body, bringing down many of key factors for health and wellness, such as muscle strength, endurance, and emotional regulation. As a result, the cascade of effects can drastically lower your quality of life.
Ways to Manage Stress
Fortunately, healthcare researchers have found many ways to manage stress and combat the effects of it, starting with performance kinesiology. This method works on the innate connection between the mind and body, using physical performance to uncover mental patterns that lock people in a state of stress.
There are also many tried-and-tested methods for managing our stress response. If you're looking to equip yourself for a low-stress life in 2023, here's a list of practices you should start putting into your daily routine:
Practice Mindfulness
Mindfulness is the practice of paying attention to the present moment. It involves bringing your mind to what's currently around you, making you aware of your thoughts and feelings without getting carried away by them. This allows you to become more conscious of your emotions and thoughts and respond to them more carefully and intentionally. Because of that, it's a powerful tool for managing stress. 
You can begin mindfulness with meditation. Sit quietly and focus on your breathing, holding a mantra or a specific object in your head to ground yourself. Then, you take slow, deep breaths to help you relax and set yourself into the present. 
Other activities, such as yoga or tai chi, help you achieve largely the same effects. The key is to find something that allows you to let go of other thoughts and simply be.
Exercise Regularly  
Exercise is integral to maintaining good physical and mental health. Aim for at least 30 minutes of moderately intense activity every day to get the most of its benefits. This can include activities such as brisk walking, cycling, or swimming.  Yoga is an excellent form of exercise for mental health conditions specifically, as it helps to tackle stress and anxiety on a deeper level. 
Get Enough Sleep 
Adequate sleep allows your body and mind to rest and repair, so that they can function optimally. It's what lets you feel energized and ready to tackle the challenges of the day. Aim to get seven to nine hours of sleep per night. 
If sleep is hard to come by, you can start by establishing a consistent sleep schedule. Try to go to bed and wake up at the same time every day, even on weekends. It helps to make your bedroom more sleep-friendly, as well. Keep your bedroom cool, dark, and quiet, and invest in a comfortable mattress and pillows. Also, try limiting your screen time so your mind doesn't get overstimulated.
Have A Healthy Diet 
A well-balanced diet can help you feel better physically and emotionally, equipping you to better manage stress. Include a variety of foods from all food groups in your diet, including fruits, vegetables, whole grains, lean protein, and healthy fat. 
Limit processed and sugary foods; these are high in empty calories and do nothing to lower stress and improve your energy levels. And, of course, stay hydrated.
People have also been practicing intuitive eating. This involves paying attention to the sights, smells, and tastes of your food to fully engage in the experience of eating. It imposes no hard rules on what you should eat. Instead, you listen intently to what your body needs and focus your diet around that. Consider talking to your doctor to learn if this could work for you.
Learn Relaxation Techniques 
There are many relaxation techniques to choose from. The best ones for you depend on your personal preferences and needs.  Some common relaxation techniques include deep breathing, meditation, progressive muscle relaxation, visualization, and yoga. Incorporating these into your daily routine can help you better manage stress and improve your well-being.
Set Boundaries 
Setting limits on your time and energy can help you better manage stress. Say no to unnecessary commitments and make time for self-care. Refrain from doing things that drain your energy or that you're not comfortable with. This practical method of pacing yourself can do a lot to empower yourself in making better choices for your life.
Develop Good Time Management 
Speaking of empowering yourself, good time management also lets you feel more in control and reduce stress. You can begin by identifying your goals. This should be specific and achievable, so you don't feel overwhelmed. Determine which tasks are most important and tackle those first. From there, plan your tasks and activities for the day, week, or month. Be sure to include time for breaks and self-care. 
As a rule of thumb, focus on one task at a time to help you stay organized and be more productive. It's also vital to set aside time for the unexpected. This allows flexibility in your schedule to account for unforeseen tasks or interruptions. 
Seek Support 
Feel free to reach out to friends or family for support when you feel overwhelmed. No man is an island, and there's no shame in not being totally self-sufficient. Everyone relies on others in some way, so never hesitate to lean on the people you trust.
Take Breaks
Running yourself ragged only makes stress worse. So, never skimp on breaks. Take breaks that involve stepping away from work completely, such as going for a walk or chatting with a friend. You should also try to disconnect from technology once in a while to relax and recharge fully. 
Find A Hobby 
Hobbies provide a sense of accomplishment. So, don't be afraid to make them a key part of your destressing routine. Allow yourself to engage in activities you enjoy, like reading, baking, knitting, candle-making, or puzzle-solving.
Focus On Gratitude 
Think about what you're thankful for and express appreciation for it. This can help shift your focus away from negativity and widen your perspective. Journaling is one way to visibly and tangibly track your gratitude practice. Keep a list of the things you're thankful for and reflect on them from time to time. 
Seek Professional Help 
When stress gets much harder for you to control, you can always seek help from a mental health professional or a therapist. They help you work through any underlying issues that may be contributing to your stress and teach you methods to manage them.
A Stress-Free 2023
Stress is an inevitable part of life. But you can manage it for the sake of your physical and mental health. By incorporating these ways to manage stress,  you can keep it under control to live a happier, healthier life in 2023 and beyond. Find what works for you, build from there, and get help whenever you need it.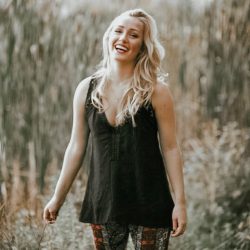 Latest posts by Chantal McCulligh
(see all)