It's human nature to get engulfed in worries, fears, and anxiety and become forgetful. While it's easy to see this as a typical part of living, it doesn't have to be a daily occurence. Bringing mindfulness into your day can help alleviate these overwhelming symptoms. Not only that but it is essential to be present and aware of your daily behavior, so you can further improve your mental health and yes, even reduce anxiety. So, if you're ready to take steps towards achieving these very things, here are some of our favourite ways to be mindful.
Benefits of Mindfulness
Mindfulness is bringing awareness to what you are doing in the present moment and focusing on that. But is it possible to be mindful all the time? Absolutely, but it takes practice and regular self-reminders and daily intention to bring yourself back into the present moment when your mind has drifted too far into the past or into the future. Learning to be mindful comes with many benefits for your mental health, such as:
It'll help you avoid distractions and give you the confidence to concentrate on your work or task at hand.

By practicing mindfulness in children, it can improve their ability to manage cognitive activities such as problem-solving, remembering, and reasoning.

Mindfulness can help you with self-regulation – identifying and managing your feelings.

According to the

American

Psychological Association, mindfulness can reduce stress and anxiety 
Simple Ways to Be Mindful
Being mindful doesn't take a lot of hard work, but it does require regular reminders and self-awareness. This allows you to identify when you aren't in the present moment, and remind yourself to come back to the present moment. Here are some simple ways to be mindful throughout your day.
Set reminders for your screen time
Giving yourself specific timeframes for screen time or setting reminders on your devices that encourage you to limit your time on your devices can be a great way to be more mindful. It can also improve your sleep drastically, especially if you like to scroll and swipe late at night (those screens are no bueno for encouraging sleep). Research indicates that you should put away your phone at least one hour before bed. But if we were to focus on mindfulness specifically, reducing your screen time gives you more time to be in the moment and concentrate on completing your tasks or projects. It can also help improve your focus. 
Not sure where you're spending most of your tech time? Many devices now track this for you and allow you to see how many hours you're spending on social media, games, emails, work, etc.
Spend more time outdoors
Our brains are wired to respond to the smells, sights, and sensations we see and experience outside. When you regularly spend time outdoors, you become healthier and happier. It's great for your mental health and wellness, productivity, employee wellness – you name it. New research shows that company employees who view nature through their windows and skylights report higher job satisfaction and lowered stress levels. Other studies found that hospital patients with a view of nature heal more quickly than those without. 
The secret to using nature to improve mindfulness is to be mindful when you're outside so you aren't walking around lost in thought. To be more mindful, observe your surroundings, take in the sights, hear the birds and the wind rustling in the trees, tune into the nature smells around you (where do you think those therapeutic essential oil scents come from?). Nature is your natural anxiety relief and it's one of the most satisfying ways to be mindful.
Practice mindful meditation

The practice of mindfulness meditation helps you keep your mind and body calm while slowing down racing thoughts, letting go of negativity, and clearing your mind and body, which will help you understand how to be mindful of your thoughts. It involves deep breathing and awareness of the body and mind. There are no special equipment requirements or preparation to begin practicing mindfulness meditation. All you need is a comfortable place to sit, three to five minutes of free time, and a judgment-free attitude. To enhance the experience, you can use binaural meditation or mindful meditation tracks. 
Pay attention to what you're doing as you do it
Easier said than done right? Paying attention to what you're doing as you do it is the definition of being mindful. Attention has a critical role in almost every aspect of life, from education to employee wellness and productivity to personal relationships. To start learning how to be mindful, begin by trying to listen to more than just the words that are being spoken when you're in a conversation. This is also a great anxiety tip that can help ground you and distract you from anxious thought. Another way to start being more attentive in the moment is to narrow in on your senses, such as your sight, smell, taste, hearing, touch, etc. This can be used in various situations. For example, when you are washing dishes, notice the temperature of the water, the texture of the plates, and how you scrub them. If you're taking a shower, truly feel the water as it drips down your body. Smell the droplets. Listen to them. Not only will this improve your mindfulness but it is also a form of mindful meditation. 
You can also try a mindful activity, such as mandala therapy or adult colouring.
Practice active listening 
Let's elaborate on the listening aspect of being mindful just a bit further. Active listening involves listening attentively to what another person is saying, paraphrasing and reflecting on the words they're speaking, and refraining from passing judgment or offering advice, unless requested. There's a common saying that so many of us listen to respond, instead of just listening. 
Practicing active listening is a great way to improve mindfulness, and it also helps build trust and allows you to become more aware of other people's situations and feelings. Instead of listening to respond, you seek to understand them, validate and inspire the person you're speaking with. 
Focus on your breath 
Focusing on your breath is one of the best ways to be mindful throughout the day, as it can also help reduce anxiety while  providing you with a sense of stability. It's something you can always return to when you're experiencing anxiety, depression or other negative emotions, and it has a naturally calming effect. Mindful breathing techniques are intended to anchor you in the present moment so that you can feel, observe and release worrying about what has happened in the past or what could happen in the future. Various studies have shown the plethora of benefits of mindfulness, including a reduction in stress and anxiety, burnout, negative thoughts, chronic pain, you name it!  
There is no shortcut to mindfulness. It takes practice and patience, and compassion. Your mind will drift. You will still think too far ahead into the future or too far in the past. That's human nature. However, what makes the difference is having the ability to recognize when you aren't being mindful, and bringing yourself back to the present moment.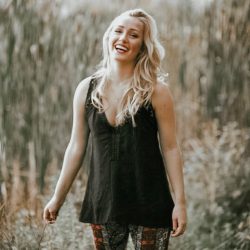 Latest posts by Chantal McCulligh
(see all)