Medicinal herbs and delicious herbal tea blends should be at the top of your natural anxiety healing regime because they're super powerful – and clinically proven to help with anxiety and its symptoms. Herbal medicine is not new by any means and has been used for hundreds of years to treat all kinds of ailments and you can use medicinal plants at home daily for a naturally healthy lifestyle that is free of anxiety.

What are medicinal herbs?
Before you plan to stock up on the best medicinal herbs that can be used at home, it is essential to know a little bit about them. Put simply, medicinal herbs are products made from plants and that are used to treat diseases or to maintain optimal health and wellness. These herbs are found worldwide and as a whole, have a plethora of health benefits and healing properties that have been used in herbal medicine for many centuries. Research and science has also confirmed the medicinal properties of plant medicine, and their ability to heal many diseases, allergies, natural treatments and much more.
Types of medicinal herbs
Not all herbs are medicinal. Some are just herbs that add an extra splash of flavour, whereas others are known as 'a spice' and often have their herbal healing properties underestimated. However, many do offer medicinal properties and there's certainly no shortage.
The different types of medicinal plants can be difficult to remember, as medicinal herbs come in many different forms, such as leaves, roots, flowers, seeds, and more. There's a common misconception that using plant medicine involves just the leaves. However, the roots, flowers, seeds, and even the stems can contain powerful healing properties and benefits. Some of the most common medicinal herbs that you may even have in your home right now include: ginger, turmeric, ginseng, and black pepper.
Using medicinal herbs
Keep in mind that not all plants are medicinal and not all of the herbs you'll find in your pantry or local store are safe to use for plant medicine. Additionally, not all medicinal plants can be used the same way. For example, there are some herbs you can ingest and others you'll only want to use topically. So it is always important (and even crucial) to do extension research on the specific herb you're planning on using.

Ways to Use Herbs for Medicinal Purposes
After exploring the top medicinal herbs for anxiety, you're likely wondering how you can start using them to ease your nerves and improve your mental health. Let's check out the different ways you can use herbs for anxiety relief right at home.
Herbal tea
Delicious and deeply soothing herbal teas are an excellent way to add some herbs for anxiety into your day. You can use dried herbs or fresh herbs to make your teas, with ginger, hibiscus, rosemary, cinnamon, lemongrass, and lavender being top favourites. many others.
Detoxification drinks
There is nothing better than medicinal herbs when it comes to detoxification. Many herbs have specific healing characteristics that detox toxins from the body, such as green tea, hibiscus tea, ginger, turmeric, and many other spices of similar nature.
Herbal steam
Treating yourself to a herbal steam can be highly effective for unclogging your nostrils and soothing a sore throat, tense muscles, or stress being stored in your body. Add few cloves or cinnamon sticks into hot water to take steam and – Voila – you can breathe in the medicinal properties and all the relief that comes with it.
Making herbal balm or oil
One of the newest ways to use herbs for anxiety is in your skincare. They serve as the perfect alternative for chemical-based skincare products, especially moisturizers and cleansers. Using these herbs at home, you can prepare your own DIY herbal balms, oil or soap, or purchase some that are already done for you.
Making poultice
A poultice is an effective remedy that uses a soft, moist concoction of herbs that is spread on a cloth and applied to an area. Typically, herbal poultice' are used to treat aching, inflamed and painful parts of the body to help reduce muscle soreness and inflammation; great for soothing physical symptoms of anxiety.  Mustard, one of the best medicinal herbs usually found at home is a great option to make poultice because of its healing properties.
To make the poultice at home, all you need is the herb of your choice and water. Make sure to use the double ratio of water against the herb and let it simmer on low. Cook it for about 15 minutes, or until it gives you a dense and thick formation. Once it is done and slightly cooled, you are all set to use it by placing it on the affected area.
The best medicinal herbs for anxiety
Do you have hospital phobia or do not like to take heavy medications? If yes, you should be happy about having a few medicinal herbs in the house. These herbs offer some of the most efficient forms of natural relief for anxiety, depression, insomnia and many other mental health disorders. Some help combat physical symptoms of anxiety, such as a sore stomach or poor indigestion, whereas others have a sedative effect that soothes and calms your mind.
Ashwagandha lowers your stress hormone
Ashwagandha is best known for its stress-lowering effects. The medicinal herb helps lower levels of cortisol (your stress hormone) by 11–32% when taken in daily doses of 125 mg to 5 grams for 1 to 3 months. So, you'll definitely want to add some ashwagandha supplements into your day or take sips of this delicious tea:
Try this: Ashwagandha Endurance tea
Rosemary improves focus and alertness
One of the first things that happens when you begin to experience anxiety is an immediate shift in your focus and alertness. You could be completely engulfed in the activity you're doing and then – BOOM – anxiety hits and it feels like you have tunnel vision. Using rosemary can help with this, as it can increase focus and alertness. And since rosemary is an antioxidant and has anti-inflammatory properties, so it's also great for boosting your immune system (keep that health anxiety at bay) and helping with indigestion.
Try this: Herbal Tea Drops
Lavender calms nerves, reduces stress and promotes sleep
One of the top herbs for anxiety is lavender, as it is a mild sedative that can calm the mind and induce a serene state of mind. Lavender can reduce anxiety and reduce stress by affecting the body's fight-or-flight response, and it can also calm the mind enough to induce a deep state of restful sleep.
Try this: Chamomile Lavender tea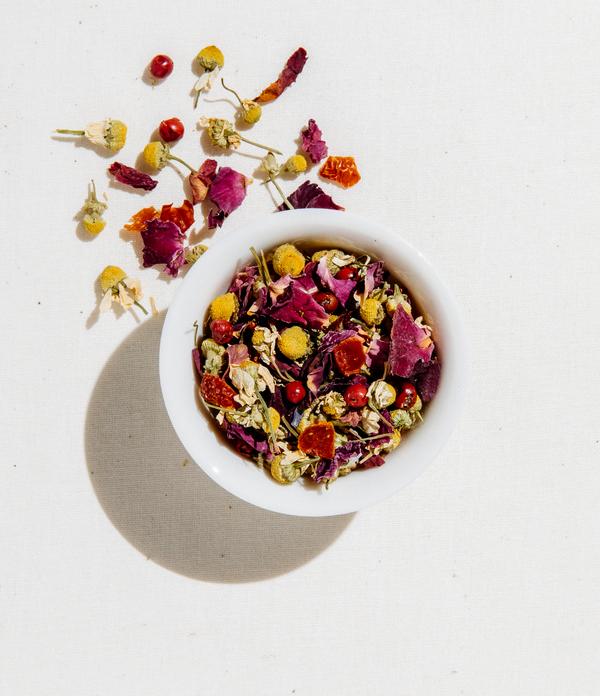 Turmeric increased dopamine and serotonin
Turmeric is an anti inflammatory and a natural disinfectant best known for its ability decrease stress levels, reduce anxiety and boost serotonin and dopamine levels. Research suggests that it may even be as effective as Prozac – and with far fewer side effects.
Try this: Ginger Turmeric Tea
Chamomile eases anxiety and induces sleep
Chamomile is a go-to herb for anxiety due to its ability to significantly reduce moderate to severe symptoms of generalized anxiety disorder (GAD). It's also a great medicinal herb for inducing sleep and fighting off insomnia.
Try this: Egyptian Chamomile Tea
Valerian root calms anxiety, stress and symptoms of OCD
Valerian root is a top herb for mental health, as it has been proven to help reduce anxiety and improve symptoms of OCD. It may also increase focus and reduce hyperactive behavior in children, making it a great coping mechanisms for ADHD as well. 
Try this: Sleep Tea (made with valerian root, chamomile and spearmint)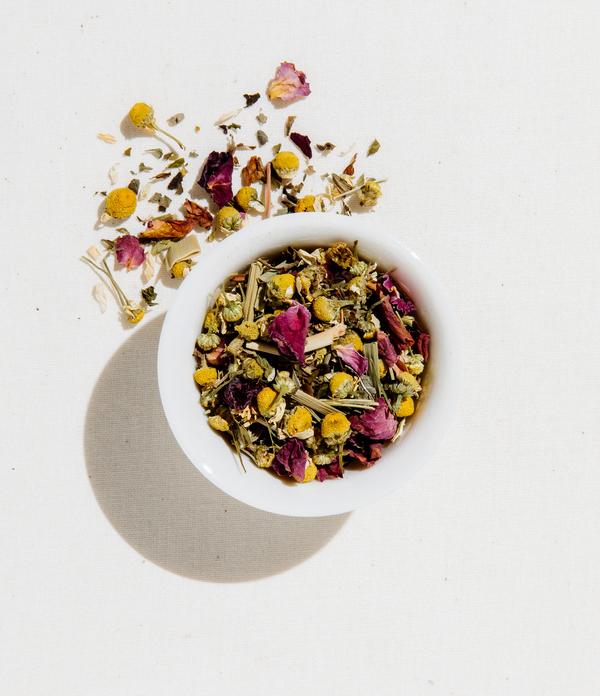 Passionflower relieves anxiety and insomnia
Studies suggest passionflower can help relieve insomnia and anxiety, as it appears to boost the level of gamma-aminobutyric acid (GABA) in your brain. This compound lowers brain activity, which can help you relax and sleep better.
Cannabidiol effectively reduces anxiety in all situations
Using CBD to treat anxiety is definitely at the top of my list for natural treatments (I swear by CBD oil and have gotten all of my loved one on it for maintaining physical and mental health). CBD tackles inflammation, which is often at the root cause of many health conditions and concerns. It has even been proven to reduce anxiety and discomfort during public speaking in people with social anxiety disorder.
Try this: CBD Oil

You can't ever go wrong with having these medicinal herbs for anxiety on hand. Whether as loose leaves or already brewed into a delicious anxiety tea, these are the top herbs to keep around in case of a spike in anxiety or insomnia.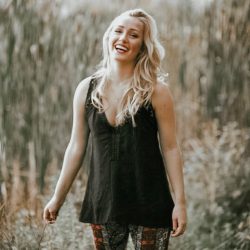 Latest posts by Chantal McCulligh
(see all)