Everybody fidgets. These small movements of restlessness is the body's way of self-soothing; a natural coping mechanism that releases built-up or nervous energy. Fidgeting can come in many forms and may include actions such as tapping your fingers, bouncing your knees, or twirling your hair, which are typically harmless. However, fidgeting can also consist of biting your nails, chewing on the sides of your cheeks, hair-pulling and skin picking, which can lead to infections, injury, pain and discomfort. The good news: anxiety fidget toys can help redirect that nervous, built-up energy to calm your mind and body, and to prevent potential injuries. Fidget toys offer a discreet, harm-free way to keep your hands busy, so your mind can finally relax or focus on the task at hand. In this article, we explore the different types of fidget toys and how they can effectively ease anxiety.
Is Fidgeting Good For You?
Fidgeting isn't a bad thing! Whether it's tapping your foot, spinning an anxiety ring or using another type of fidget toy, there are many benefits to fidgeting. If you are having a hard time focusing and paying attention due to anxiety, stress or ADHD,  incorporating movement into your routine can be incredibly helpful. Not only does it increase your alertness, but it also assists in maintaining concentration and performing better on cognitive tasks. 
Using a fidget tool for anxiety and stress relief is another top benefit, as it can help release nervous energy. The act of fidgeting can take up certain areas of your brain that might otherwise be distracted by wandering or anxious thoughts, helping you stay grounded and able to stay engaged in whatever situation you're in. 
Engaging in foot tapping or bouncing your legs can have a positive impact on your heart health. It helps maintain a steady blood flow even when we're sitting for extended periods. So, don't worry if you catch yourself fidgeting – it might be doing your heart some good!
Another benefit of fidgeting is that it can help you burn more calories throughout the day. By staying active and moving around, you're giving your body an extra workout without even realizing it. So, embrace your fidgeting tendencies and know that it's contributing to your overall calorie burn.
Using Fidget Toys for Anxiety Disorders
When people experience anxiety, they often resort to fidgeting or making small movements as a way to cope with feelings of restlessness, impatience, or nervousness. Fidget toys are calming items that offer a great outlet for these movements, serving as a helpful tool to calm nerves, relieve stress, self-soothe and act as a distraction in overwhelming environments. These fidget toys allow you to momentarily detach yourself from stressful thoughts or situations, providing a sense of relief.
What Are Fidget Toys?
Fidget toys are handheld tools that are designed to promote focus and reduce stress and anxiety. These toys are calming items that can be used by both adults and children to help release nervous or hyper energy.  Fidget toys come in various forms, including fidget spinners, fidget cubes, and the ever-popular anxiety spinner rings. 
The Best Fidget Toys for Anxiety
Fidget tools come in a variety of shapes and sizes, offering a ton of options for you to choose to ensure you find a fidget toy that  suit your personal preferences and needs. It's important to try different types of fidget toys, as what might be helpful for one person may not be as beneficial for another.  Below is a list of the best fidget toys for anxiety, so you can easily explore and discover the fidget toys that work best for you!
Spinning Rings
Spinning rings, also known as spinner rings, anxiety rings or fidget rings, are pieces of jewelry that are designed with a band that spins. These are one of the best fidget tools for anxiety for adults and children, as they offer a non-distracting, discreet way to self-soothe through the act of fidgeting. Plus, they are super chic!
Fidget Spheres
Another stylish fidget tool that will help you banish anxiety, stress, and negative thoughts is a wire fidget sphere. These versatile fidget toys allow you to push and pull on different parts of the fidget sphere to create new designs with every movement. They serve multiple purposes, such as a fidget bracelet that you can wear, a stylish accessory for your hair, or a calming tool to help you relax.What sets it apart is its elegance and discreet nature, making it a sophisticated choice among stress-relief fidget toys and tools, especially for adults. 
Stress Balls and Sensory Balls
Stress balls come in various sizes, shapes, and materials, and they serve as a fantastic tool for expelling energy and promoting a sense of calmness. These fidget toys have not only been been proven to help induce relaxation through a relaxation technique known as "progressive muscle relaxation", but they can also alleviate arthritis discomfort, and enhance muscle strength in the wrists and hands,. 
Some stress balls come with special features, such as a soothing essential oils that aids in stress relief or greater resistance and weight. In fact, you can even find stress balls that have positive affirmations on them for an extra boost of motivation and relief. 
Sensory Putty
Putty can also serve as a sensory fidget toy. Just like a stress ball, playing with putty or play dough helps to alleviate tension and reduce stress. The great thing about sensory putty is that it comes in a range of vibrant colors and is conveniently pocket-sized. Some are also scented with soothing essential oils. 
Sensory putty offers a silent means of fidgeting, making it less distracting compared to other toys like fidget spinners. So, if you're seeking a discreet and calming fidgeting option, putty might be the perfect choice for you.
Chewable Fidget Toys
Sensory tools go beyond just hand-held objects. Chewable pendants provide an oral sensory solution for those who have a habit of chewing on their nails, hair, pencils, or even sleeves. When searching for chewable sensory toys, it's important to prioritize safety. Look for toys that are latex-free, BPA-free, lead-free, PVC-free, and made with materials that are safe for oral use. These toys are designed for individuals of all age groups, but it's crucial to supervise children when they are using such toys.
Fidget Cubes
This six-sided anxiety fidget toy offers a variety of satisfying fidgeting, featuring multiple options to keep your fingers happily engaged. Usually crafted from plastic, each side of the cube presents different activities to keep your hands busy. You can twist, click, spin, or flip various parts, providing a delightful distraction that allows your mind to focus on other things. It's a fantastic fidgeting tool to keep your hands occupied and your thoughts free of worry.
Fidget Spinners
Fidget spinners, crafted from either plastic or metal, are those nifty little gadgets with three prongs that you can hold and spin. They can be quite useful for individuals who find themselves fidgeting with their hands. However, it's worth noting that when used inappropriately, they can sometimes become more of a distraction rather than a helpful tool.
For many people, fidgeting acts as a sort of self-soothing ritual that brings comfort and stability to their lives. So, if you find yourself engaging in fidgeting behaviors, remember that using these calming items can provide a grounding effect, making you feel more at ease and secure. Embracing these rituals can be a positive and soothing part of your daily routine.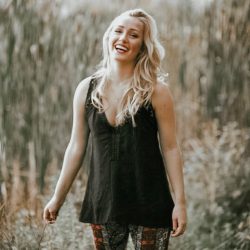 Latest posts by Chantal McCulligh
(see all)