When it comes to overcoming anxiety, sadly, there isn't a one-size-fits-all approach. You have to explore different options to find what works best for you when it comes to managing anxiety. For some people, that may be cognitive behavioral therapy (CBT) or medication, while others may find sufficient anxiety relief through meditation and exercise. In recent years, a simple piece of jewelry has sparked a new popular form of relief: anxiety rings. These are spinning rings, also known as fidget rings, offer a simple yet effective way to cope with anxiety due to their ease of use and quick anxiety relief benefits.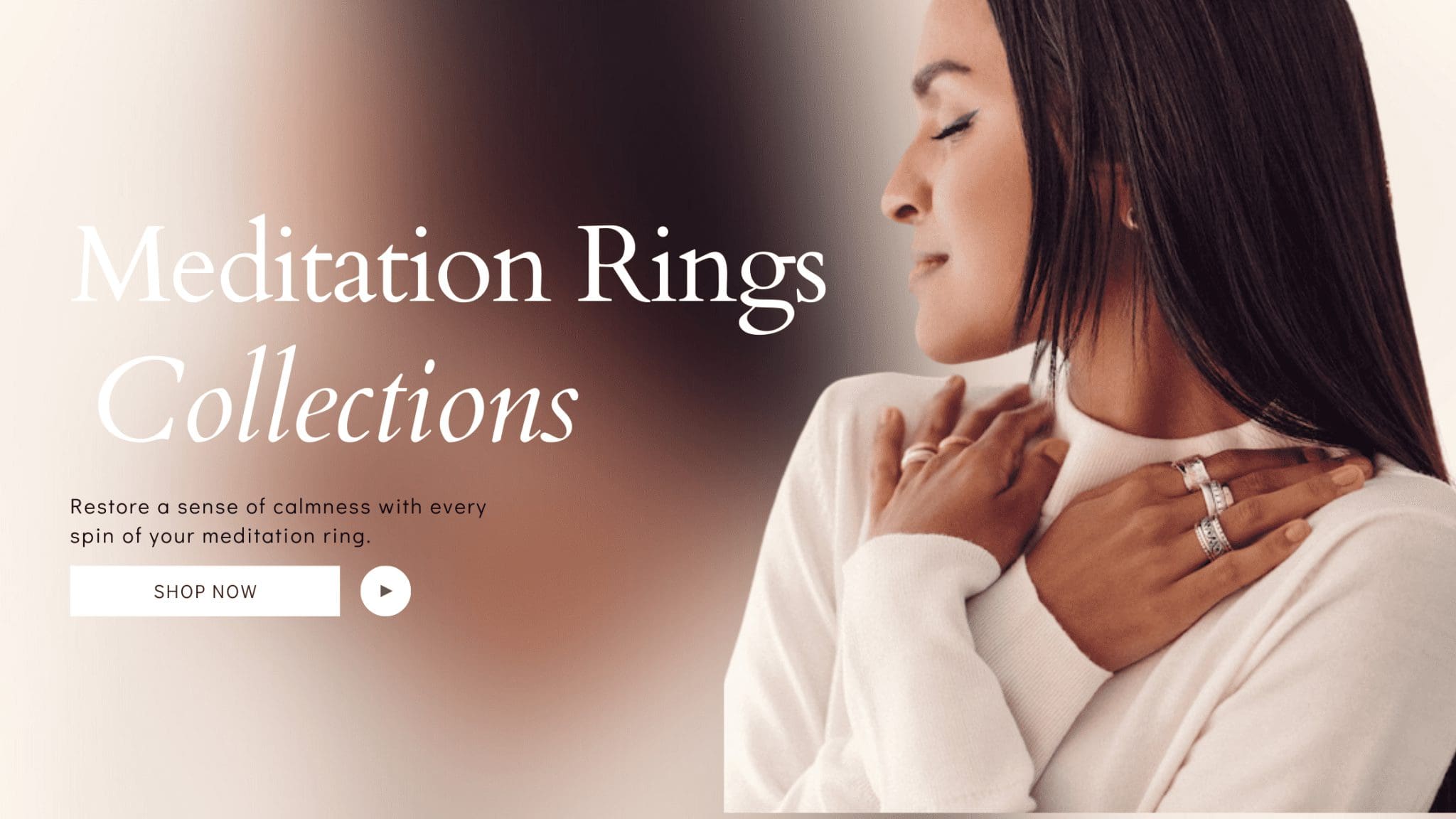 What are anxiety rings?
A spinner ring is typically made of silver and is worn on the finger. It features an inner band that is secured in place and can be rotated while the outer ring remains stationary on the finger. This design is believed to have originated from ancient Tibetan meditation practices, and the ring is often referred to as a "worry ring" due to its potential to promote relaxation and calmness.
The design of anxiety rings is similar to that of traditional spinner rings, but with a unique purpose – to provide the wearer with a distraction and help alleviate their anxiety. Fidget rings are a discreet and subtle way to manage anxious thoughts, and the added convenience of having them on hand when needed is a big plus. These spinning rings are not just limited to anxiety relief either; they can also be helpful in meditation. At the core of living a happier, healthier life is a willingness to try new things that work for us, which is why we fully support this innovative trend.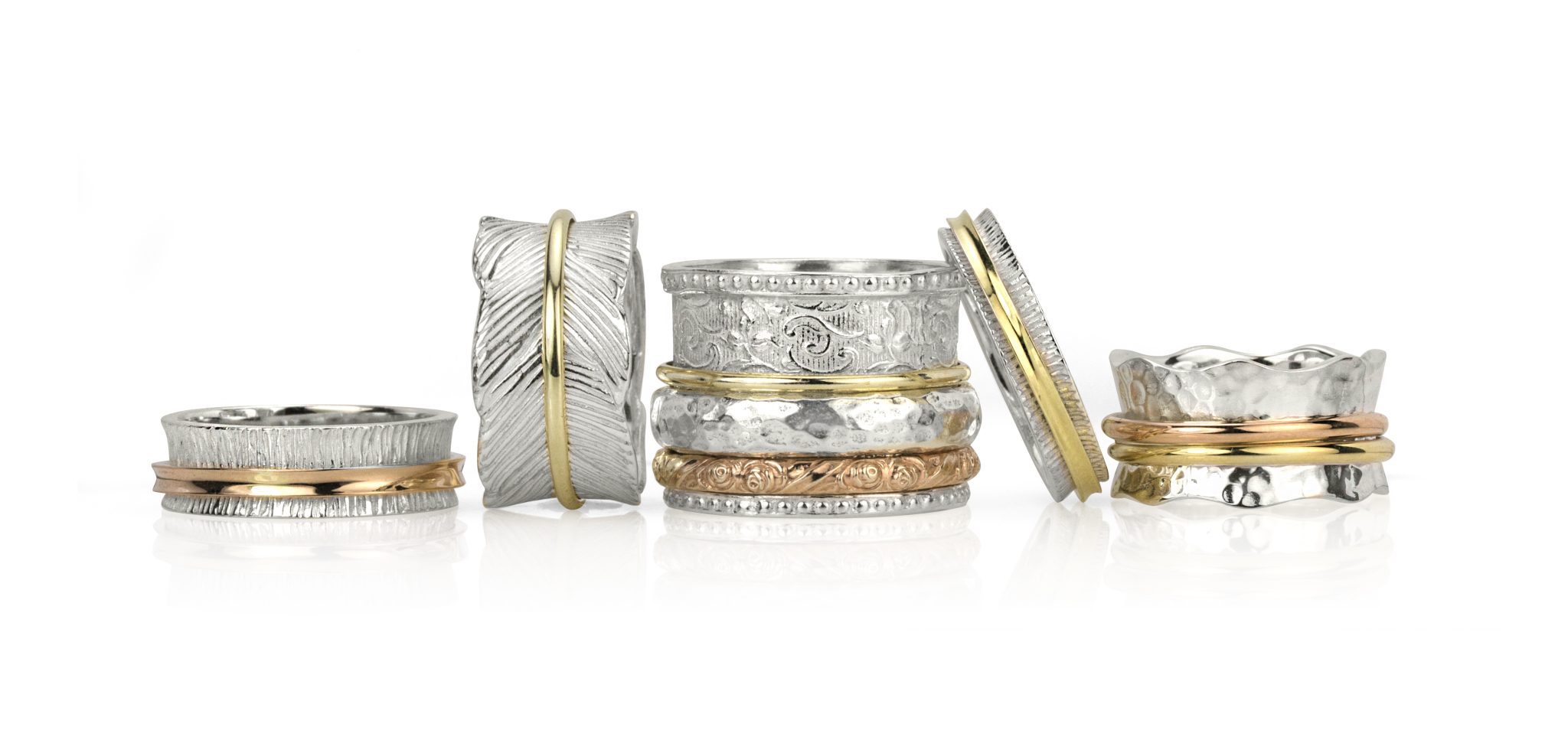 How do spinning rings work?
While some people believe that simply wearing a spinner ring can alleviate anxiety,  especially if the incorporate different stones for anxiety, spinning rings are specifically designed to provide a discreet and healthy way to fidget with your hands. When you feel the urge to fidget, spinner rings offer a subtle option that doesn't draw too much attention. By spinning the central ring with your fingers and taking deep breaths, you can enter into a more serene and meditative state, promoting a sense of calm.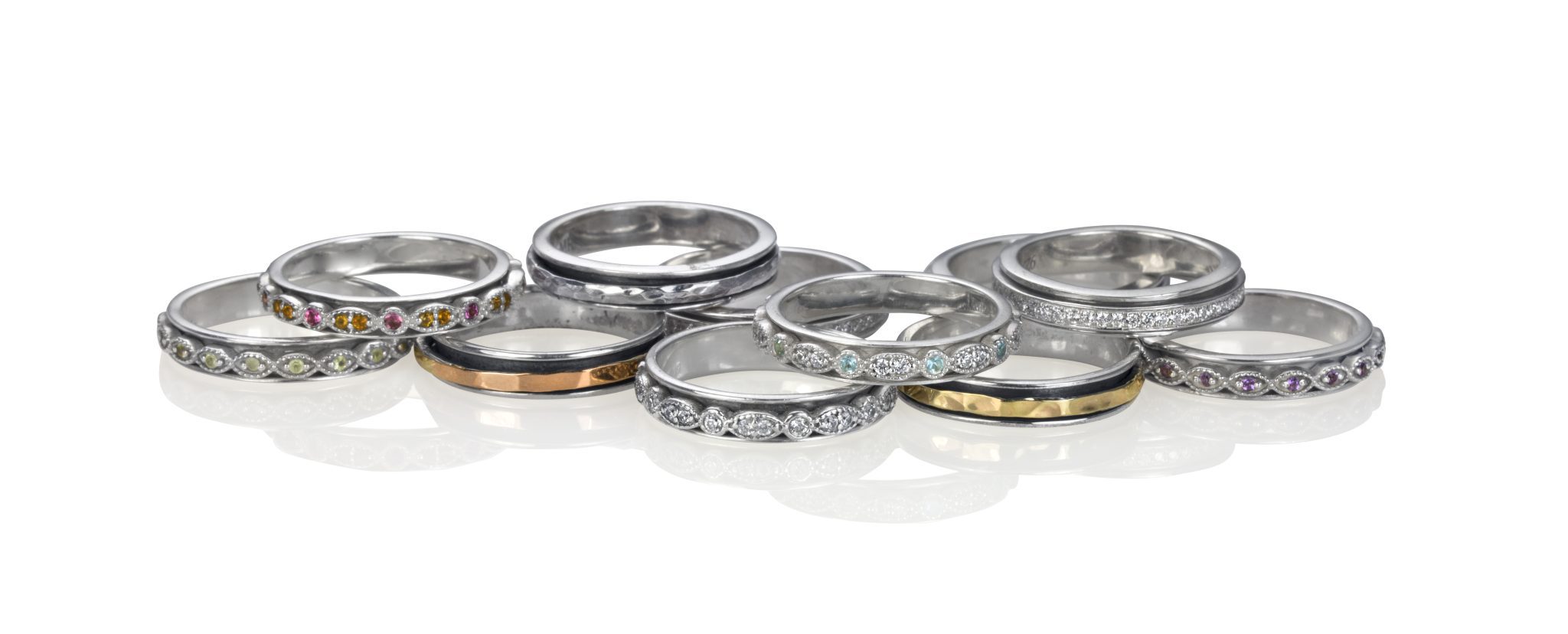 Do spinning anxiety rings really work?
Ask anyone who wears anxiety rings that spin and they'll tell you: absolutely! While spinner rings don't possess any magical or mystical power to reduce anxiety they can produce a the calming effect that comes with the act of fidgeting itself, which can have a soothing effect on the mind and body. People with anxiety tend to ignore or fight against their symptoms, but spinning an anxiety ring can serve as a reminder to acknowledge the presence of anxiety and flow with it, which can lead to a sense of calm.
There are different ways you can use a spinner ring to maximize the highly beneficial effects for anxiety management, such as:
Associate the anxiety ring with something calm and positive: Finding relief from spinning rings starts by figuring out what you want to associate with the ring. This can be a happy thought, like an amazing vacation or the calming nature of the beach or a positive affirmation, such as "I am calm and in control". When using a spinning ring, you can bring up this association and overtime, your brain will know to recreate these good feelings with every spin.
Create a calming environment: Finding a place that you find calm and relaxing can be helpful when experiencing anxiety.  However, it simply isn't practical to visit your favourite park or crawl up in your weighted blanket in your bedroom anytime you're feeling overwhelmed. If this is the case, you can still use your calming environment by imagining it in your mind and engaging all of your senses so you can truly feel as if you're there when you are experiencing an anxiety attack.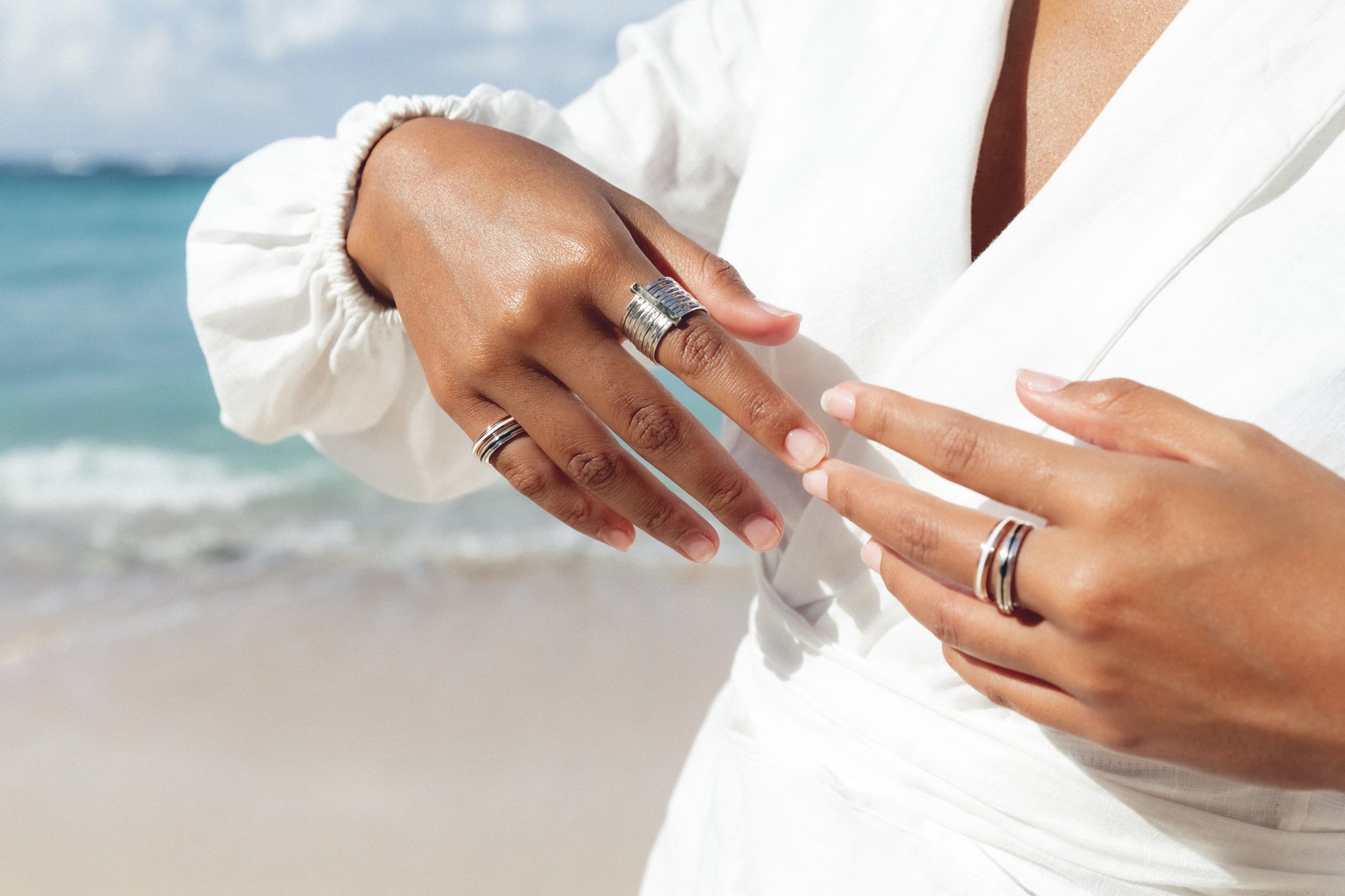 Find Your Perfect Anxiety Ring
Now that you know how spinning rings work for anxiety, it's time to find the perfect style for you. Here are some of our favorite, most stylish and effective spinner anxiety rings.
Looking for a stylish yet soothing way to manage your anxiety? Look no further than the Chakra sterling silver anxiety spinning ring! With its elegant bubble edges and intricate sterling silver twist design, this ring is not only a fashionable accessory but also a practical tool for managing anxiety. This simple and chic spinning ring is the perfect addition to any outfit for anyone looking to manage their stress in style.
With a 9KT yellow gold spinning band and unique scalloped edges, the Heaven spinner ring will help you find peace and tranquility even during the most anxious moments.
Unlock total calmness with our exquisite Boundless spinning ring. With luxurious 10KT plaque yellow gold edges and a large Black C.Z. spinning band, this spinning ring is perfect for both everyday wear and as a tool to ease anxiety.
The Terra meditation ring is an exquisite handcrafted sterling silver ring that not only adds a touch of elegance to any outfit but also helps to ease anxiety. The organic leaf pattern, brushed silver edging, and silver spinning band make it a stunning statement piece that also serves as a practical tool for managing anxious thoughts. With a ring width of 11mm, it's a perfect fit for everyday wear. Plus, it comes with a complimentary jewelry tin for safekeeping.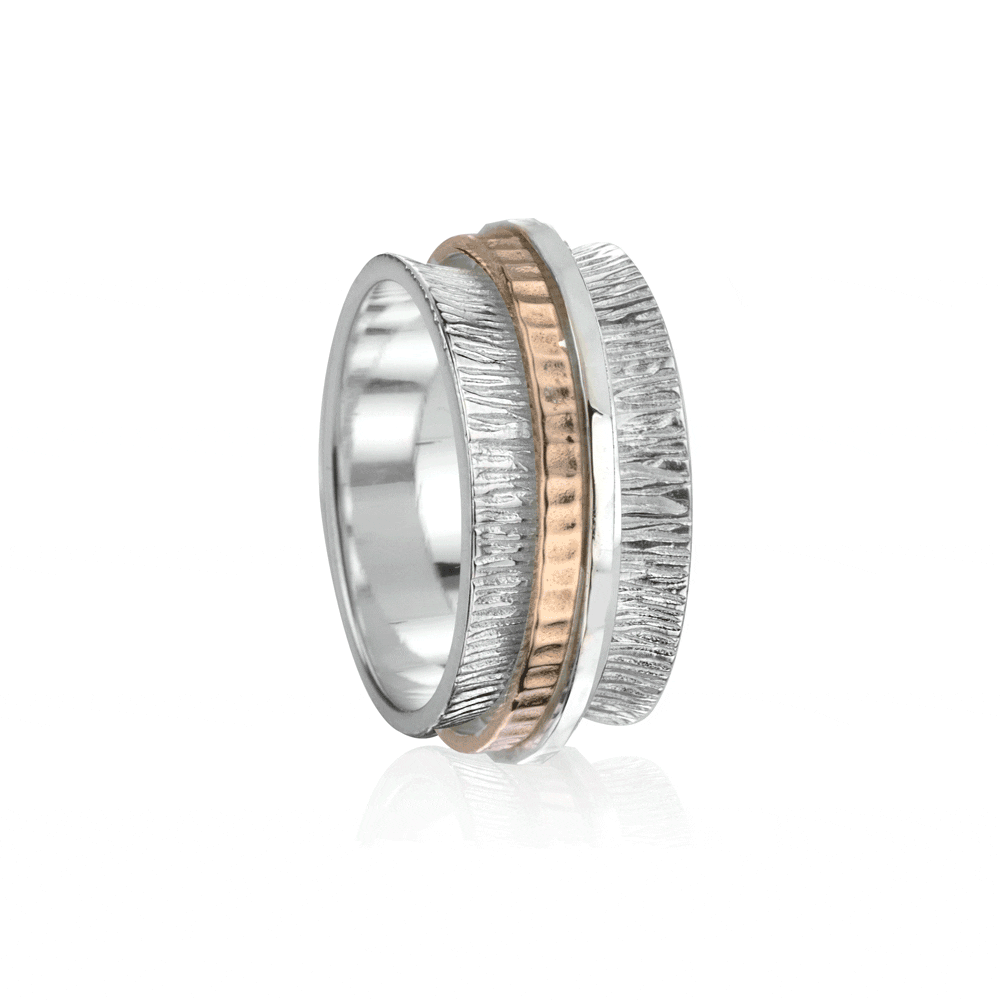 This exquisite Mantra spinning ring is carefully handcrafted with a textured silver hammered spinning band and a textured rose gold spinning band, providing a fashionable contrast that complements any style. Made with premium .925 sterling silver and a 9 KT solid rose gold spinning band, this ring is a perfect combination of durability and luxury. It's not only a statement piece but also a practical tool for managing anxiety.
The Earth meditation ring is more than just a beautiful piece of jewelry, it also comes with a meaningful message. The ring is meant to remind you of your grounded and realistic nature, your love for organic and spiritual living, and your passion for exploring the world around you.
Experience the soothing sensation of letting go of stress, anxiety, and worries with the Breeze anxiety ring. Handcrafted from high-quality .925 sterling silver, this ring features two spinning bands – one made from solid 9KT rose gold and the other from 9KT yellow gold. The scalloped edge pattern adds a flowing touch that serves as a reminder to go with the flow and embrace the present moment.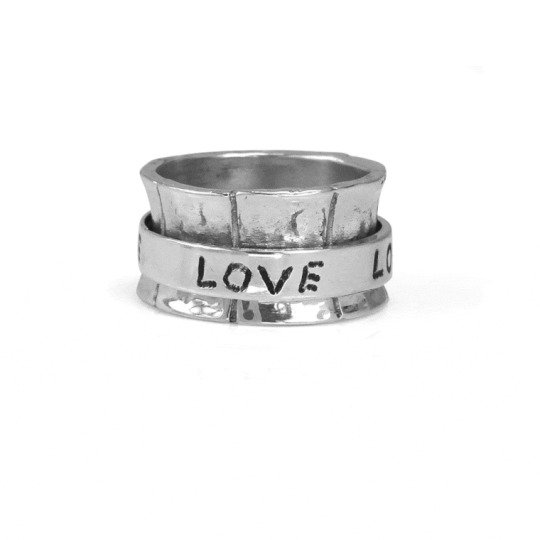 Indulge in the gift of love and kindness with this stunning anxiety spinning ring.  Featuring a thick spinning band with the word "LOVE" inscribed three times, this ring serves as a gentle reminder to show yourself and others compassion.
Many individuals who experience anxiety find comfort in having something to fidget with when they're feeling anxious. Some may resort to biting their nails or picking at their skin, while others may keep their hands in their pockets or play with their jewelry. Spinner rings provide a healthy and discreet way to keep your hands occupied when you feel the need to fidget. By spinning the ring with your fingers and taking deep breaths, you can experience a relaxed and calmer state, making this subtle form of fidgeting a helpful tool for managing anxiety symptoms.
---
This blog post is sponsored by BetterHelp, but all opinions are my own. I may receive compensation from BetterHelp or other sources if you purchase products or services through the links provided on this page.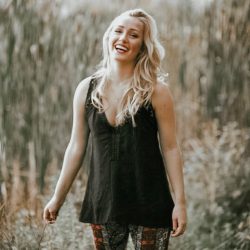 Latest posts by Chantal McCulligh
(see all)