As winter temperatures push us inside more often, it can be hard to find positive ways to spend our time that aren't just sitting around and watching a movie. This can lead to increased levels of anxiety and depression, worsen seasonal affective disorder, disrupt your physical and mental health and make the long winter months even longer.  Luckily, doing puzzles is not only a great indoor activity, but puzzle solving actually has multiple benefits for our mental health. In this article, we'll review 5 ways that solving puzzles can boost brain function, productivity, and even happiness levels.
Mental Health Benefits of Solving Puzzles
Not a puzzle person? These benefits might have you changing your mind. Whether it's digital mental health puzzles, working through an escape room or putting together physical pieces, here are some ways this therapeutic activity can boost your brain.
1. Puzzles boost dopamine
It goes without saying that puzzles make us happy, especially when we solve them successfully. When you finally find a place for that last jigsaw piece or crack the code to open the padlock, your brain releases dopamine, a neurotransmitter made in your brain that provides an intense feeling of reward. Put simply, dopamine helps us feel happy!
Dopamine also explains why sometimes puzzling can feel addictive. This feel-good hormone doesn't rely simply on finishing a puzzle – it's usually released along the way. So, with every puzzle piece you get right, dopamine is released, pushing you to seek out that positive feeling again – by placing another piece correctly. Of course, puzzles are not a good replacement for mental health care, but they can certainly help us feel a little happier day to day.
Dopamine can also improve concentration and motivation, which are important for leading a healthy, fulfilling lifestyle. This brings us to our next benefit of puzzles: increased motivation.
2. Puzzles boost our motivation
Dopamine plays a key role in helping us determine what's really worth the effort. The more we associate a specific result with positive feelings, the more likely we are to feel motivation to seek out those feelings again. So what? you may be thinking. I don't need motivation to do more puzzles! Luckily, this dopamine motivation reaction has bigger implications.
In a 2020 study published in Science, people with lower levels of dopamine were more likely to choose easier tasks, even if those tasks had a lower amount of reward money. These participants were more likely to make decisions based on the difficulty of the task. On the other hand, people with higher levels of dopamine were more likely to pick more difficult mental tasks (associated with higher reward amounts) because they were more focused on the reward, rather than the unpleasantness of the task ahead of them. Dopamine – resulting from puzzle solving or any other activity – can impact how we weigh potential benefits, and push us to make harder choices to reap higher rewards.
Generally, puzzles help us improve our ability to see and interpret patterns in the world around us. If we apply this to our own lives, puzzles can provide us with a clearer ability to understand how our current actions may impact our futures. How we decide to act on those insights is up to us, but a little dopamine boost can help us turn towards higher effort, higher reward decisions.
3. Puzzles help us problem solve
While we know that doing lots of puzzles makes us better at solving similar puzzles in the future, puzzling can actually help us solve problems in other areas of our lives as well. Experts argue that doing puzzles provides us with a new mindset that's solution, rather than problem oriented. This mindset helps us think through problems in our everyday lives more rigorously and reduces the chance that we'll let unhelpful emotions get in our way.
For example, 60OUT, a premier escape room in Los Angeles, explains that their escape room puzzles are a perfect team building activity, especially for companies promoting employee wellness. Puzzles are such good team building activities partially because escape rooms and other similar puzzles improve problem solving skills.
In fact, a 2019 meta-analysis of 68 studies on escape rooms found that escape rooms provide an incredible outside-the-classroom learning experience and reward participants with improved decision-making and problem-solving skills.
4. Puzzles boost our confidence
There really are few things that feel as good as finally solving your puzzle. You can carry this satisfaction and feeling of mastery into other areas of your life also. Susan Levine, professor of psychology at the University of Chicago, explains that in young children, puzzle solving increases children's belief in their abilities. She says, "When children actively engage in completing the puzzle, it builds their spatial skills and confidence."
This feeling of confidence from puzzle-solving doesn't just apply to children, though. Not only do we feel more successful when we solve puzzles, but we actually get better at solving them. While puzzles likely don't actually boost our IQ, there's no question that feeling success in some areas of our life can radiate to feeling happier and more confident in other areas as well.
5. Puzzles can help us understand mental illness in new ways
There are many new puzzles and video games on the market help us discuss and learn about mental health, a topic that often doesn't get enough attention in the mainstream media. There are several puzzle-like video games that delve into topics of anxiety and depression. For example, the game Depression Quest, created by video game developer Zoë Quinn in 2013, is meant to educate players on how depression can affect us. Praised for its accurate depiction of what it's like to live with depression, the game has players choose which actions their character takes next – but some options can't be selected, mimicking how depression can manifest. Puzzles and games like this help us bring mental health into the conversation, and can help people without mental illnesses begin to understand.
6. Puzzles are a calming, therapeutic activity
Lastly, puzzles can be a great calming, therapeutic activity for everyone. They help you practice mindfulness by narrowing your focus in on solving the puzzle, which  also allows you to be in the moment and free of any anxiety or worry associated with the past or future.
Whether you're an avid puzzler or just pick up the occasional crossword, puzzles can provide you with mental health benefits. If you're looking to lead a happier, more fulfilling life, puzzling might be a good place to start!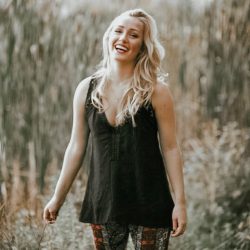 Latest posts by Chantal McCulligh
(see all)