With the year dipping deeper into the dark and dreary days of winter – and with at least two months left of the season, your mood can start to take a turn for the worst. The medical term for increased depression and anxiety during the winter season is called Seasonal Affective Disorder (SAD), a form of clinical depression. According to the Canadian Mental Health Association, 2% to 3% of people may have SAD, with 15% of others experiencing a less severe form called the "winter blues." The good news? Seasonal Affective Disorder can be treated. We talk frequently about the different natural remedies for seasonal affective disorder and today, we are focusing on one of our favourites – light therapy.
What is Light Therapy?
Light therapy is a non-invasive treatment that involves exposure to artificial light to help alleviate symptoms of anxiety, depression, and other mental health conditions. This therapy works by using a light box, which emits a bright light that mimics natural outdoor light. It's believed that exposure to this light can regulate the body's circadian rhythm, which can help to improve mood, reduce anxiety, and increase energy levels.
During light therapy for anxiety, patients typically sit in front of a light box for a designated period of time each day, usually in the morning. The length of time and frequency of therapy can vary depending on the severity of the symptoms and the individual's response to treatment. Some studies have shown that light therapy can be as effective as traditional antidepressant medications for treating symptoms of anxiety and depression, and it may be a particularly useful option for individuals who prefer non-pharmacological treatments or who experience negative side effects from medications. However, as with any treatment, it's important to consult with a healthcare professional before starting light therapy for anxiety.
Benefits of SAD Lamps
Here are nine potential benefits of using light therapy for mental health:
Alleviates symptoms of seasonal affective disorder (SAD), a type of depression that occurs during the winter months when exposure to sunlight is limited.
Improves mood and reduces symptoms of depression and anxiety.
Helps regulate the circadian rhythm, which can improve sleep quality and energy levels.
Enhances cognitive performance and alertness.
Boosts vitamin D levels, which can help support immune function and bone health.
Helps reduce symptoms of premenstrual syndrome (PMS) and other hormonal imbalances.
May help reduce symptoms of post-traumatic stress disorder (PTSD) and other anxiety-related disorders.
Reduces the need for medication or other treatments for certain mental health conditions.
Provides a non-invasive, drug-free alternative for treating mental health issues, with fewer side effects than traditional medications.
It's important to note that while light therapy has shown promise in treating mental health issues, it may not be effective for everyone. It's always best to consult with a healthcare professional before starting any new treatment, including light therapy.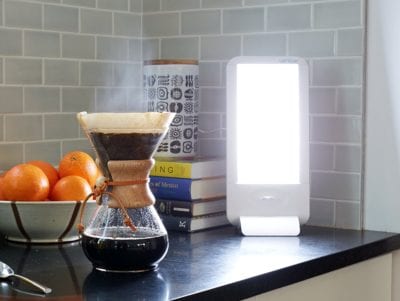 9 Things You Need To Know Before Starting Light Therapy
With any type of therapy, it's highly recommended to know as much information as possible prior to starting. As such, we've created a list of, what we believe to be the things you should know before starting light therapy.
1. 10,000 Light Intensity is Provided
A bright, sunny day has 50,000 lux (light intensity). Light therapy provides 10,000 lux which is 100 times more than standard indoor lighting.
2. You Sit In Front of the SAD Lamp for 15-30 Minutes a Day
Your doctor can prescribe you a specific amount of time to sit in front of your light box but typically, 15-30 minutes a day is enough. Some health benefits even cover this purchase!
3. You Can Use Portable Light Therapy for 12 Minutes a Day
You also have the option of using a portable light therapy device (our personal favourite) which allows you to do the light therapy whenever and wherever you are, and you only need 10-30 minutes.
4. Light Therapy Increases Production of Serotonin and Dopamine
By receiving light through your eyes, your serotonin and dopamine hormones kick in. This helps reset your circadian rhythm (what keeps you awake during the day and asleep at night) to eliminate fatigue.
5. Anxiety and Depression are Often Linked to Serotonin and Dopamine Hormones
Fatigue isn't the only thing light therapy treats. A deficiency or lack of serotonin and dopamine hormones are often linked to causing anxiety and depression to spike. So, a light box can also decrease anxiety and depression by boosting production of these hormones.
6. It's Best To Do Light Therapy Immediately After Waking Up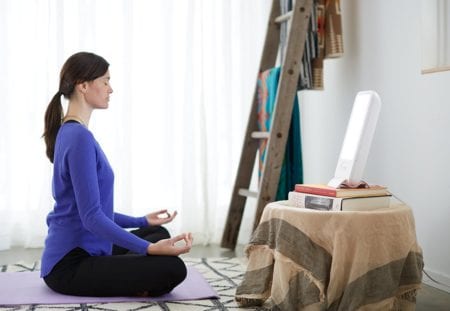 Plugging in your portable light therapy into your ears or turning on your light box in the morning will give you a kickstart to the day.
7. The Results Can Take Some Time to Appear
The benefits of light therapy won't necessarily happen as soon as you take a seat in front of the SAD lamp. In fact, it can take a couple of days for you to start feeling the effects. So, keep at it every day and eventually, you'll start to feel the amazing results.
8. You Keep Using Light Therapy Even After You See Results
Don't stop using your SAD lamp or light therapy as soon as you start to feel better. This is a daily, on-going treatment and since it only requires a couple of minutes a day, don't skimp out.
9. Full-Blown Seasonal Affective Disorder can be Reverse
With appropriate bright light therapy treatment, you can completely reverse the effects of Seasonal Affective Disorder naturally and without the need for prescription medication.
Light therapy boxes and SAD lamps are a little pricey but they're worth every penny!
And considering you only have to sit in front of a SAD lamp or light therapy box (or wear your portable light therapy device) for a couple of minutes of a day in order to completely reverse the effects of Seasonal Affective Disorder, you'd be silly not to do it.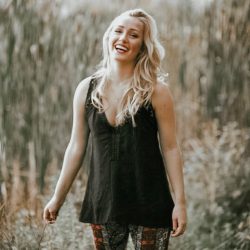 Latest posts by Chantal McCulligh
(see all)