Yesterday; we had one of those days; one of those days we like to call "mentally unwell" days. One of those days where you wake up not feeling well. You don't have the sniffles nor do you have a cold, you don't have a fever nor do you have the chills, you're just not felling well – not mentally and not emotionally.
You know, the kind of days where your body is going through the motions of the day but the disconnect between your mind, emotion and body is prominent. It's almost like an out-of-body experience… Only for the entire day. How exhausting!  There's no rhyme or reason for feeling off, you just do. And falling into that mentally unwell "funk" is actually common for those dealing with a mental illness. The good news is you can break out of it!
5 Steps to Breaking Out of a Mentally Unwell Funk
While feeling mentally unwell yesterday, we took some notes to record the steps we took to come out of that mental illness funk. So, if you're feeling like you're slipping into the dark with your mental wellness today, here are some steps to take.
Step One: Decide If You Are Going To Wallow or Win
The very first step to breaking free of a mentally unwell feeling is to decide if you're going to wallow in the moment or prevail and overcome the terrible feelings. For us, we wallowed in our mental unwellness yesterday because it was a Sunday and sometimes, you simply don't have the energy to get up and fight.
However, you can't always do that. Sometimes, you have to get up and out of bed, brush your teeth, fix your hair and continue with your daily tasks.
Step Two: Let Yourself Feel Unwell
The second step to coming out of a mentally unwell feeling is to allow yourself to simply feel unwell even if it's just for a couple of minutes. You wouldn't fight having a cold or the flu, so don't fight this if you don't have to. Just accept it. Press snooze or sleep aall day if that's what your mind is telling you do to. It's ok to not feel ok. Dealing with anxiety is incredibly exhausting and you're bound to have a day where you just don't want to do anything – you don't want to think; you don't want to talk; heck, you don't even want to open your eyes. And that is okay! Here are some things we like to do to accept feeling mentally unwell:
Sleep
Binge Netflix
Curl up in a comfy blanket on the couch
Read
Take a bath
Listen to music
Step Three: Make a Plan
Whether you've allowed yourself to wallow in mental unwellness all day or have to find a way to get it together early in the morning, it's important to create a plan. What will you do to make yourself feel better? Here are some things that we put on our list:
Step Four: Shake It Off
Alright, now it's time to shake off the negative feelings and tackle the day.  Literally, shake it off. Shake your arms, hang your head, move your body and let out a loud deep breath while imaging all that negativity and anxiety escaping from your body. Remind yourself that you can do this! You've done it before and feeling mentally unwell doesn't have to be a feeling that disrupts your entire day.
Step Five: Distract Yourself with your Day
The last step is to distract yourself with whatever you have going on that day. Perhaps it's work or taking care of your children; maybe it's running errands or visiting friends or family members. Whatever it is, dive into it. Complete your tasks fully and thoroughly. Don't just walk through the grocery store picking up some ingredients – make a list that you have to read while navigating through the store. Don't just wake up and turn some cartoons on for the kids – get up and play with them. Submerge yourself in whatever you have going on that day. Distraction is often the best way to overcome anxious feelings.
When the day is done, come home and relax. Chances are, you won't be feeling mentally unwell. In fact, you'll likely be feeling empowered because you actually got through the day! Good for you.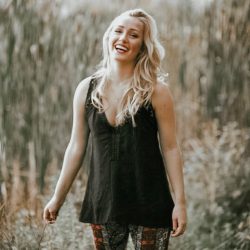 Latest posts by Chantal McCulligh
(see all)