Healing crystals are a powerful way to alleviate anxiety and all the uncomfortable symptoms that come with it. Everything in the earth has vibrations – energy. Even your body is made up of 99.999999% energy. Put these two together and you can use these calming items from the earth to balance vibrations to get the effects you're looking for. Though, with so many healing crystals for anxiety out there, it can be tough narrowing in on the ones that best suit your needs. So, we've made it easy for you to find the perfect healing stones for you with this list of the best stones for relieving anxiety and restoring a sense of calmness.
Blue Lace Agate for Eliminating Social Anxieties
If you're dealing with social anxiety, one of the best stones for relieving anxiety and restoring a sense of calmness when in those situations is blue lace agate. This powerful stone for anxiety is also great for soothing an overactive mind and quieting your thoughts, while giving you a voice for self-expression.
Put all of that together and blue lace agate is the best stone for social anxieties in particular. Though, the healing properties are powerful for relieving all forms of stress and anxiety.
Purchase blue lace agate on our online anxiety store: $7.00
Petalite Lepidolite for releasing fear and anxiety
When you combine two of the best stones for relieving anxiety and restoring a sense of calmness, you get some powerful vibrations all in one. Petalite Lepidolite healing stones are two stones in one, each with healing properties that are particularly beneficial for overcoming anxiety.
Pink Petalite healing properties:
Pink petalite is a healing stone often used to release fear and anxiety. It also great for overcoming depression, as the stone's vibrations help you clear the heart. This allows for you to release any emotional baggage that has weakened your mind, body and emotions.
Lepidolite healing properties: 
One of the best stones for stress and anxiety is lepidolite because it contains lithium which provides soothing healing properties that help you when you're feeling anxious or depressed. It also encourages emotional healing by stimulating positivity.
Purchase petalite lepidolite on our online anxiety store: $9.95
Amethyst for Protecting you From Anxious and Negative Energies
If you don't have amethyst in your collection of the best stones for relieving anxiety, it's time to change that. Amethyst is the one stone that I swear by. I have personally experienced the amazing benefits and healing properties that it has to offer. This stone has also made non-believers believers because the vibrations and healing is that strong.
But why is the one of the best stones for anxiety? Amethyst provides you with all the protection and calming element you need. It's a healing crystal that eliminates negativity from the body and your surroundings while also bringing forth positive vibes.
Amethyst literally makes it easy to create an energetic shield that wards off all types of stress, anxiety and negative emotions. It's the ultimate crystal for anxiety.
Purchase amethyst points and amethyst clusters on our online store: $7.00 – $10
Rose Quartz for Self-love, Self-compassion and Self-healing
Rose quartz lets you be unselfishly selfish. It's one of the best stones for relieving anxiety because it focuses on working on yourself and the things within you that are causing you such discomfort.
If you're struggling with overcoming trauma or simply can't seem to give yourself the boost of kindness, compassion and love that you deserve, add some rose quartz into your life.
This healing crystal for anxiety is also great for embracing all types of love into your love – platonic and romantic. So, it not only helps you work on yourself but it also opens you up to positive relationships moving forward.


Purchase rose quartz healing kits on our online anxiety store: $15.00
Clear Quartz for Inner Peace and Healing from your Past
Another powerful healing stone for overcoming trauma and memories from the past is clear quartz. Known as "The Master Healer", this stone can be used for all types of healing – emotional, physical, mental and spiritual.
Using clear quartz in combination with the other stones for anxiety and restoring a sense of calmness will enhance the vibrations of all. So, for those days when you're feeling stuck in a funk or struggling with something – anything, clear quartz. That's all I have to say.
Buy clear quartz on our online anxiety store: $5.00
Black Tourmaline for Soaking Up Bad Energies
One of my personal new favourite healing stones for anxiety is black tourmaline, as it's full of grounding and balancing properties that calm your mind and connect you to the earth.
Though, the thing I love the most about black tourmaline healing properties is that it grounds and protects you from negative vibrations, electro magnetic fields, and harmful intentions. No bad vibes here!
Purchase black tourmaline on our online anxiety store: $7.00
Healing crystals are great pieces that bring you all the healing properties you need to overcome anxiety naturally. Though, it's important to recognize when you need an extra dose of help and speaking with an online counsellor can be a great option. Many of the best anxiety counseling platforms offer affordable therapy options, and Better Help even offers 7 Day Free Trial for their Online Therapy.
---
This blog post is sponsored by BetterHelp online therapy, but all opinions are my own. I may receive compensation from BetterHelp or other sources if you purchase products or services through the links provided on this page.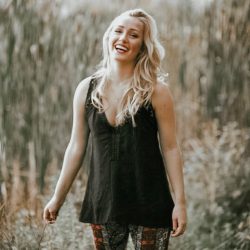 Latest posts by Chantal McCulligh
(see all)