If you're looking for something that will help with anxiety, look no further. Natural stones for anxiety have been used to channel different energies to help all types of illnesses and diseases. However, before I get into that, I want you to know that if you don't believe in healing crystals for anxiety, you'll want to do some research. In order to capitalize on using these calming items as a natural anxiety treatment, you have to believe in it.
Now, if you do believe in using these calming items as natural anxiety treatment that can come from the energies of this earth, read on! As you know, the mind is a powerful thing. You're so used to it working against you but with the proper tools and healing stones for anxiety, you can use your mind's strength to do great things, such as heal your anxiety disorder. But you have to strongly believe and commit to the practice.
What is the History of Healing Stones?
Taking a look into the past will help you better understand and believe in the healing capabilities of the earths natural stones. What is now referred to as crystal healing dates back to Ancient Sumeria (4000 B.C.), which lead into Ancient Egypt where people started to use gemstones and crystals for health and protection.
Eventually, this lead into Ancient Greece, where a lot of the names for gemstones come for. For example, 'crystal' comes from the Greek word for 'ice' because the gemstone is believed to remain solid forever like frozen water. 'Amethyst' means 'not drunken' in Greek, which is why the stone has been used to prevent hangovers. The list goes on and on, and so did the knowledge of healing stones.
Ancient China eventually jumped on the crystal healing, placing high importance on the jade gemstone. It was commonly used to heal kidney diseases and illnesses, while also bringing forth good luck.  It was at this time when crystal healing was infused into the Chinese theory on life-energy, such as chi, and when Hindu and Buddhists created the concept of chakras.
During the Renaissance period, an abundance of both previous and semi-precious stones were used for herbal remedies. Now, thousands of years later, crystal healing is being used to ward off sickness, dispel negative energy and channel positive ones.
What Are The Best Crystals for Anxiety?
Now onto the good stuff – the best healing stones for anxiety. If you don't want to purchase each one individually – or any at all – you may want to consider doing Audio Crystal Healing. You receive the same effects of the healing stones by listening to the frequencies associated with each. The energetic vibrations from the crystals will direct the flow of energy within the physical, emotional, mental, and spiritual body. The end result? Natural anxiety treatment.
You don't need stones for this technique but you can use them if you want to. And as you're about to find out, these calming items are beautiful and you'll definitely want them around you at all times.
This powerful healing stone for anxiety resembles the calm ocean waves and gives off a similar energy for your mind as well. Blue Lace Agate dispels anxious feelings that stem from rejection or past judgement. As such, it's commonly recommended as one of the top calming items for those suffering from social anxiety. The energies help calm you when it's time to speak in public, approach a stranger, go on a date, etc.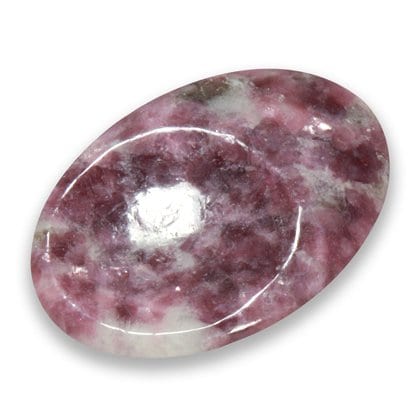 You may not have heard about Lepidolite before, but you likely heard of Lithium, the well-known antidepressant. Well, the drug actually contains trace amounts of Lepidolite to bring soothing and soft energies. So, you don't need the prescription to capitalize on its healing properties. You just need some lepidolite calming items and you'll receive a cloud of calmness that can help with anxiety and panic attacks.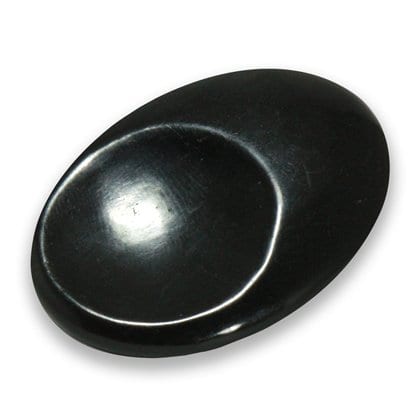 Jet Stone is a powerful healing crystal for anxiety that's made of driftwood that has been fossilized and metamorphosed. It channels calming energies that'll dispel fearful and anxious thoughts. It also protects you from negative energy.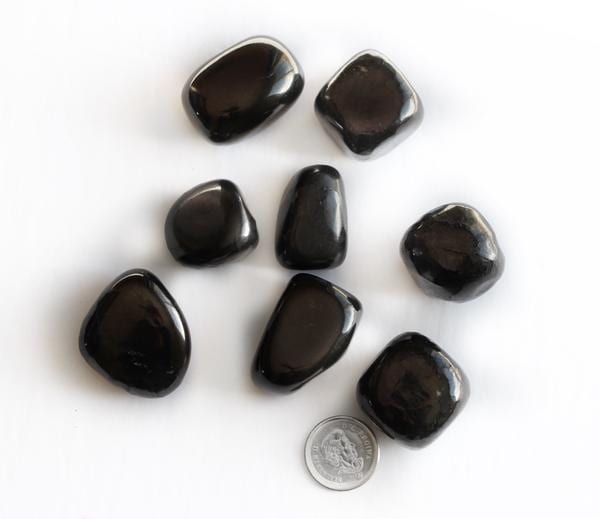 Shungite is one of the best stones for anxiety as it's full of purifying and detoxing properties, which is commonly used to help people clear their mind of constant negativity and emotional difficulties. As such, it's believed to help with anxiety, stress, low energy levels, and insomnia.
One of the most powerful stones for anxiety that can help you overcome trauma is the Rhodochrosite crystal. It's commonly used to treat panic attacks, fear and anxiety naturally.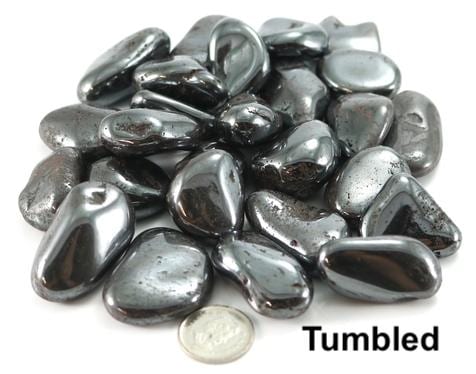 Hematite healing stones for anxiety are perfect for eliminating stress and anxiety from the body. Hematite is infused with an abundance of grounding properties, which helps keep you close to Earth's natural frequency. When you're grounded, you're more likely to feel relaxed, balanced and free, which is why these calming items are commonly used to combat anxiety.
This healing crystal for anxiety is often used to calm an overly busy mind. It helps eliminate your fears, which instantly alleviates symptoms of anxiety.
Known as "The Master Healer," Clear Quartz is one healing stone everyone should have. It can be used for anything and everything – physical, mental, and emotional. You can program these crystals for anxiety or to work to heal any issue from your past, while also bringing forth a connection with your higher-self.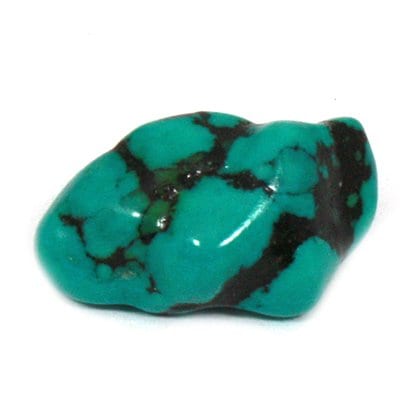 One stone known for its calming properties is the Turquoise stone. It's also one of the easiest and most affordable healing crystals for anxiety.  Turquoise is a popular choice for those looking for help with anxiety as it stabilizes emotions, prevents panic attacks and helps you recover if a panic attack does occur. It also brings plenty of protective and grounding energies, which as an anxiety sufferer.
Amethysts are the ultimate healing stones for anxiety, as they're known for having various healing properties. Amethyst is also known as "The All Purpose Stone", so it's at the top of calming items. It's often used to open up your mind, body, and soul to a higher intuition and consciousness. This helps to provide clarity, regulate mood swings, relieve stress and anxiety, while also giving you an extra dose of protection. There are almost many types of amethyst to enjoy!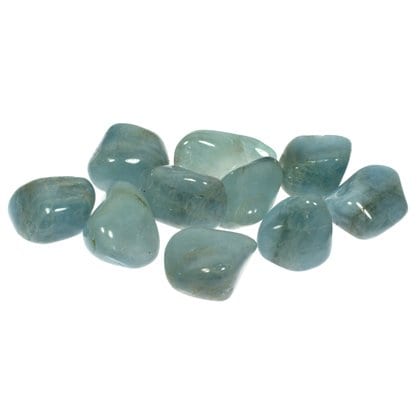 Another healing crystal that is highly sought after for help with anxiety is the Aquamarine. It brings plenty of soothing and calming energies, and will cleanse your mind of negative thoughts.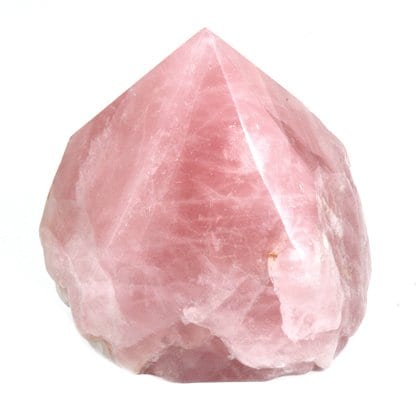 One of the most calming healing crystals for anxiety out there is the Rose Quartz. It symbolizes love and harmony, and will help you overcome emotional trauma – the same emotional trauma that's causing you to have anxiety.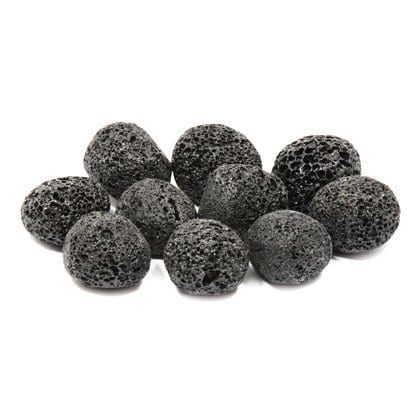 Another one of my personal favourite calming items is the Lava stone. It comes straight from the core of the earth, which explains its powerful grounding properties. It's commonly used to calm emotions, channel intense (and positive) energies. It's believed that lava stone was also used by soldiers back in the day to help keep them calm in the midst of the war. You'll also often see many beaded bracelets with at least one lava stone on them as the lava bead holds essential oils.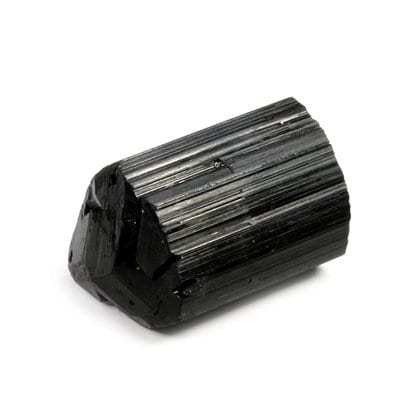 A highly protecting healing stone is the Black Tourmaline. It will provide you with an aura of protection that grounds and protects you from negative vibrations, electro magnetic fields, and harmful intentions. As such, it's an excellent stone to use for anxiety as it absorbs the negative energies surrounding you, leaving you with nothing but positive.
Malachite is an excellent stone for calming the nervous system, and is one of my personal favourites. These stones for anxiety are able to effectively calm your mind and rid your soul of depression and anxiety by increasing peaceful and tranquil energies.
Another powerful healing crystal that'll help with anxiety is the Amazonite. It's has similar energies to the rose quartz, bringing harmonious properties that soothe and nurture your mind, body, and soul.  The best part is that its calming effects are quick-acting, making this stone the perfect option for you when you feel an anxiety attack coming on.
A powerful crystal for alleviating anxiety is the Mangano. It's one of the most relaxing that contains a high amount of loving energy that can help you overcome your panic attacks and heart palpitations.
So, put down the prescription drugs. You can get help with anxiety by using these calming items to treat all your anxiety symptoms, emotions, thoughts, and panic attacks.
If you are in a dark place, please take advantage of the 7-Day Free Trial for online therapy from Better Help. And if you'd like to receive calming items every season right at your door, sign up for our mental health self care subscription box and receive 30% off.
---
This blog post is sponsored by BetterHelp, but all opinions are my own. I may receive compensation from BetterHelp or other sources if you purchase products or services through the links provided on this page.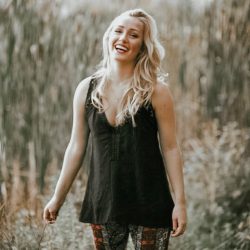 Latest posts by Chantal McCulligh
(see all)