Certainly by now you've heard about weighted blankets. But like myself, you're likely wondering how a slightly heavy blanket can do anything for your mental health. Today, we're going to go through the clinically proven benefits of weighted blankets for anxiety, as well as the benefits I received when I finally took the plunge and got one for myself.
Watch My Corala Weight Blanketed Review
What are Weighted Blankets?
Let's start with the basics – what are weighted blankets? Weighted blankets are typically filled with plastic pellets which add weight to the blanket. However, TruBlanket is the first weighted blanket to use glass micro beads, which is of higher quality and environmentally friendly.
The heaviness of the weighted blanket depends on your own body weight, approximately 10% of your body weight.
Who are Weighted Blankets for?
Weighted blankets can be used by anyone. The benefits are not limited to just those with anxiety. Specifically,  weighted blankets are commonly recommended to reduce and manage the symptoms of:
PTSD
Sleep disorders
Nervous system disorders
Autism
ADHD
Clinically Proven Benefits of Weighted Blankets for Anxiety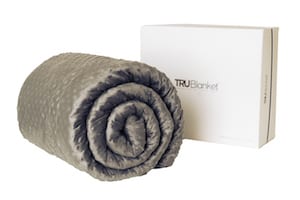 Weighted blankets are often compared to what feels like a hug, similar to what an X-ray apron feels like. However, there are many benefits of weighted blankets that are clinically proven which it important to recognize because they are "expectations" or opinions. They're proven.
"A study from found that after 32 adults used a 30-pound weighted blanket, 63% reported lower anxiety and 78% preferred the weighted blanket to calm down."
Research has shown hugs make people feel at ease
Various studies have discovered that hugs have a powerful effect on people; the same effects that are received with a weighted blanket. More specifically, studies show that when you receive a hug, your body releases oxytocin (a hormone) which reduces blood pressure, creates a feeling of relaxation and slows the heart rate. This is one of my favourite benefits of using a weighted blanket for anxiety.
Weighted blankets increase serotonin levels naturally
Serotonin is a brain chemicals that many people with anxiety struggle with, often times, a deficient of some sort. Weighted blankets have proven to release more serotonin, allowing for a reduction in stress and an improvement in mood. These are the same effects experienced when pressure is applied to certain areas of the body, making this one of the best benefits of weighted blankets for anxiety.
Improves sleep
Another common struggle people with anxiety have is sleep. I recently spoke about how one natural supplement saved my life. Weighted blankets also help, as the added pressure calms your mind and body, while also creating a comfortable environment. This makes it easier to slip into a deep sleep.
Additionally, weighted blankets are believed to create a sense similar to being swaddled, a tight-wrapped blanket used on babies to provide a sense of warmth and safety. This, too helps ease the mind and relax your body – a benefit that I have experienced specifically after using TruBlanket.
Weighted blankets release melatonin
Melatonin is another hormone that helps you sleep at night. The body naturally produces it but for many people, they simply don't get enough. Weighted blankets have been shown to trigger production of melatonin due to the applied pressure which promotes sleep and helps balance your sleep cycle.
This is a benefit of weighted blankets for anxiety that I can certainly agree with.
What to Look for When Buying a Weighted Blanket for Anxiety?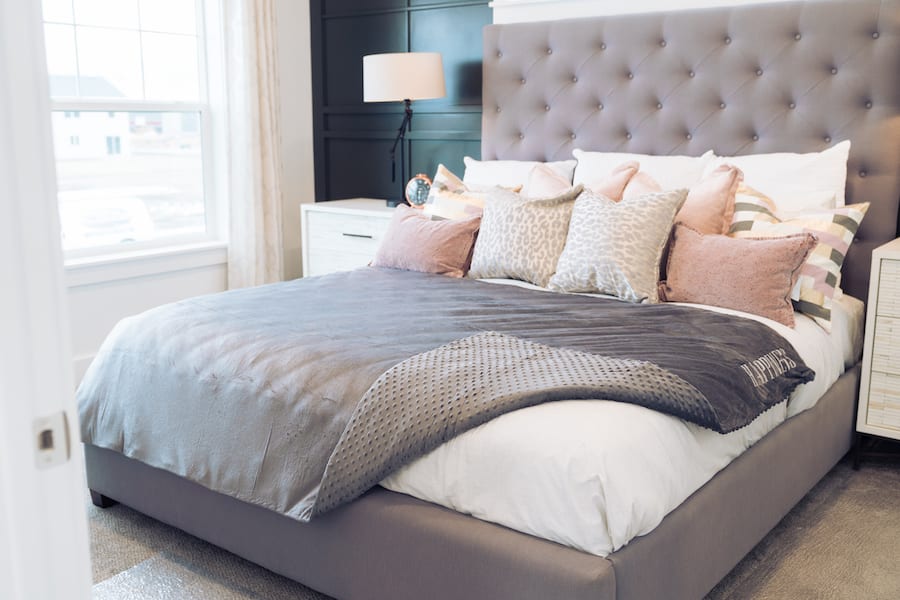 Like most things in life, not all weighted blankets are created equal. You have to consider the weight, manufacturing, materials, etc. This is why I personally recommend TruBlanket.
They took the common complaints people have about weighted blankets, found a solution and then created their own, sans the problems.
For example, many people complain of bunching in the blanket.
TruBlanket has anchors that line the exterior of the fabric holding the pellets to stop this from happening.
Another complain is too thick of fabric or crunchy sounds, or noise. I can confirm that TruBlanket is silent. There are no sounds to be heard and the fabric is nice and soft, like a normal blanket only with the added benefits of the weight.
Additionally, since weighted blankets are made with plastic pellets, many people were concerned about the environmental effect they have. TruBlanket is the first weighted blanket to use micro glass pellets to make the blanket eco-friendly.
I wish I didn't wait so long to get a weighted blanket for myself. But like you, I struggled with paying such a high price for a blanket without knowing if it works. So, it's time to give you a discount because I believe in TruBlanket and the benefits of weighted blankets for anxiety.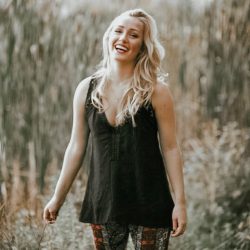 Latest posts by Chantal McCulligh
(see all)