In the relentless hustle of modern life, where people are juggling careers, family, and personal aspirations, the toll on your mind, body and spirit is undeniable. Beneath the facade of efficiency, there lies a deep-seated exhaustion that demands more than your basic self-care practices. And the solution might be closer than you think. In this article, we delve into the empowering benefits of infrared sauna blankets and how they offer a transformative journey toward rekindling your inner vitality, boosting your mood and revitalizing your mind, body and spirit.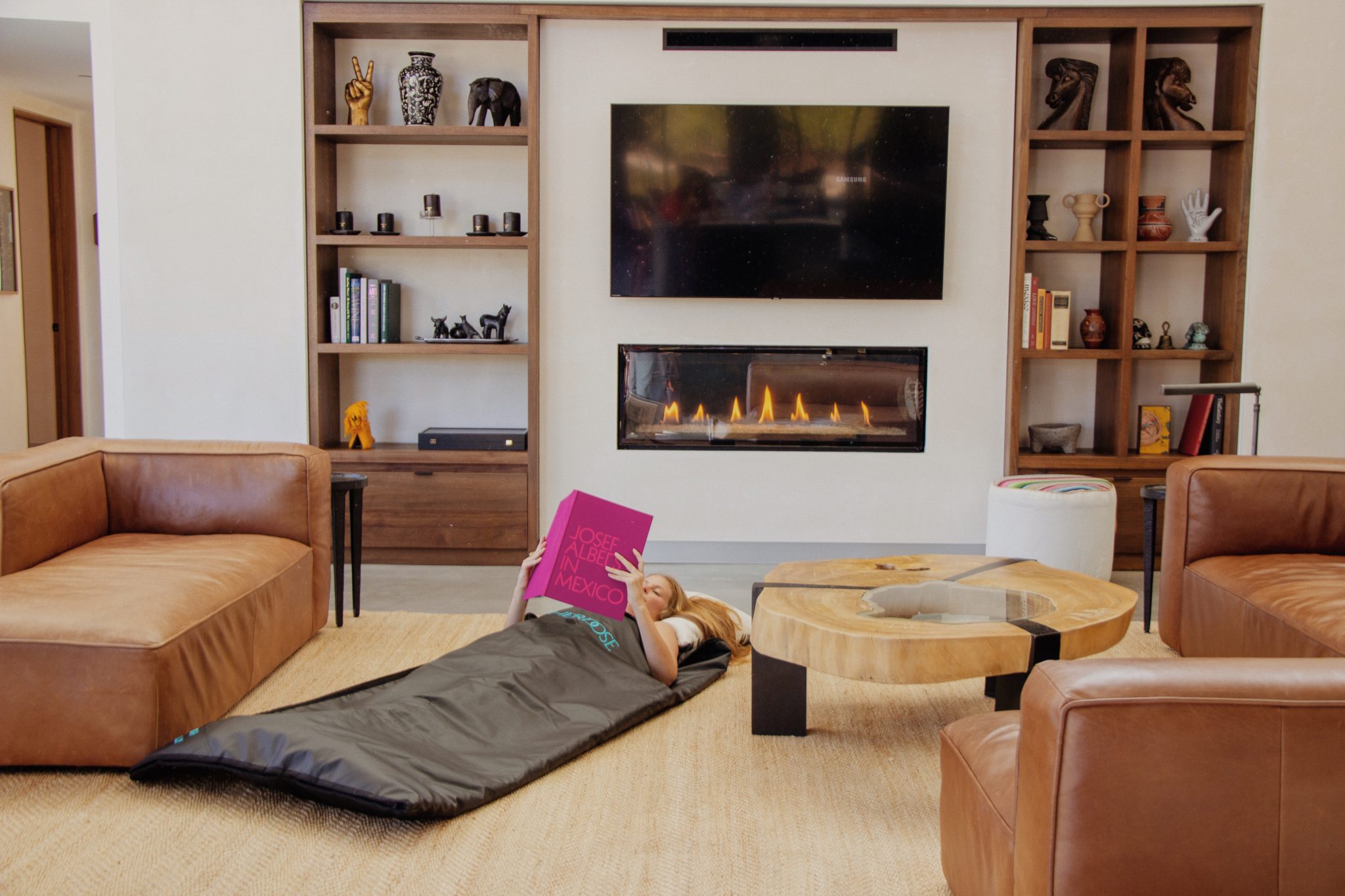 What is an Infrared Sauna Blanket?
Imagine wrapping yourself in a cozy cocoon of warmth and relaxation – that's the magic of a sauna blanket! It's not your average blanket; it's like a spa day in the comfort of your home. These high-tech blankets use infrared technology to create a toasty, soothing environment, mimicking the effects of a sauna. It's not just about warmth; it's a holistic experience that helps you unwind, relax, detox, and rejuvenate.
While the power of far-infrared light remains unseen to the naked eye, its effects are undeniable. Similar to the sun's rays, the warmth from hot coals, or a comforting embrace, far-infrared heat penetrates deep to relax tense muscles, enhance blood circulation, and promote tissue healing. This makes it a go-to for muscle recovery and tissue repair.
Concerned about electromagnetic field (EMF) radiation? Fear not; HigherDOSE's Infrared Sauna Blanket boasts low EMF levels, ensuring a safe and secure experience. The near infrared lights are different than far-infrared light, as they have shorter wavelengths that are seen as red light. These don't generate heat, all the while offering skin rejuvenation, muscle tension, a refreshing boost and a calming therapy session.
The Best Infrared Sauna Blanket Benefits
Whether you're a busy professional or a supermom in need of some TLC, a sauna blanket is like a warm hug for your tired soul. So, snuggle up, let the infrared magic do its thing, and get ready to bask in the blissful benefits of your very own spa-worthy escape!
Here are some of the infrared sauna blanket benefits you can expect.
Detox Your Mind and Body
Capitalizing on the body's natural sweating process, infrared sauna blankets contribute to detoxification. In contrast to traditional saunas that rely on elevated heat and humidity to induce sweating, infrared sauna blankets utilize gentle heat that deeply penetrates the skin and tissues. This profound warming effect activates sweat glands across the body, fostering a comprehensive and efficient detoxification process.
The act of sweating releases a spectrum of toxins from the body, encompassing heavy metals, chemicals, and other detrimental substances. Through the promotion of sweating via infrared therapy, the elimination of these toxins is expedited, enhancing the efficiency of the detoxification process. The expulsion of these toxins from our systems can yield diverse health benefits, including enhanced digestion and immunity, as well as an improvement in skin tone and texture.
Increase Endorphins
Boost your mood and mental health with a surge of endorphins! The warmth from infrared sauna blankets harmlessly convinces the brain that impending pain is on the horizon. As a result, the brain releases those delightful feel-good chemicals—endorphins—to combat the anticipated discomfort (which never materializes!). This leaves you with a euphoric sensation without any actual pain.
Improve Circulation
Research indicates that the use of infrared sauna blankets can enhance circulation through various mechanisms. A primary method involves the augmentation of blood flow to the skin and muscles. This heightened circulation is believed to facilitate the delivery of increased oxygen and nutrients to these tissues, thereby fostering healing and repair processes.
Another avenue through which infrared sauna blankets may positively impact circulation is by triggering the production of nitric oxide. Nitric oxide serves as a molecule that promotes the relaxation of blood vessels, enabling dilation and an accompanying surge in blood flow. The amplification of nitric oxide production through infrared therapy may play a role in improving blood circulation throughout the body, contributing to overall health enhancement.
Enhance Recovery
The far-infrared light in sauna blankets effortlessly penetrate your skin to reach muscles and tissues, offering relief from chronic pain and inflammation. The therapeutic lights in sauna blankets also boost circulation, providing a swift delivery of oxygen exactly where it's required, expediting the process of muscle recovery. And all you have to do is lay there and enjoy the calming experience.
Rejuvenate Your Mind and Body
By increasing your temperature within an infrared sauna blanket, you're providing with a therapeutic escape for your mind and body. Seizing this moment for solitude allows you to unwind, providing an opportunity to recalibrate and center your thoughts. As emotional tensions dissipate, a sense of refreshment washes over you, harmonizing with the revitalizing effects of far-infrared rays on your body. It's a dual experience of mental rejuvenation and physical renewal, creating a serene space for both relaxation and healing.
Improve Sleep
The warmth emitted by the blanket contributes to the relaxation of both your body and mind, facilitating an easier transition into a profound sleep. However, it is essential to exercise caution and avoid falling asleep with the blanket. To ensure this, consider setting a timer or alarm as a precautionary measure.
The infrared sauna blanket, a provider of Far Infrared (FIR) therapy, has been associated with heightened melatonin production in high-performance athletes engaged in rigorous training. Melatonin, the hormone responsible for sleep regulation, exhibited a direct correlation with improved sleep quality and subsequently enhanced athletic performance.
These positive outcomes were observed after incorporating FIR therapy for daily 30-minute sessions over just two weeks. This suggests that a brief period of utilizing an infrared sauna blanket may lead to a noticeable improvement in the depth and rejuvenating qualities of your sleep.
Boost Your Immune System
Drawing on our understanding of detoxification, using infrared sauna blankets can also boost your immune system. Sweating plays a crucial role in opening up the skin's pores, facilitating a more efficient release of toxins from the body. Consequently, regular use of an infrared sauna blanket promotes optimal functionality of lymph nodes and other components of the immune system.
Additionally, the heightened circulation and enhanced sleep quality stemming from the regular use of an infrared sauna blanket can further fortify our immune systems. When all these factors are considered together, infrared therapy emerges as an excellent choice for individuals seeking to maintain their health, fortify their immune defenses, and guard against illnesses.
Reduce Stress and Anxiety
When faced with stress, our bodies release cortisol, a hormone that initiates the "fight or flight" response. Prolonged exposure to chronic stress can result in elevated cortisol levels, leading to various adverse effects on the body, including anxiety, depression, fatigue, and weight gain. Far Infrared (FIR) therapy has demonstrated its efficacy in lowering cortisol levels by inducing relaxation and alleviating muscle tension.
An infrared sauna blanket presents an effective method for leveraging FIR therapy to reduce anxiety and stress, and enhance mood. The warmth emitted by the blanket promotes muscle relaxation and enhances overall circulation, triggering the release of endorphins while concurrently reducing cortisol levels.
Get a Natural High
Infrared sauna blankets offer a natural way to achieve a radiant appearance and a positive sense of self and wellbeing, all without resorting to chemical treatments laden with harmful ingredients. It's a self-loving experience, as your body gracefully responds to the rejuvenating warmth emanating from the infrared sauna blankets. It's a wholesome healing activity that leaves you feeling better than ever before.
Get Glowing Skin
More than a portable sauna for your body, an infrared sauna blanket is amazing for your skincare too, working wonders for your complexion and even boosting collagen for an anti-aging experience. This innovative device opens up facial pores, allowing your skin to fully soak in the rejuvenating benefits of a nourishing face mask, such as HigherDOSE's Red Light Face Mask. It's a holistic skincare approach that blends the benefits of infrared therapy with targeted facial care, elevating your self-care routine to a new level.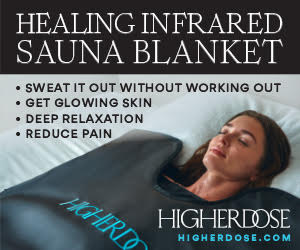 How To Use an Infrared Sauna Blanket
In just a brief 10 minutes, the infrared sauna blanket works its magic, offering a quick glow-up and a natural high. Whether you're in the mood for a speedy 10-20 minute session or prefer a more extended hour-long retreat into zen mode, the choice is yours. During this time, the far-infrared rays work their detoxifying wonders, inducing a deep sweat that aids in flushing out toxins.
Here are things to keep in mind to ensure an optimal, therapeutic experience:
Hydration: Maintaining proper hydration is crucial during infrared sauna blanket sessions. The heat can induce sweating and fluid loss, so ensure adequate intake of water and electrolytes before, during, and after your session.
Duration and Frequency of Use: Commence FIR therapy with shorter sessions, gradually extending the duration as your body acclimates to the heat. Initial sessions of 10 to 15 minutes are recommended, progressing to 30 minutes over time. Some individuals may find benefits with sessions lasting up to 60 minutes, but usage should be limited to once per day.
Temperature Settings: Adhere to the manufacturer's guidelines for temperature settings on your infrared sauna blanket, avoiding surpassing recommended levels. Additionally, refrain from covering your face or head with the blanket during use.
Proper Cleaning: Clean your sauna blanket after each use to prevent the accumulation of sweat or debris, which could lead to premature wear and tear. Regular cleaning is essential for maintaining optimal functionality.
This wellness ritual easily integrates into your daily schedule, causing minimal disruption. The convenience extends to cleanup too. Just use some antibacterial wipes or whip up a homemade cleansing solution featuring vinegar paired with tea tree, lavender, or thyme essential oils and your sauna blanket is clean and ready to be stored until next time.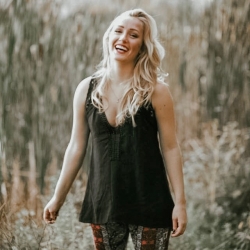 Latest posts by Chantal McCulligh
(see all)