If there's one good thing that came from technology and the Internet, it's the ability to find the perfect place for you, whatever that may be. For the LGBTQ community, this is priceless. Unfortunately, there are still some people in this world who simply don't understand that love is love and when trying to find professional counseling for whatever reason, you definitely don't want to find your therapist being one of them. Pride Online Counseling offers professional online therapy for the LGBTQ community, ensuring that your therapist understands and supports who you love.
What is Pride Online Counseling?
The first thing I want to clear up is that Pride Online Counseling isn't just online help for people struggling with who they love or their sexuality or gender. While it is definitely a place for anyone looking to "come out" or to receive support as they begin to embrace who they truly are, it is professional therapy for anyone in the LGBTQ community. Whether you've yet to announce your gender or sexual preference or are rocking the stage as a drag queen every weekend, Pride Counseling is a place where you can feel comfortable, safe and brave while seeking online counseling.
Pride Counseling is an online counseling platform that is a branch of Better Help, one of the best online therapy platforms out there. It is geared towards members of the LGBTQ community, so you speak freely and feel comfortable being who you are when speaking with your therapist. After all, the power of therapy is all about being honest. What good would a therapist be if she/he didn't even know who you really are or worse, if she/he didn't support the LGBTQ community. Cringe.
How does Pride Counseling Work?
Put simply, Pride Counseling matches you with a licensed therapist based on the information you enter at the beginning. Then, you are able to communicate with your online therapist over the phone, video and messaging.
Getting Started with Pride Online Counseling
To start, you take a questionnaire so that Pride Counseling can find the perfect therapist for you. Some of the questions asked are:
How do you identify? (If you don't know, that's okay too!)
What are your pronouns?
What is your orientation?
How old are you?
What is your relationship status?
Have you been in counseling or therapy before?
How would you rate your current physical health?
Are you currently experiencing overwhelming sadness, grief or depression?
How would you rate your current sleeping habits?
Are you currently experiencing anxiety, panic attacks or have any phobias?
How would you rate your current eating habits?
Do you consider yourself religious? If so, what religion do you identify with?
How comfortable are you with your identity?
How much of your LGBTQ identity is contributing to your mental health concerns?
Do you prefer to be matched with a counselor in the LGBT community?
How would you rate your current financial status?
… And so on and so forth. Your answers are kept private with the Pride Counseling therapists and are used to find the best therapist for you specifically.
Once you sign up to receive your results, Pride Counseling then takes you through another short questionnaire about the type of counselor you prefer. You even get to choose the areas of expertise you're looking for help in.
Using Pride Counseling to Speak with your Therapist
Now you're signed up and ready to speak with the therapist that was selected for you based on the information you entered. This can be done in four ways:
Exchanging messages with your counselor
Chatting live with your counselor
Talking over the phone with your counselor
Video calling with your counselor
You can also choose to use different means of communication at different times; all four methods are included in your membership.
How Much Does Pride Counseling Cost?
Unlike traditional, in-person therapy, Pride Counseling offers a unique payment option making it more affordable and viable for most people. It starts with a flat monthly fee, but the price gets even lower when you choose long-term therapy.
For example, Pride Counseling for LGBTQ charges $65 per week for unlimited chat, phone and/or video-based therapy for the first 3 months. If you use it for longer than 3 months, the price drops to $45 per week.
This is an amazing benefit because therapy is something that should be a constant in everyone's life. Even when you're feeling great, it's nice to have a professional LGBTQ counselor to chat with to discuss your current situation, future goals, action-plans, etc.
Additionally, this is one of the most affordable options you'll find for online counseling – and way cheaper than traditional therapy that can cost up to $300 per session.
Benefits of LGBTQ Online Counseling
Pride Counseling is hands-down one of the best online therapy platforms. It's part of Better Help, which offers online counseling for LGBTQ topics, circumstances, situations, etc. Pride Counseling is the exact same, only geared more towards members of the LGBTQ community and LGBTQ therapists who are well-versed in the community or topics as well.
But there are many more benefits than speaking with someone who is ready to guide, support and advise you along the way. Here are some of my personal favourites:
Prices are based on a flat membership fee and covers use of the entire platform and unlimited counseling (much more affordable than in-person therapy)
Your messages with your therapist ONLY appear in the secure private system
Your email address is kept strictly private
You can use an alias if you want (Though, consider taking this opportunity to finally be who you truly are, name and all!)
Platform is easy to use
Private chat room conversions
Option to schedule a live session via phone or video with your therapist
A service that specializes in the LGBTQ community
Unlimited therapy
You do not have to navigate through this world alone. There is a team of professional LGBTQ counselors waiting to walk the path with you. For more information, visit the official website for Pride Counseling or Better Help.
---
This blog post is sponsored by BetterHelp online therapy, but all opinions are my own. I may receive compensation from BetterHelp or other sources if you purchase products or services through the links provided on this page.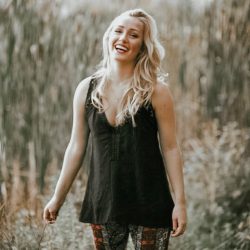 Latest posts by Chantal McCulligh
(see all)