Introverts, rejoice! I found a subscription box for introverts that is just as amazing for anyone suffering from anxiety. Why? Because it's all about comfort and embracing self-love.
There's nothing wrong with being a homebody and it kind of goes hand-in-hand with anxiety. We fear things such as going out in public, being in crowds, being around strangers, etc.
So, naturally, we prefer to stay in our comfort zone and that's ok as long as you still work towards facing your fears.
As introverts, our needs for self-care can be difficult to nurture on a consistent basis. Not only are we flooded with daily responsibilities and obligations, we're often (unknowingly) fighting against society's expectations on what it means to relax and recharge.

Contrary to popular belief, we DON'T need to socialize more, attend more events, schedule more get-togethers or live a more exotic, spontaneous, or adventurous life. We DO need silence and solitude, a walk in nature, to become captivated in a good book, and to reflect, wonder, and imagine.
So, if you're ready to enjoy embrace being silently strong and quietly confident, you need to get your hands on this subscription box for introverts.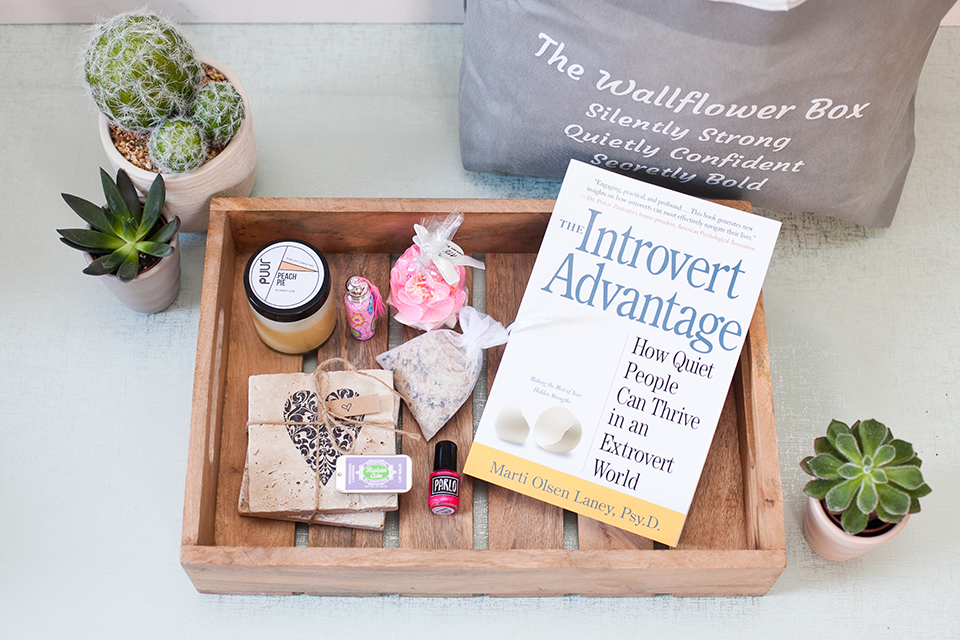 What is a subscription box for introverts?
The Wallflower Box (a subscription box for introverts) is a curated monthly subscription box that comes with all kinds of activities, bath and body items, literature, apparel, snacks and accessories to "unleash the power in every quietly fierce introvert."  Sounds amazing, right? And that is it!
You can also choose to receive the subscription box every 3, 6 or 12 months, making it perfect for all types of budget.
To create a place where all introverts, HSPs (highly sensitive person), empaths, and other sensitive souls ("Wallflowers") feel understood, nurtured and inspired to live a positive and healthy life!
This subscription box goes far beyond just being a subscription box for introverts. It's the underlying message that comes with it. The Wallflower Subscription box is all about being "Silently Strong, Quietly Confident, and Secretly Bold." It teaches you how to embrace (and love) being a homebody, having social anxiety, being an introvert, despite society telling you that you need to be a social butterfly.
What's better than a butterfly? A wallflower.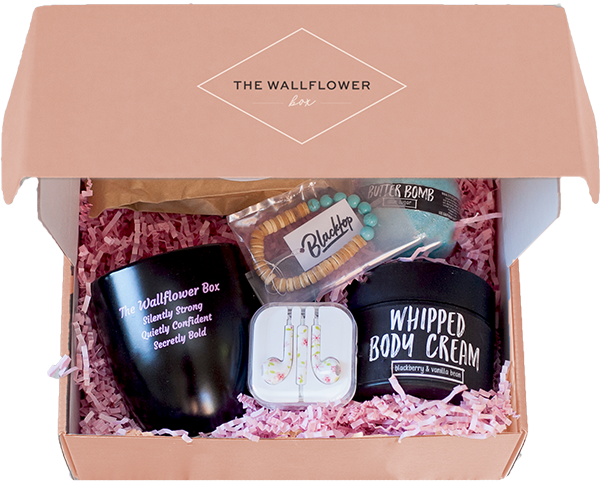 Be who you are, love who you are, and don't let anyone tell you that you should be anything other than that. There's nothing wrong, strange, or odd about being an introvert. Just because you don't fit the society's mould of what's "attractive" or "desirable" doesn't mean you don't bring just as much, if not more, to the table.
What's inside The Wallflower Box?
Every box is different and comes with 6-8 handpicked goodies. All of the bath, body and beauty products are 100% natural, organic or vegan and cruelty-free. Huge plus!
The surprise box I received had a sweet cupcake bath bomb (I wanted to eat it!), a vegan fuchsia nail polish, a natural lip balm made from domestic abuse survivors, an essential oil blend (excellent for naturally calming down), a lavender oatmeal bath soak (excellent for anxiety), adorable coasters, a book for introverts and a Wallflower shopping bag.
Amazing, right?
Exclusive Discount From Anxiety Gone
The monthly subscription box plans start at only $35.17 but you can use the code BLOOM10 and get 10% off your first box. It's like Christmas came early!
And speaking of Christmas, this is an excellent gift idea for introverts everywhere. So, grab an extra box for your bestie, your daughter, your mom – whoever. As long as they love the comfort and joy of home, they'll love The Wallflower Box. 
Watch My Unboxing Wallflower Box Video
Visit their social media on Instagram, Facebook, and Twitter, and join a group of silently strong, quietly confident, and secretly bold women who are breaking the mould, one subscription box at a time.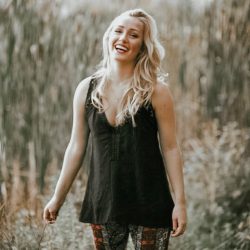 Latest posts by Chantal McCulligh
(see all)