Panic Away is the top online anxiety relief program available. So, naturally, we had to check it out and see if it was something we think you guys should try. For starters, we can say that it's definitely an incredible program that's full of techniques, tips and tricks that will alleviate anxiety symptoms and help you come out of a panic attack faster. However, there's much more to Panic Away which we am going to show you right now.
About Panic Away
As mentioned, Panic Away is an online anxiety program you can do in the comfort of your own home. There's no need to go anywhere which is a huge bonus, as joining a group therapy session can be enough to send your anxiety into overdrive. So, being able to receive the treatment you're looking for without having to go anywhere is great.
You also receive immediate access as soon as you purchase the program, which allows you to get started right away. And as anxiety sufferers ourselves, we understand just how desperate times can be when you're searching for something – anything – to make you feel better.
With Panic Away, you receive an eBook on "How to End Panic Attacks and General Anxiety Fast". It's 275 pages long and full of valuable content, such as techniques, tips and tools. It also includes several chapters on what anxiety attacks are and what causes them which is helpful, since the cause can vary from person to person.
Speaking of which, the program has several chapters that are broken down to specific types of anxiety, such as agoraphobia, fear of flying, driving anxiety, fear of public speaking, O.C.D., phobias, morning anxiety and much more.
You also receive:
This covers the basics of Panic Away in just 48 minutes flat! You can also learn the 21-7 technique™ really quickly, especially if you aren't a reader.
Learn how to release deep-seated general anxiety, end driving anxiety, eliminate night panic, cease anxious thoughts, and stop fearing unusual bodily sensations.
About the Creator of the Program
The creator of Panic Away is Barry McDonagh. He's been teaching people how to overcome anxiety naturally for more than 10 years and has helped over 75,000+ people. He has a unique approach to managing anxiety which has separated his programs apart from the rest.
His expertise comes from his background. He has an undergraduate at UCD and like you, he suffers suffered from anxiety attacks. So, Barry is an excellent person to seek advice from.
Overview of the Program
We wanted to give you a better idea of what you receive with Panic Away, so I've broken down some of my favourite parts of the chapters… Without giving too much information away, of course. That would simply be unfair to the creator of this incredible program.
What Causes an Anxiety Disorder?
The program starts off with the causes of anxiety. "Panic attacks are not your enemy; they are the result of you misinterpreting the signals your body is sending—a bit like a false alarm. Think of all the panic attacks you've experienced and how you've always come out on the other side — possibly petrified, but nevertheless alive and undamaged. Aren't y o u still here, after all those attacks that convinced you that you were going to die?"
It goes over the chemical imbalance; physical, mental and emotion exhaustion; cycle of fear; internal conflict and much more. You'll definitely be able to relate to the information here.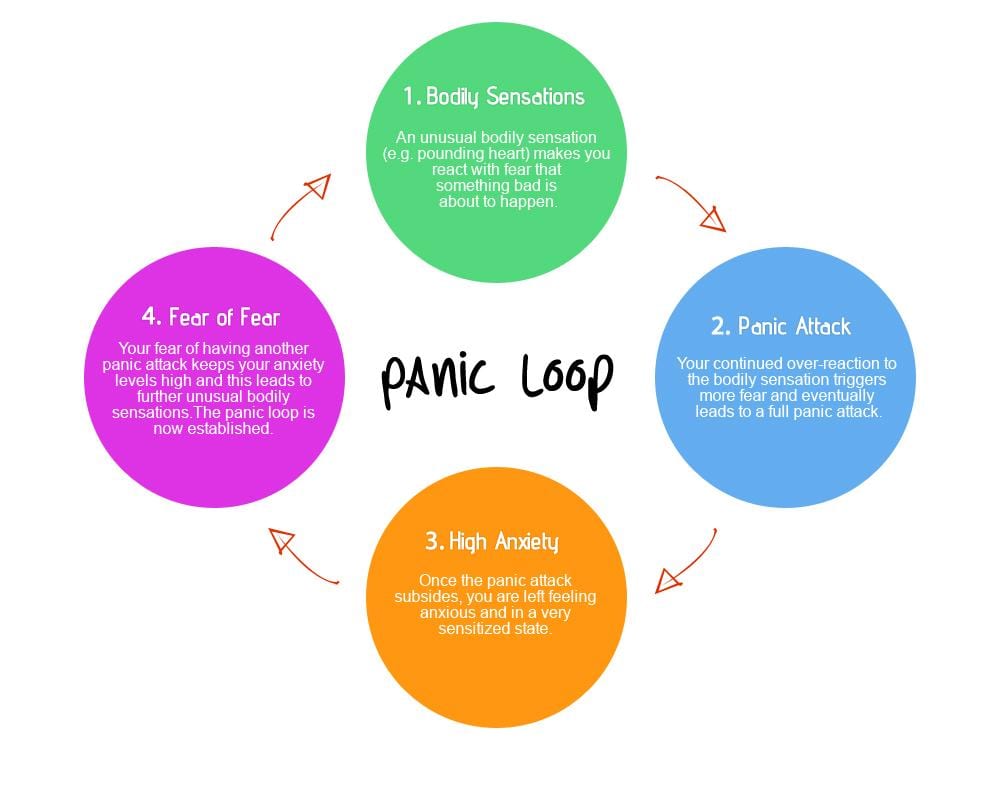 21-7 Technique
This is where you learn the ins and outs of the anxiety relief techniques provided and why they work. Definitely an interesting read and an excellent source of motivation that you can get through this!
The 21 Second Countdown
This is a technique for anxiety we haven't heard of before now. So, we were happy to come across it. Basically, it consists of a 21 second countdown to stop panic attacks fast.  There are four steps you have to go through while you're counting down, all of which are explained thoroughly.
Examples for Real Life Situations
Anxiety disorder varies from person to person, so you might not relate to all of the information here. However, if you do have a fear of any of the following, it's definitely an excellent chapter to read. It covers:
Driving Anxiety
Agoraphobia
Fear of Flying
Fear of Public Speaking
Eliminating General Anxiety
Panic Away then goes on to discuss General Anxiety Disorder. Here, you learn a different anxiety relief technique that's specific to eliminate constant feelings of angst. The creator describes the different levels we go through
before we reach a full-on attack:
Total Relaxation
Calmness
Minor Fears
Anxious
High Anxiety
Full Panic
The 7 Minute Exercise
In this chapter, you learn the 7 Minute Exercise technique that will alleviate symptoms and eliminate general anxiety. Just like the other technique, you're provided with detailed steps so you know exactly what to do.
C.A.L.M. Recovery
The C.A.L.M. Recover is another technique Panic Away teaches you. It's often enough to achieve full recovery. It consists of four major components, all of which are thoroughly explained and taught to you:
Community Support
Acceptance
Lifestyle Changes
Meaning
Dealing with: Unwanted Anxious Thoughts
Just as the name reads, you learn how to deal with those awful anxious thoughts. The strategy is based on three different steps:
Working on reducing anxiety every day
Adopting an attitude of complete acceptance
Practicing specific anxiety exercises
Easy said than done, right? Well, the creator shows you how to get to those points through The Attitude of Acceptance and Visualization tools.
Dealing with: Anxious Bodily Sensations
Hands down, my least-favourite thing about panic attacks are the bodily sensations. We can handle my head going haywire but the rise in temperature and feelings of nausea? No thank you!
Here you learn two different techniques – The Symphony Technique and The Coffee Cup Exercise – to put an end to the awful feelings that come with an attack.
Dealing with: Morning Anxiety
There's nothing worse than waking up feeling anxious. It starts your entire day off on the wrong foot. So, the techniques provided here are exceptional and just as easy. It has to do with acceptance, gratitude (notebook and pen recommended), stretching, showering, breakfast, productivity and timeliness.
Dealing with: Insomnia and Night Panic
Night panic is something many of my friends have – including the Anxiety Gone creator's mother. So, this topic was quite interesting to me, even though I don't suffer from this myself. In this chapter, you learn how to break the cycle of insomnia. Some of the tips even recommend using lavender essential oil, which as you know, we're a huge fan of!
Dealing with: Phobias
Now, we get into the deep stuff – phobias. We all have one; that's why we have anxiety attacks! So, awesome chapter full of anxiety techniques for overcoming your fears/phobias that are causing you to panic.
Dealing with: O.C.D.
Obsessive Compulsive Disorder comes with the territory. For us, we never go anywhere without a water bottle – EVER! This restricts me from doing a lot of things.
Your anxiety-driven O.C.D. might be different; whatever it is, this chapter teaches you how to overcome that.
Dealing with: Setbacks
LOVE THIS CHAPTER! You can overcome anxiety but you're still going to have anxious moments. It's important to not let these throw you backwards into a tailspin. This chapter teaches you what to do when you feel that anxiety creeping back up.
Turning the Corner
"The worry of anxiety returning is a common concern after recovering from an anxiety disorder." Similar to the prior, this chapter shows you how to turn that last corner in your anxiety recovery – feeling anxiety but not feeding into it.
Anxiety Medication
Anxiety medication is always a hot topic. This chapter is short and brief but worth reading if you're considering alternative options for overcoming anxiety.
A Round-up of the Usual Suspects
Despite what the name reads, this chapter isn't about who has anxiety but rather, common thoughts about the type of people who have anxiety. You can thank good ole' society for that one. #BreakTheStigma. So, if you ever think you're going crazy, are crazy, are losing control, inhumane, abnormal, etc., this is a chapter for you.
At the end, there are areas for you to take your own notes and two wallet-size cutouts of the techniques you learned. They're like cheat sheets to life and overcoming anxiety, and I really loved this addition.
Panic Away also comes with a 60 Day Money Back Guarantee. So, if you decide this isn't for you, you can always get your money back. However, if you're serious about overcoming anxiety, you have to make it a choice. You have to choose to take action and Panic Away is the right decision to do just that.  Make that choice today.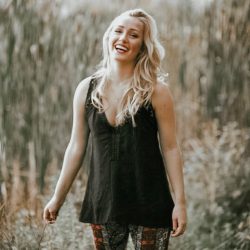 Latest posts by Chantal McCulligh
(see all)