Being the parent of a teenager is inarguably one of the hardest thing you'll ever do… Especially today. From the social media bullying to the increased suicide rates, it's enough to cause you to have a full blown panic attack anytime you think about it. The worst? Your teenager doesn't want to talk about it. However, what if you could provide your teenager with the professional guidance and support through online therapy and have them open to receiving? Teen Counseling online counseling could be the solution for all teenagers and parents of teenagers and it only costs $40-$70 a week!
What Are The Threats Teenagers Deal With Today?
There's no denying that parenting a teenager is equally as hard as being a teenager – if not more so. You see your child upset or struggling, but they just won't open up. It's one of the most difficult things to deal with as a parent because you want to help but your child simply won't open up to you. And even if your child does talk to you about what's going on, you really never know if you're providing the proper advice because you aren't a therapist for teens.


However, children and teenagers face concerns today that many other generations never had to deal with so intensely on a regular basis, such as:
Self esteem and body image
Stress of getting into their ideal college
Anxiety and depression
Cyber bullying
Violence and sex trafficking
School shootings/lock downs
Dangerous influences (suicides, drugs, fentanyl, etc.)
Parents divorcing
Cyber addictions
And that's only to name a few of the struggles children and teens deal with. Of course, many of these things have been around for many generations but things are different today. Suicide rates are rampant in youth, and studies have shown that suicide is "contagious"; illicit drugs are laced with other drugs that can kill you in the smallest of amounts; parents' divorce rates are higher; school shootings and lock downs are increased, etc. These are things that can be impossible for parents to understand to the degree that makes your child struggle the way they do. It is imperative for them to have someone to talk to which is what brought me to Teen Counseling online counseling.
What is Teen Counseling?
Teen Counseling is an online platform that offers professional online therapy for teenagers. Unlike traditional therapy that can cost upwards of $200 a session, Teen Counseling online counseling costs anywhere between $40-$70 each week, depending on the therapist you choose! They even have an application for financial assistance if this is too much for you.
Your Teenager Can Do Their Online Counseling Through an App
But let's be honest here, getting a child to attend therapy is not always an easy task. There's no denying that children today love their iPhones and super Smartphones; getting them off of their phone to talk to a professional can be impossible. With Teen Counseling, you can use this to your advantage.
Instead of forcing your child to go speak with a professional in an uncomfortable setting, the online counseling for teenagers allows your child to communicate with their therapist through an app over text, phone, and video.
This online counseling for teens is confidential but the therapist will alert the parent if an intervention is required.
Issues Covered By Teen Counseling Online Counseling
The greatest advantage of Teen Counseling online counseling is the extensive topics the professional therapists are trained to help your teenager with. You receive a list of them when you sign up, which I'll talk about in a moment, and you check the things that you believe are the issues your teenager is struggling with. This helps online counselling find the best therapist for your teenager.
Some of the issues covered include:
Depression
Anxiety
Lack of happiness
Yelling, screaming, cursing
Stress
Abusive or violent behaviour
Laziness and lack of motivation
Aggression
Criminal Behavior
Substance Abuse
Outbursts and anger
Self-esteem
ADD/ADHD
School challenges
Relationships with siblings
Relationships with peers
Eating issues
Sleeping issues
Sexuality-related issues
Fear/phobia
Trouble concentrating
Disengaging from the environment
Other
How Does Teen Counseling Sign Up Work?
The sign up process for Teen Counseling really showcases how great they are. It asks you, the parent, a series of questions to help determine the best course of action and therapist for your child. Some of the questions are about their behaviour, living situation, whether or not they've attended therapy before, have they been suicidal, etc. You can also rate the importance of topics you'd wish to be tackled. Then, Teen Counseling contacts you with the best therapist for your child, which they can begin to use as soon as they need.
Teen Counseling online counseling is the one thing every parent of a teenager needs to know. Being a teenager is exceptionally hard; being a teenager today is unlike anything most parents can comprehend. Your child needs someone to talk to; giving them the option to communicate with a professional therapist through the one device that never leaves their hands – their iPhone or Smartphone is the smartest thing any parent can do.
Visit the official website for Teen Counseling for more information. I personally am a huge advocate of online therapy and counselling for all of the benefits it has to offer. It's the best therapy for anxiety, in my opinion, and for anyone in need of professional guidance.
---
This blog post is sponsored by BetterHelp online therapy, but all opinions are my own. I may receive compensation from BetterHelp or other sources if you purchase products or services through the links provided on this page.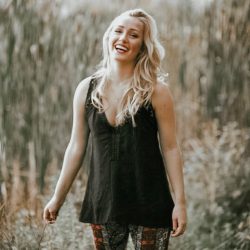 Latest posts by Chantal McCulligh
(see all)