What good is counseling for anxiety when you have to face your biggest anxiety triggers before even starting your first session? This is only one example of why online counseling for mental illnesses is the perfect option for people with anxiety who want to start therapy. You don't have to leave your house, put yourself in a public setting, meet a stranger or any of those things that are common anxiety triggers. You get to take small steps towards progress and in the comfort of your own home. However, the benefits of online therapy for mental illnesses don't end there either. Let's explore the amazing advantages warriors can harness with this new type of therapy.
---
Sponsored Content
---
Benefits of Counseling for Mental Illnesses
1. You Don't Have to Go Anywhere
One of the hardest things about mental illness is that you simply don't have the energy to go anywhere. With online therapy, you just have to prop open your computer, tablet or smartphone to reap the benefits. You don't have to get ready or drive anywhere, nor do you have to put yourself in an uncomfortable situation just to get help.
2. Don't Worry About the Stigma
In no way, shape or form is traditional counseling or therapy something to be ashamed of. In fact, it's quite the opposite as you should be proud to be taking initiative to overcome whatever struggles are holding you back.
However, if you are worried about people seeing you walk into a therapist office this is something you don't have to worry about with online counseling. Since everything is online, no one has to know about your e-counseling other than you and your professional.
3. Appropriate First Step for Anxiety and Agoraphobia Sufferers
With anxiety and agoraphobia specifically, leaving the house can seem impossible. So, even if you want to talk to a therapist or attend counseling sessions, your mental illness often convinces you otherwise.
With online counseling and online therapy offered through platforms such as Better Help, you can finally get the help you need to start the healing process. This is a powerful benefit because whether you're struggling with social settings, public areas or anywhere other than your humble abode, that's likely one of the bigger goals you're hoping accomplish. In other words, these aren't goals you're ready to tackle before you even attend your first counseling session.
With online therapy, you can take smaller steps to get to a place where you can go out in public and attend traditional therapy if you choose to.
4. Significantly More Affordable
The last thing you need to be worrying about is another massive bill being added to the pile. And there's no denying that traditional therapy is expensive. Fortunately, online counseling for mental illnesses is significantly more affordable and some benefit packages even cover it.
Better Help also offers an option to get up to a 50% discount depending on your financial status.
5. Find the Perfect Online Counselor for You
The counseling and therapy industry has a serious shortage of available professionals. Often times, you get whatever counselor becomes available regardless as to whether they're best for you. Otherwise, you'll be put even further back on the waiting list.
With online counseling for mental illnesses, you complete a questionnaire so platforms such as Better Help can find the perfect online counselor for you. If you happen to not agree with the results and would like to switch counselors, that can be done as well, sans a long waiting list.
6. Access to Online Counseling Whenever you Need
An exceptional benefit of online counseling for mental illnesses is that the help is available to you whenever you need it, as opposed to only when you're in the therapy sessions.
7. You Get To Choose How to Communicate with your Online Counselor
Perhaps being on the phone makes you anxious or sitting in front of a video sends you into a panic, you don't have to worry about that with online counseling for mental illnesses.
Platforms such as Better Help allow you to choose how to communicate with your online counselor. You can do so in four ways:
Exchange messages with your counselor
Chat live with your counselor
Speak over the phone with your counselor
Video conference with your counselor
Additionally, these four means of communication are included in your membership and you are not charged extra regardless of how many times you speak with your counselor.
8. You Can Remain Anonymous
When considering online counseling for mental illnesses, the stigma may be a big concern of yours. Fortunately, you don't have to worry about anyone finding out about your counseling or therapy (not that it's a bad thing!) because you can remain completely anonymous.
In fact, you choose your "nickname" and that will be your name.
We highly believe in online counseling for everything but online counseling for mental illnesses certainly comes with many additional benefits that specifically coincide with your fears, struggles, an concerns.
Get matched with a licensed therapist today and start your online counseling for mental illnesses. Better Help even provides you with a "trial period" where you can try online therapy before choosing whether you wish to continue and pay for it.
---
This blog post is sponsored by BetterHelp online therapy, but all opinions are my own. I may receive compensation from BetterHelp or other sources if you purchase products or services through the links provided on this page.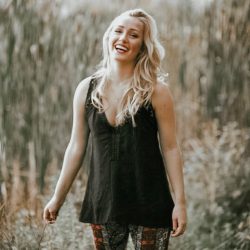 Latest posts by Chantal McCulligh
(see all)