If you suffer from a long-term anxiety condition or are going through difficult circumstances, you should speak to your doctor to learn about the different treatment options that are available. However, there are also quick and effective ways to deal with anxiety, such as the following, to help you stay calm the next time you experience an anxiety episode.
1.
Focus on Your Breathing
Taking slow, deep breaths can have an immediate calming effect. That is because it interrupts your body's fight-or-flight response, which anxiety often triggers.
If you feel anxious, take a moment to breathe in deeply for a count of four, hold for a second, and then exhale slowly to the count of four. There are many different types of breathing exercises for anxiety, as well as breathwork techniques that can significantly help you regain control in those anxious moments. 
2.
Practice Mindfulness
Mindfulness affords an effective way to ground yourself in the present moment. Begin by focusing on what you can hear, smell, taste and touch right now. When you use this technique during moments of high stress or anxiety, it could help to divert your thoughts away from the sources of your worry.
3.
Get Moving
Exercise helps reduce tension and boosts your mood by producing endorphins, which are your body's natural antidepressants. You do not have to train for a marathon. Simple activities like dancing around your room or taking a brisk walk are beneficial.
Yoga is also highly recommended when looking for ways to deal with anxiety, as it incorporates breathing and mindfulness with exercise for the ultimate experience.
4.
Write it Out
One quick way to cope with anxiety is to put your thoughts on paper. This activity does two things: it helps make your fears tangible and less overwhelming, plus it provides an outlet for your feelings. Just take a few minutes to write down what you are feeling. You could feel much less anxious afterwards.
If you find it difficult figuring out what to write, you can try a guided journal like our digital Overcoming Overthinking Guide or our new anxiety journal, complete with 100 journal prompts to help you along the way.
5.
Practise Visualization
Visualization is another effective anxiety-busting tool. By creating a mental scene of a calming or happy place, you can transport yourself away from anxious thoughts. Spend a few minutes visualizing your peaceful spot and embrace the tranquillity it brings. 
6.
Use Aromatherapy
Aromas trigger responses from the brain that offer calming effects quickly when you are feeling anxious. If you have essential oils like lavender at hand, take time for a deep breath while resting your mind in its comforting scent.
7.
Reach Out to a Friend
Sometimes we all need a sounding board — someone who can listen without judging us or providing solutions unless asked for them. When gripped by anxiety, call or text a close friend and share your feelings with them. Their support and encouragement can quickly lift your spirits.
You may also want to try online therapy or even online group therapy sessions for an extra dose of professional support.
8.
Try Delta-8 Gummies
Delta-8 is a compound found in cannabis plants that is closely related to the more widely known Delta-9 THC. However, Delta-8 presents less psychotropic potency while still offering several therapeutic benefits. One of those potential beneficial effects is anxiety reduction. Delta-8 is available in various forms, but for a quick and easy anxiety release, gummies are one of the best options.
Furthermore, gummies are a tasty way to consume Delta-8 THC. There are a wide variety of flavours available. And vegans and people who avoid gluten don't have to worry, as you can easily find vegan and gluten-free Delta-8 gummies at dispensaries. 
9.
Try Progressive Muscle Relaxation 
This technique involves tensing and then releasing muscles group by group. Start with your toes, followed by your legs, then your stomach, and so on, all the way up to your facial muscles. This method effectively eases tension quickly and aids in calming anxiety. 
10.
Listen to Calming Music 
Music has a deep connection with our emotions and it can create almost instant calming effects. Just make sure you choose soothing music when you are feeling anxious, such as ambient instrumental music or classical music. Even better if the calming music is made with binaural audio tones, which have been shown to help rewrite the brain. 
Try Now: Binaural Beats Meditation
Anxiety can be overwhelming. It has the potential to disrupt your daily activities and well-being. However, by adopting specific methods to help you deal with anxiety, you can manage your anxiousness and stress levels better. Whether you try deep breathing, mindfulness, or Delta-8 gummies, embracing some or all of the above quick ways to deal with anxiety will enable you to use effective solutions for combating your problem.
By following the ten strategies listed above, along with seeking professional help if needed, you can navigate through anxiety-ridden moments with greater ease and control.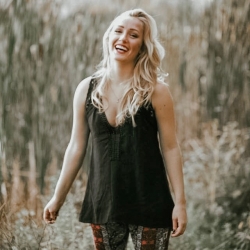 Latest posts by Chantal McCulligh
(see all)