It's understandable that many people experience stress, toxicity, and negativity in their lives. However, there are ways to combat these feelings and cultivate more positivity. By learning how to practicing mindful living on a daily basis, you can train your brain to focus on the good and find the positivity in every moment, situation, and day. It's easier than you may think to start being more mindful. All you need to do is learn how to bring your attention to the beauty that surrounds you. With some practice, you can make mindfulness a habit and enjoy a more positive and fulfilling life.
Starting the Day With Mindfulness
Beginning your morning with a mindfulness exercise can be a wonderful way to set a positive tone for the rest of your day. It's a great way to put your mind in the right place to embrace positivity and focus on the present moment. If you're interested in practicing mindfulness in the morning, there are many simple yet effective ways to do so. We've compiled some of the best mindfulness exercises that can help you start your day with mindfulness. Give them a try and see how they can enhance your daily routine.
1. Start with a good stretch
Starting your day with a good stretch can be an excellent way to practice mindfulness as it can give your body, mind, and spirit a positive boost you need to get a jumpstart. As soon as you wake up, take a few minutes to stretch your arms, legs, and back. You can wiggle your toes, roll your shoulders, and even scrunch your face if it helps release any tension or negativity leftover from the day before. There are also many incredible online morning yoga classes that guide you through the process.
The key to making your morning stretch routine a mindfulness exercise is to focus on the sensations you feel while you stretch. Pay attention to how your body feels – part by part; focus on how the gentle movements feel in each of your muscles, and the release any tightness or discomfort that shows up. By being present and mindful during your morning stretch, you can set a positive tone for the rest of your day.
2. Bring your attention to your surroundings
Once you've taken the time to wake up your mind, body, and spirit with the mindfulness exercise mentioned above, consider spending a few moments bringing your attention to the world around you. Take a few deep breaths and allow yourself to notice the sights, sounds, and sensations that are present in your surroundings. Pay attention to any smells in the air, the feeling of your cozy weighted blanket against your skin, and the colors that shine through the small opening in your curtains.
By observing your surroundings with acceptance and presence, you can cultivate a sense of calm and appreciation for the beauty around you. This mindful practice can help you start your day with a positive outlook and set a tone for greater mindfulness throughout the day.
3. Enjoy a morning meditation
While it's true that meditation can be beneficial at any time of day, many people find that morning meditation is particularly effective for calming the mind, body, and spirit. Starting your day with a few minutes of meditation can help you wake up on the right side of the bed and cultivate a positive mindset for the day ahead.
If you're interested in trying morning meditation, it can be helpful to set aside a comfortable and quiet space to practice. You don't need to meditate for a long time; even a few minutes of focused breathing and intention-setting can make a big difference in your day. Inhale the energies that you want to carry with you throughout the day, exhale any built-up tension and anxiety, and allow yourself to feel refreshed and rejuvenated. Give it a try and see how morning meditation can enhance your daily routine.
Practicing Mindfulness During The Day
As the midday slump starts to take hold, it's essential to take a few moments to practice mindfulness and refresh your mind, body, and spirit. Fortunately, there are many simple ways to practice mindfulness wherever and whenever you need it.
Here are some easy and accessible methods to practice mindfulness throughout the day, even during a busy schedule. These practices can help you maintain focus and reduce stress, allowing you to feel more grounded and present. Give them a try and see how they can help you re-awaken your senses and stay mindful throughout the day.
1. Focus on your breathing
To stay alert and energized throughout the day, try bringing your attention to your breathing whenever you feel tired or unfocused. Take a few deep breaths and focus on the sensations of each inhale and exhale. As you do so, imagine the positivity and energy you want to carry with you for the rest of the day.
Another quick and easy way to reawaken your senses midday is to do a body scan. This mindfulness activity takes very little time to complete and can be done anywhere. Start by focusing on the different parts of your body, starting at your head and working your way down to your toes. Pay attention to the way each part of your body feels, including any sensations such as tingling, soreness, heaviness, or lightness.
By bringing awareness to your body and its sensations, you can release any tension or discomfort with a long, deep breath. This breathing exercise can help you feel more relaxed and centered, allowing you to approach the rest of your day with greater clarity and focus. That's mindful living 101.
2. Practice gratitude
When you're feeling overwhelmed or stressed, take a moment to reflect on the positive things that have happened throughout the day so far. Consider the things that you can be grateful for, such as having a job that allows you to support yourself and your loved ones, or enjoying a nutritious breakfast that fueled you for the day ahead.
Even on the toughest days, there are always moments of goodness and positivity to be found. Practicing mindful living will help you find and focus on those moments.  By practicing gratitude and focusing on these moments, you can shift your mindset and improve your mood while also rewiring your brain to find and focus on the good in the bad. Take a few minutes to reflect on the good things that have happened, and let yourself fully appreciate them. You may be surprised at how much this simple gratitude practice can improve your outlook and help you feel more grounded and content.
Practicing Mindfulness At Night
As you wind down for the night, take some time to practice mindfulness and set yourself up for a peaceful, restful night's sleep. By prioritizing your well-being and taking care of your mind and body, you can prepare yourself to wake up feeling refreshed and ready to tackle the day ahead.
Consider incorporating practices like meditation, deep breathing exercises, or gentle stretching to help calm your mind and release any tension in your body. You may also want to create a comfortable sleeping environment by adjusting the temperature, minimizing distractions, and surrounding yourself with calming scents or sounds.
Remember, taking care of yourself is an important part of achieving your goals and living a happy, fulfilling life. By making mindfulness a regular part of your bedtime routine, you can improve your sleep quality and wake up feeling energized and ready to take on whatever the day brings.
1. Complete an activity you enjoy
It's important to prioritize your happiness and well-being by taking time for yourself every day. Whether it's soaking in bath filled with lavender epsom salts or indulging in a creative hobby like coloring make sure to carve out at least 15 minutes each day for some much-needed "me time."
Remember that taking care of yourself isn't selfish – it's essential for your mental and emotional health. By allowing yourself to enjoy simple pleasures and engage in activities that bring you joy, you can reduce stress, boost your mood, and improve your overall quality of life.
So go ahead and make yourself a priority. Schedule your daily "me time" like you would any other appointment, and stick to it. You deserve to feel happy, relaxed, and fulfilled each and every day.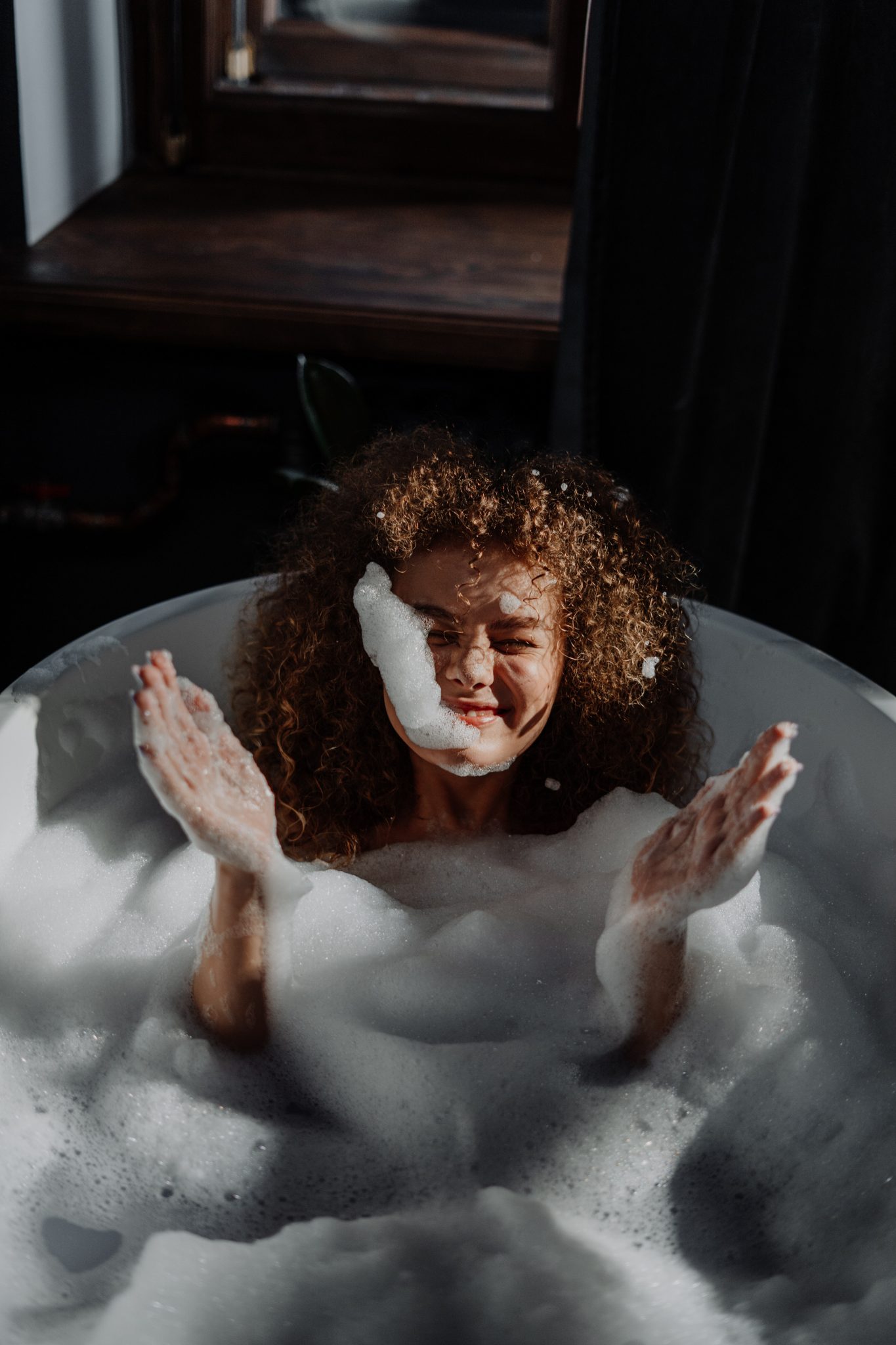 2. Do a self-reflection activity
Ending your day with self-inquiry meditation is a wonderful way to bring peace and relaxation to your mind, body, and spirit. It's a simple yet powerful mindfulness exercise that can help you reflect on your day and cultivate self-awareness.
To get started, create a list of questions that resonate with you. For example, you can ask yourself who you are, what made you happy or sad, what was the best thing that happened, or who made your day special. These questions will guide you in processing your thoughts and emotions, while also encouraging self-love and acceptance.
Remember, taking time to reflect and care for yourself is essential for a restful and rejuvenating night's sleep.
3. Take five minutes for mindfulness
Take a well-deserved break from technology and indulge in five minutes of mindfulness. Find a comfortable spot, maybe a cozy meditation pillow, and take a few moments to gather your thoughts after a long day. Use this time to reflect on the positive aspects of your day and count your blessings. This simple mindfulness activity can help calm your mind and prepare you for a peaceful and restful night's sleep, so you can wake up feeling refreshed and ready to take on a new day.
Practicing mindful living each day can bring a sense of self-awareness, gratitude, and positivity that can greatly improve your day and overall mental health. If you're new to mindfulness, it may require some effort, but with practice, it will become a natural and effortless habit. Don't hesitate to start now and reap the benefits!
---
Full Disclaimer: Clicking on these links could mean a tiny commission for me, at no extra cost to you.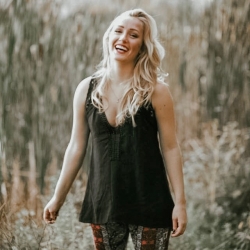 Latest posts by Chantal McCulligh
(see all)